| | | |
| --- | --- | --- |
| Winter sailing in Athens | | |
25th January 2009
Pics: Mixalhs
I've stayed in Greece this winter, trying to sail as much as possible in and around Athens… We've had some good days with really strong wind and quite good waves for jumping, some so-so days with wind but no waves, and a lot of days with absolutely no wind.
The good thing is that we've had a few days with south wind, which is not so common in Athens, so I've had the chance to sail a little bit on starboard tack. South wind in winter is the best, because it's always warm and you can stay in the water all day long without feeling cold. Although the wind is a bit weird when it's blowing from the south, sometimes it's really fluky and light, I've had some really good sessions on my NewWave Twin 72 and 4.5 - 5.1 The Fly sails with starboard tack jumping and port tack surfing. The waves are quite nice, although at times it's really onshore and hard to surf them. It's nice to sail on starboard tack, because I am trying different moves than usual, and I feel much more comfortable waveriding with left foot forward. I have also wanted to try shakas on starboard tack since a while now, but I couldn't really try them properly when I am sailing port tack coming in. So I have been really motivated sailing on starboard tack and I landed my first shakas the other day, so now I want more starboard tack jumping. Let's hope we have more south wind coming!!!! Fingers crossed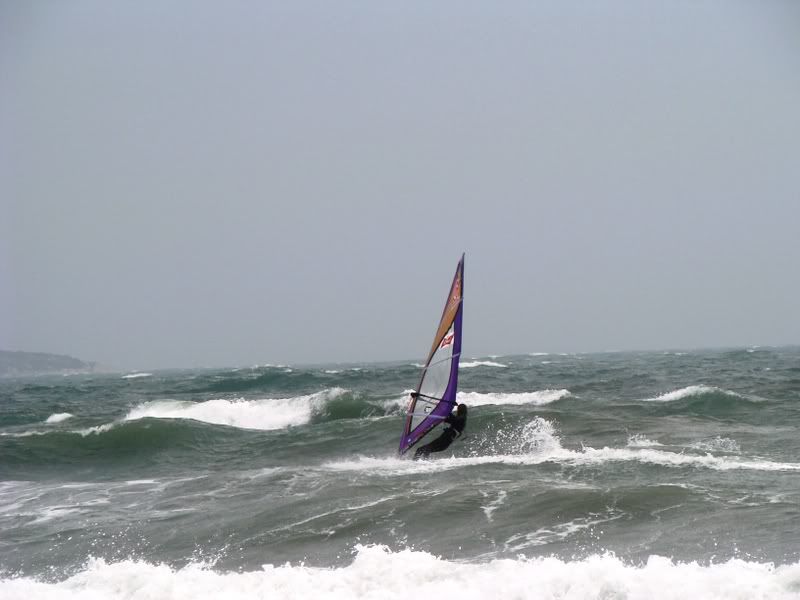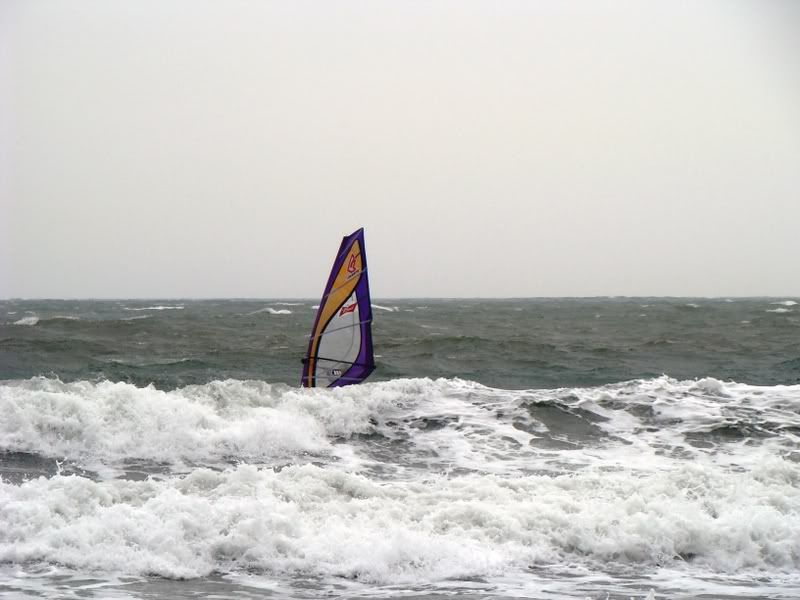 | | | |
| --- | --- | --- |
| The king is crowned! | | |
29th October, 2008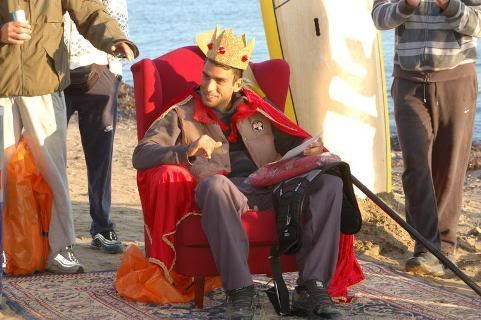 The freestyle challenge is over after 2 days of wind and almost perfect conditions for freestyle. There were 32 participants in total and some heats were really spectacular.
On Saturday morning we did the registration, the single elimination ladder was put up, and after a half-an-hour warm up, the first sailors hit the water. The sailors that made it to the quarterfinals were really consistent with their moves and some heats were really close to decide. The sailors that made it to the semifinals were Vaggelis Divis, Alex Prapas, Nick Athanasiou and Stam Prombonas. The first day came to an end around 5 in the evening, after the single elimination was completed. The result of the single elimination was 1.Stam, 2.Nick, 3.Alex, 4.Vaggelis.
On the second day of the competition most sailors were on the beach early to check the conditions, prepare their equipment and have a look at who they had to battle against on the double elimination. The double elimination started and the climate between all the sailors was really nice, everyone was helping out each other on the beach with the equipment and heat sequence.
The sailor that came up to challenge the 4th place finisher of the single elimination was Pantelis Papagiannopoulos from Patra. The heat was spectacular, with both sailors landing quite technical moves, but in the end it was Vaggelis Divis who prevailed, managed to keep his lead and went on to challenge the 3rd place finisher, Alex Prapas. Gaining momentum, Vaggelis had a really good heat against Alex, with the latter being in an unfavorable position after choosing a sail that was too small for the conditions. The result was that Alex could not demonstrate his usually polished repertoire of switch chachoo, puneta, clew first puneta, funnel, eslider, double flaka, spocks, grubbies, forwards, and had to succumb to his opponent who landed his moves cleanly and more dry. Vaggelis continued to face out Nick Athanasiou, who was waiting in second place. Nick was fresh and he was performing his moves effortlessly, leaving no doubt as to who was to advance.
The final was once again between Nick and Stam and once again it was spectacular. Stam was really confident and I have to say that he has been killing it in this event. In his heats in the single elimination, even against not so strong opponents, he has been landing forward, shaka, ponch, flaka, cana brava, no hand flaka, puneta 1 hand, eslider, switch chachoo, gozzada and he even tried a burner in the final of the single elimination, which he almost landed. Amazing… Nick put up a good fight, but he could not match all of Stam's moves in style and execution. He tried to reply to Stam's perfectly executed ponch by trying double spock, but fell two times, which was not good for his motivation and flow. The decision was straightforward, Stam had won… Well done for my fanatic team-mate !!! He really deserves it.
Pic: Stamatis no hand flaka
1st Stamatis Prombonas
2nd Nikos Athanasiou
3rd Vaggelis Divis
4th Alex Prapas
Overall, it was a really fun weekend and the onlookers that were sitting at the waters' edge were really into the event. Besides some omissions, everything went perfect and the only downside of the event was the injury of good friend and freestyle sailor, Tasos Galanis, who broke his foot during a double flaka attempt.
Thanks a lot to the organizer, Mr. Kontarinis from "FORWARD" windsurfing shop, as well as everybody who supported this event. A big thanks also goes to the three judges that sat on the tower for two days in a row and didn't miss a move! And also to Nikolas Karavanas who was taking care of the flags and horn and was so helpful in letting everybody know about heat times, remaining time, who's next, pretty much everything actually. He must be exhausted after this weekend !
There were about 4.000 pics taken by the photographers of the event, some of them will be uploaded on the greek website www.windsurfing.gr . I will also upload some here…
Until next time !!!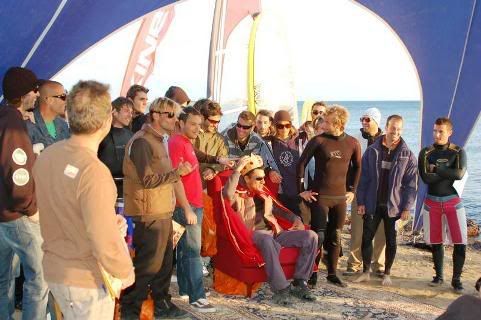 | | | |
| --- | --- | --- |
| DaKine Freestyle Challenge 2008 | | |
22nd October, 2008
This weekend (25 – 26 October) we have a freestyle event in my homespot. A lot of people are going to take part and we are expecting some radical performances… I have been watching the guys practicing freestyle all week long and I can say that they have made big progress…
I will keep you updated !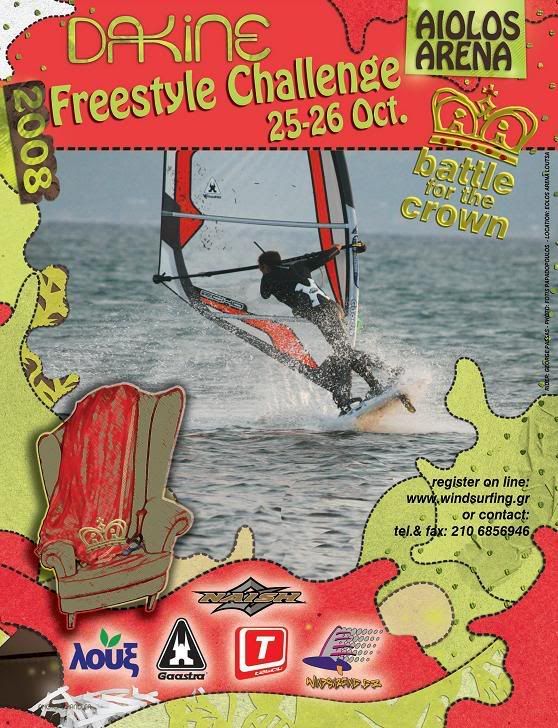 | | | |
| --- | --- | --- |
| Autumn is here | | |
17th October, 2008
Pics: Fotis Papadopoulos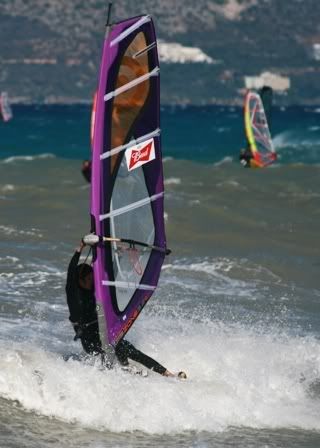 Autumn is here and I am back in the water after my leg has healed completely from the stitches I did in the middle of September. We've had some good conditions and I had the chance to try all my new sails and boards the past two weeks. I've got new NeilPryde Zones and Flys and a new Fanatic twinfin board which I absolutely love.
We've had an absolutely amazing day in the Korinthian gulf, with Northwest wind. It was my first session with the twinfin 72lt, and I was in the water from 10 in the morning until 5 in the evening riding waves. It is unbelievable what this board can do, you can take completely different positioning on the wave than with a single-fin board…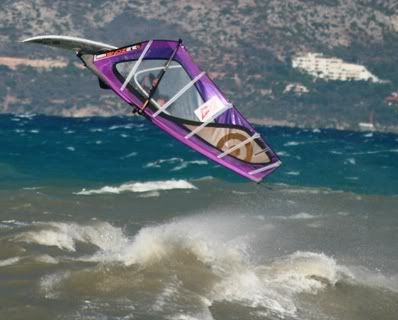 I've also put up some new clips on the gallery section (videos), one of them is from the day with the riding session. Just to have a look of how it was. Thanks a lot to Christos Zymatikas and Aris Xintaras who stayed behind the camera for a little while to capture some of the action.
Check out some new pics on the Gallery (Greece - Korinthiakos), I've put some from Lexeio, a spot that is 1 hour west of Athens and works with West wind. I was really overpowered on my 3.2 that day... Thanks a lot to Fotis Papadopoulos for the pictures !
I've got much much more footage which I will put together in a video soon….
See you all in the water !
| | | |
| --- | --- | --- |
| 3S magazine Pushloop Technique | | |
15th September, 2008
Hello everybody !
Here you have a pushloop technique that I wrote for the greek magazine 3S , it was published in the August-September 08 issue. Sorry for the pictures being small, you can save and enlarge them to see better. But the words are in greek ...
Hope you enjoy it !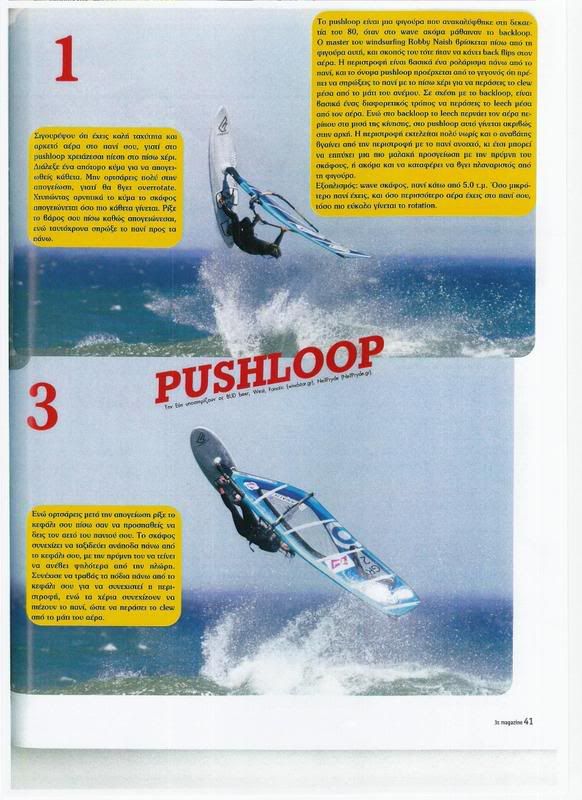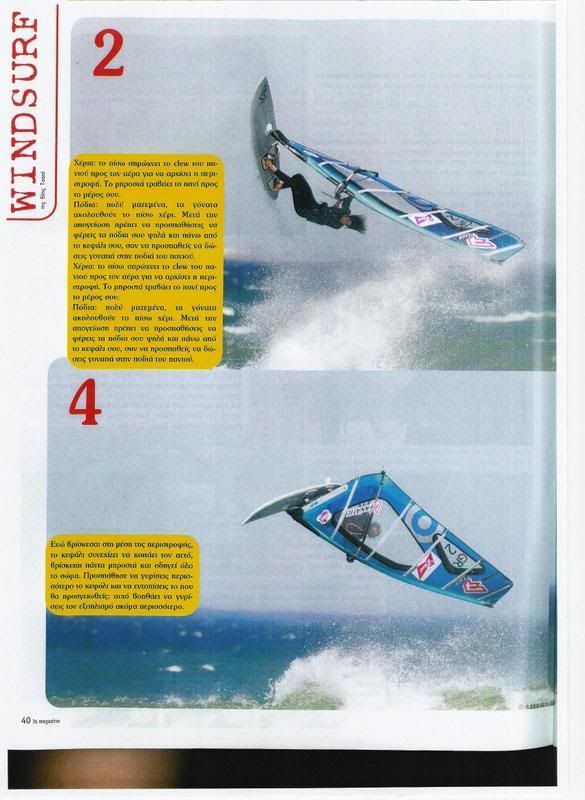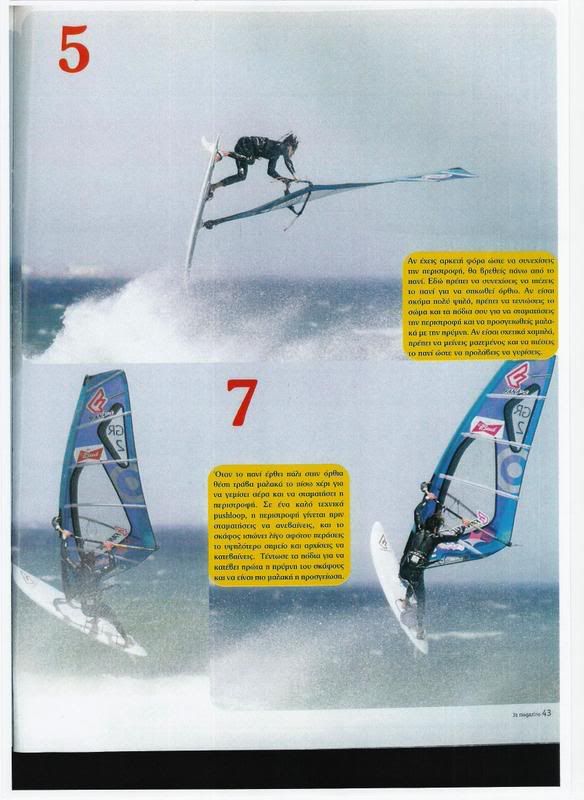 | | | |
| --- | --- | --- |
| Mykonos pictures | | |
4th August, 2008
Hello everybody !
I have just uploaded some pictures from the greek island of Mykonos, where I spent one week in the beginning of May. Mykonos is a really beautiful greek island and I always like to go there… All pics are taken by my friend Dinos Sempepos. Check out the gallery section. I hope you like them !
| | | |
| --- | --- | --- |
| Pozo PWA finished ! | | |
12th July, 2007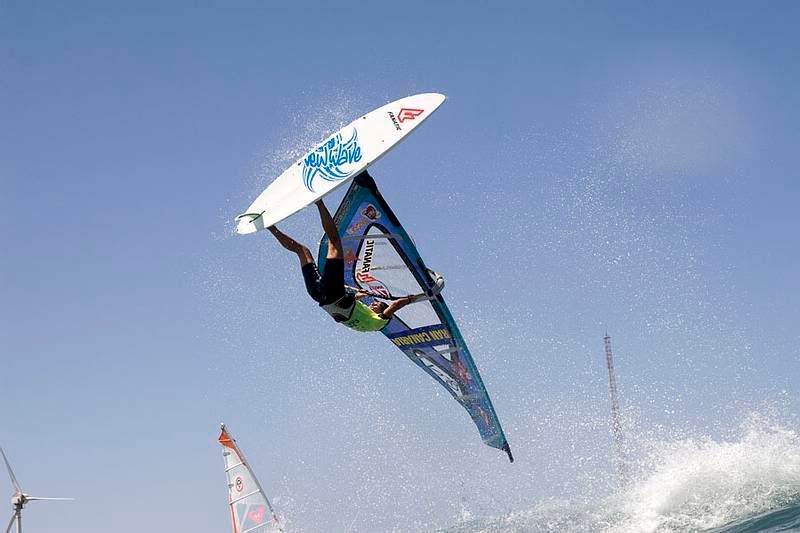 pics: PWA/ John Carter

After 9 days of competition here in Pozo, Gran Canaria, the event is finished …

In waves, Victor kept his 1st position, followed by Ricardo Campello in 2nd who also put up an incredible show in the double elimination. Dani Bruch finished 3rd and Kauli Seadi 4th.

In the women, 1st was Daida, then Iballa, then Karin and then Silvia, who put up a pretty good fight in the double elimination.

The whole double elimination took place in insane winds, all the girls were completely overpowered… and the guys too, most of them were on their 3.3 and 3.0 and were really powered up… first time I saw Victor Fernandez sailing on his 3.4 full power, and first time I saw Daida and Iballa take their 3.0m out ! it was completely crazy !

I didn't do so good after I twisted my knee earlier this week, I was not so confident anymore with landing my moves in these crazy conditions, so I lost against Junko Nagoshi in the 3rd round…. So now I am overall 7th in waves.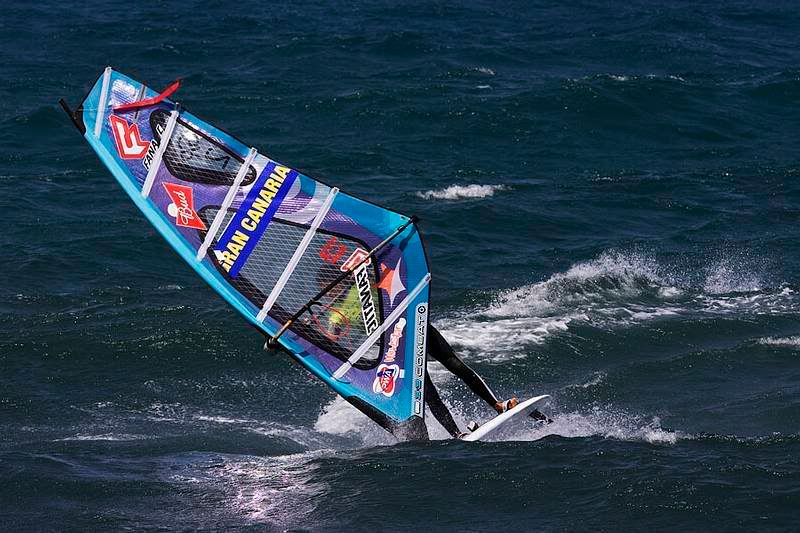 In freestyle, we had 2 eliminations, both of which were won by Sarah-Quita… this year her sailing has reached another level! She is so confident with her moves it's almost unreal… Daida was 2nd in both eliminations, Laure was 3rd in the first elimination and 4th in the second elimination, and then Junko Nagoshi was 4th in the first and 3rd in the second elimination. Laure and Junko had to resail this morning, on the last day of competition, in order to break the tie, in completely crazy winds for freestyle. It was almost a suicide, I was a bit scared as they were heading out to sail their heat. They both started good, landing spocks on the inside. But then when it came to switch stance moves, Junko who was trying them coming in could find better flat spots and less wind than Laure who was trying them going out… Junko finally won the heat and the 3rd position in freestyle… Pozo this year has been TOO windy i must say... The last three days the wind has been so strong that I am completely overpowered on my 3.3m sail and 69lt waveboard… I'm going to bring a smaller sail and board when I come back next year, that's for sure !
| | | |
| --- | --- | --- |
| Wave Super Session | | |
12th July, 2007

pics: PWA/ John Carter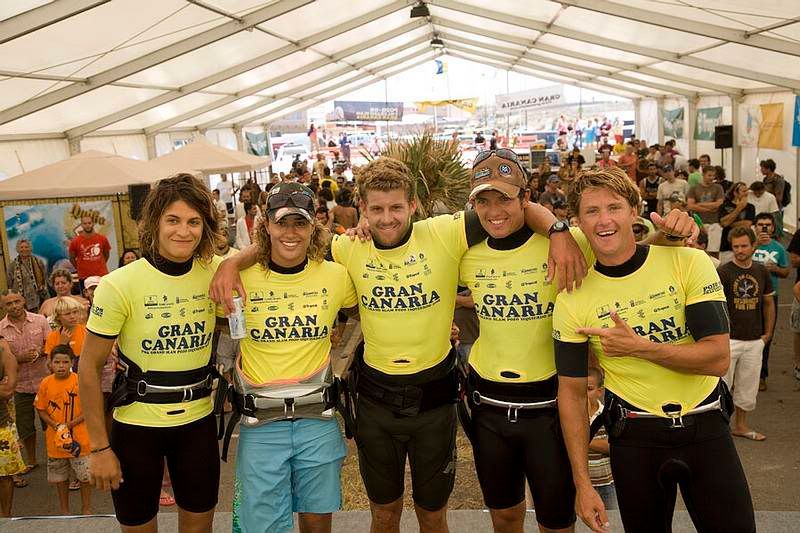 On the last day of competition the wind was still howling, 3.3m sails completely overpowered and most of the guys were on their 3.3 and 3.0. Also, we still had waves, so we did a Wave Super Session with a €1500 prize money. With the super session format, we all go in the water for a final in a jump only contes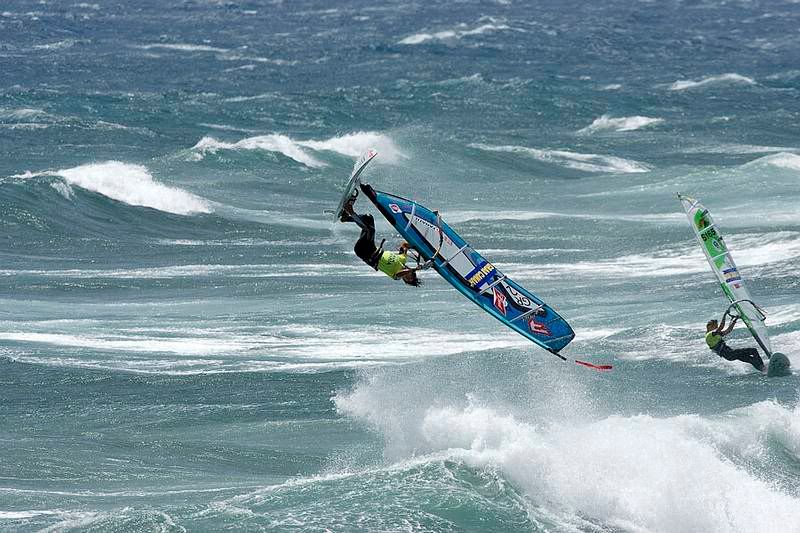 t, and the judges score only the best jump from each competitor.
We girls sailed the final straight away because we were fewer than the guys… The guys did 4 heats, with only one sailor advancing to the final. The final consisted of Victor Fernandez, Ricardo Campello, John Skye and Kauli Seadi. All the guys were throwing doubles in the final, it was amazing. And then Ricardo tried a triple and almost made it... Results: 1st Ricardo, 2nd Victor and 3rd John Skye.
In the women's final, Daida Moreno won for almost landing a double, I was second with a pushloop and Iballa Moreno was third behind me… it was good to be on the podium even if it was the super session and not proper competition, especially because I was 2nd ahead of Iballa, who is always 2nd here in Pozo.
I'm going back home in 2 days, to check if my knee is ok and relax after a long 3 weeks stay here in Gran Canaria…
| | | |
| --- | --- | --- |
| Wave Single elimination completed ! | | |
4th July, 2008 pic: PWA/ John Carter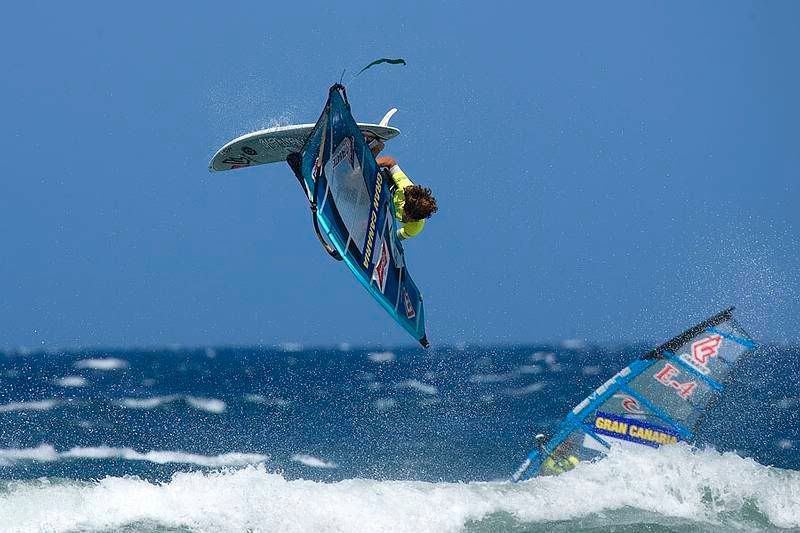 First day of competition in Pozo today, we started straight away with the waves based on the quite good forecast… it was not as great as we expected, but they pushed it a little bit and we completed the full single elimination….
The elimination ladder was bad for me, I was against Daida Moreno on the second round so I got knocked out…
Now I have to wait for more waves and the double elimination. The forecast doesn't look that great for the rest of the week, looks like we're going to do lots of freestyle eliminations, but let's hope we get some good waves before the contest ends next Saturday !
The results of today are:
MEN : 1st: Victor Fernandez
2nd: Dani Bruch
3rd: Ricardo Campello
4th: Nik Baker
WOMEN: 1st: Daida Moreno
2nd: Iballa Moreno
3rd: Karin Jaggi
4th: Nayra Alonso
| | | |
| --- | --- | --- |
| Off to Pozo !!! | | |
17th June, 2008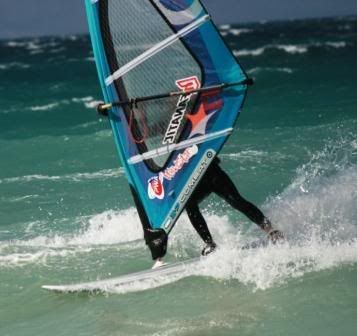 Hello !
I'm going to Pozo on the 22nd June, to train before the PWA Gran Canaria Grand Slam that runs from the 3rd until the 12th of July…
The forecast for next week looks really promising, I am really looking forward to sailing in Pozo again after one whole year !
I'll keep you posted !