| | | |
| --- | --- | --- |
| Funboard Italia interview | | |
8th August, 2009
Interview by Valentina Crugnola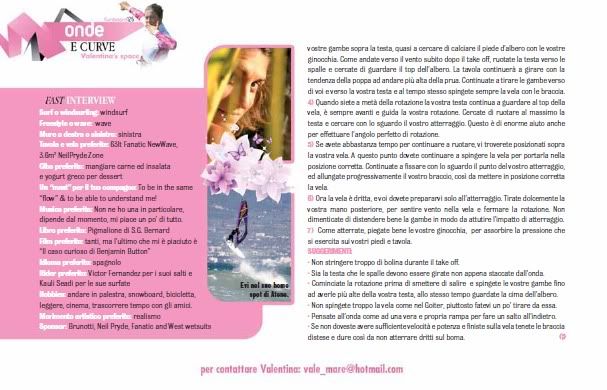 | | | |
| --- | --- | --- |
| Evi in Top Scorer mag | | |
30th July, 2009
Interview by Marianthi Xristofidou
Pics by Dimitris Gkolfomitsos
Hello everybody !!! Here is an article that was published in the greek mag "Top Scorer". It is a mag that is mostly addressed to kids 15-19 years old and it's quite popular here in Greece. It was really fun to get to know and work with the guys on this.
I scanned the article for you (sorry it's in greek !)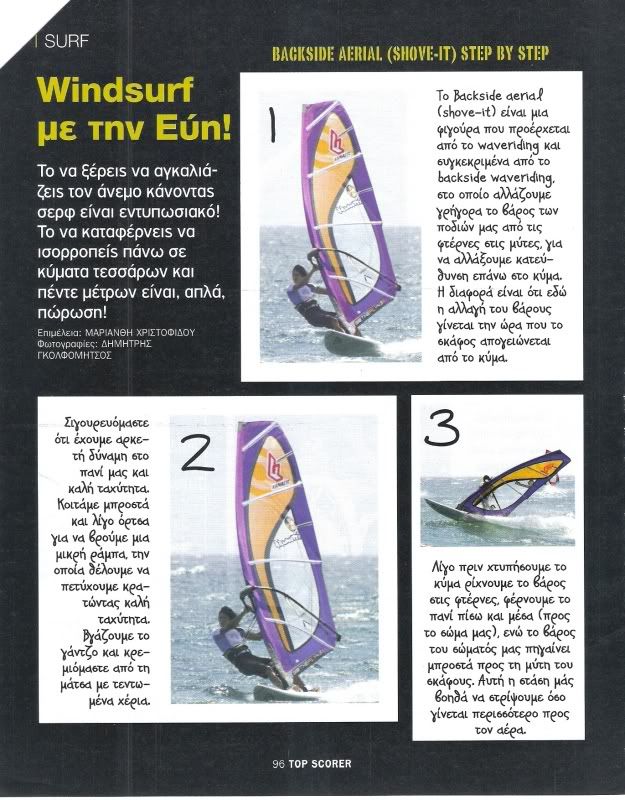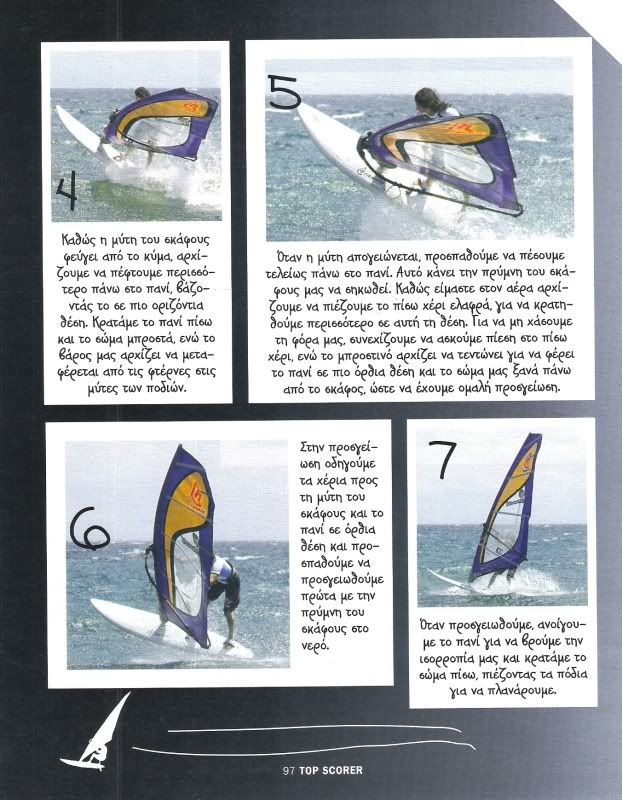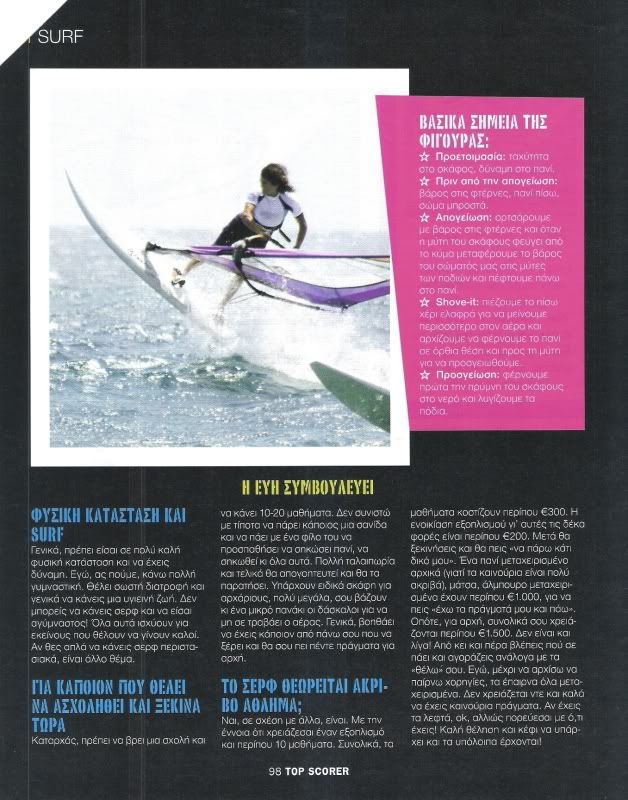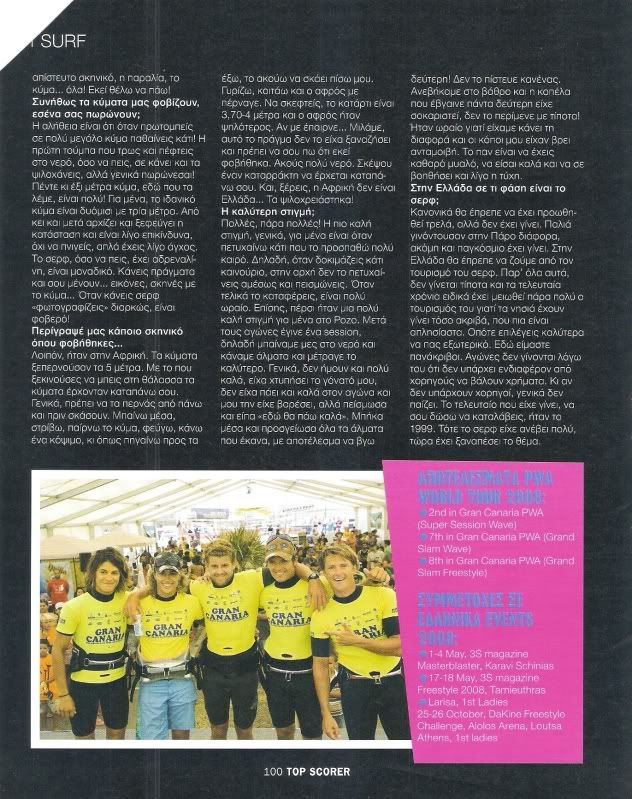 | | | |
| --- | --- | --- |
| Double elimination | | |
20th July, 2009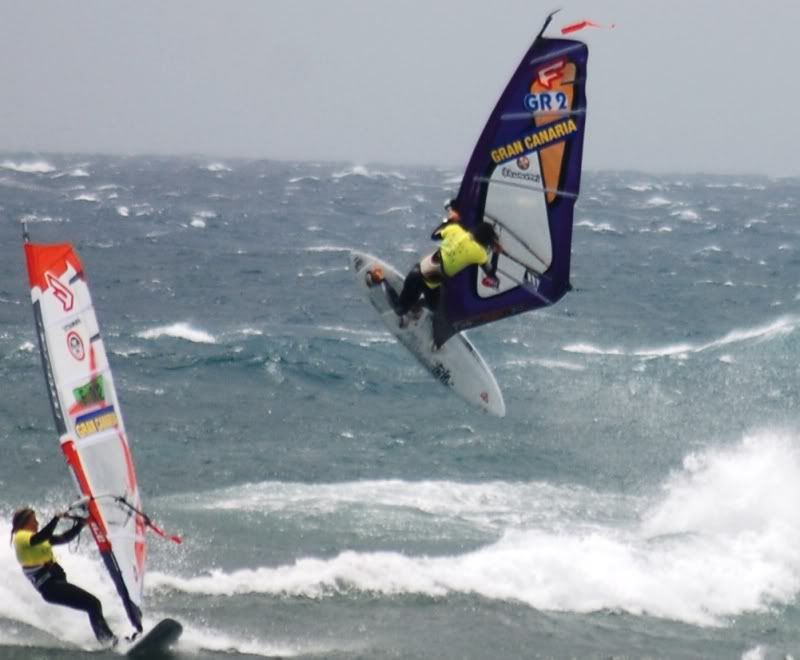 Pics: George Karakostas, Irene Tsape
Pozo PWA is finished, with another result that I didn't deserve. The double elimination started on the 16th July and finished on the 17th, the last day of the competition. I was against Astrid Muldoon in my first heat. It was quite windy, so I went out on my 3.0, slightly underpowered but it was nice to be underpowered for once in Pozo. I sailed one of my best heats ever against Astrid, landed all my jumps (pushloop, tabletop forward, tabletop and forward), did some backside aerials followed by ride on the same wave and also my wave riding was ok; I sure did a lot more than enough to pass through.
Then I had to face Silvia in the next round. Since I was a bit underpowered in my first heat with Astrid, I decided to change to 3.2. I went out for the heat, but nothing was in place this time. First of all, I got the timing wrong, and whereas I was always starting the heat going out, port tack, to try my jumps first, in this heat, when the green flag went up, I was still in the middle of the competition area coming in. So this was the first frustration. The second frustration was that I had pulled my 3.2 just a little bit too much and I was underpowered, again… and I wanted more power, which made me feel a bit uneasy. The third mistake is that since I timed it wrong, I should have gone for a wave ride as my first move; instead, I came all the way to the beach, jibed and looked for a ramp to try a pushloop or a table forward. I had in mind that if I would land my two best jumps, which Silvia cannot do, then I would score a lot better in jumping and then all I would have to do is find 2 good waves to ride and I could win the heat. BUT, this heat just wasn't meant to be. There were no sets coming in, so I did 2 runs with nothing, then a forward and then a tabletop, but not so good –at least for my standards-. Then I fell on my backside aerial because I was really underpowered and did it in a lull of wind, and that's when I started to feel that this heat is not going to be good. Then I fell on my wave ride because I started to be nervous. And then, to add up to my bad energy, I jibe and go out, because I had checked that some sets were coming in. I aim a wave from far away, and started going full speed towards it and I was going to go for a pushloop, and that's when I check out my sister (she was in the same heat against Karin Jaggi) who was standing on that wave, had seen me going full speed towards the wave, realized that I want to jump and didn't not know where to go. I was not sure where she was going to go and I was afraid not to kill her, so I went really upwind before hitting the wave (I could not go more downwind than her), I lost my speed, and also the lip was not "ready" for a pushloop yet, I needed to have aimed just about where my sister was. So my pushloop was quite wet, and I was really frustrated that everything was going as wrong as possible. So, after that, my psychology was totally devastated. Not that it was Irenes' fault, far from it, it's just that this whole thing screws up your mind and your concentration so much, meeting your own sister on the ramp that you HAVE to use in order to land your move, when you're already desperate. Unbelievable…
From then on I guess I lost my concentration and my flow completely, I was not sure what to do anymore, whether I had to look for ramps to land my good jumps or just give up the whole jumping idea and do my best in waveriding. I was completely lost, coming and going without being sure what I should try… My friends told me that they have never seen me sail so bad. I just never came up with a plan b, a strategy, I had my mind too locked. I had my worst heat by far… And I lost, with not even a big difference. If I would have just landed a good forward and a good tabletop and then concentrate on waveriding it would have been different. But I relied too much on my jumping (because I am consistent, I just need the ramp), which proved to be a bad strategy… But it is amazing when I think about it, in my first heat everything came into place on its' own, I was "in the flow" and everything was so easy. I didn't even sweat… And then in the second heat with Silvia, which was much more important, everything was wrong….
I am happy for my sister though, she had a great first event, could land her jumps (forward and tabletop) consistently in all her heats, and her waveriding was quite good, too. It's nice to see her do well in her first contest !!! So we are together in 7th place for the event.
The mens' double elimination final was even more amazing than the single elimination final… Victor and Philip pushed each other so much, it was incredible to watch. They were going higher and higher, sometimes staying in the air for more than 5 seconds before they went into their rotation. They were both perfect, but Philip managed to outdo Victor, especially with his pushloop-tweak into forward, which was one of the cleanest I have ever seen. I will say no more, this kid is amazing, especially if you consider Victors' sailing, which is also from another planet J
In the women, Karin came all the way up to beat Junko, then Nayra – although Nayra sailed well – and then lost against Iballa. The final was between Iballa and Daida. Iballa started well landing a nice backloop in crazy wind, and Daida quite bad, crashing her first moves… But then Iballa lost her equipment in an attempt that scared me so much… She went for something like an air-chacho (or double forward? - I am not sure what she tried to do) and the sail got ripped out of her hands… completely… and then she was in the air, with the sail being catapulted downwind and her feet still in the straps, and I thought "sh*t ! If the straps don't go out, she's going to crash so bad…" Luckily the straps went out, the board and rig got blown away and even separated from each other when they crashed on the water… It was quite spectacular I must say… Anyway until Ele took her equipment she had already lost time, whilst Daida landed a nice pushloop tabletop, did a decent double attempt and then could concentrate on her wave riding, she had a really nice frontside aerial, too, and took the victory once again.
We went sailing on the evening of the 17th, after the double, in crazy wind and good waves. Also on Saturday we had a really good swell in the beach of Pozo. They were running the Spanish championships though, which was a bummer, but we still had some time to sail some really good waves.
Thanks to everybody who was there for support !!!!
I'm going to upload more pics in the gallery section… check them out !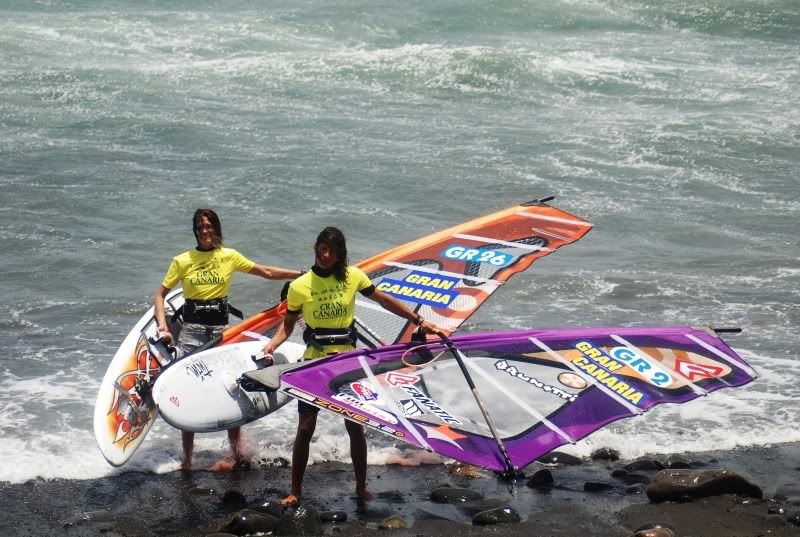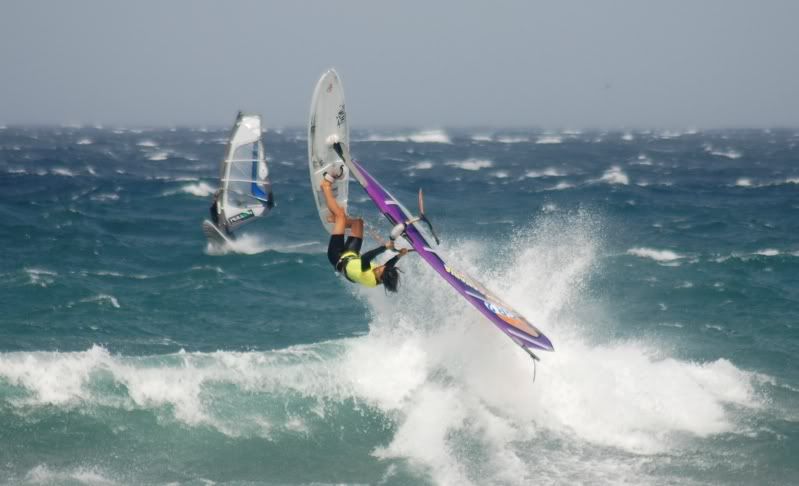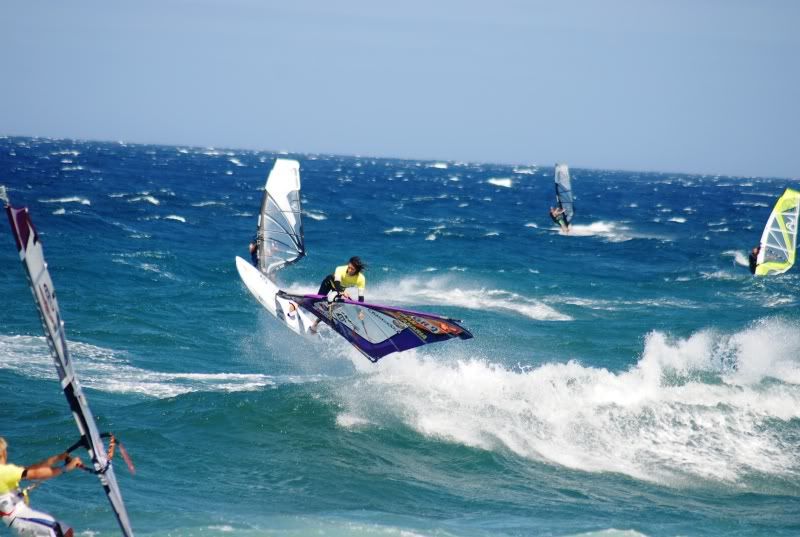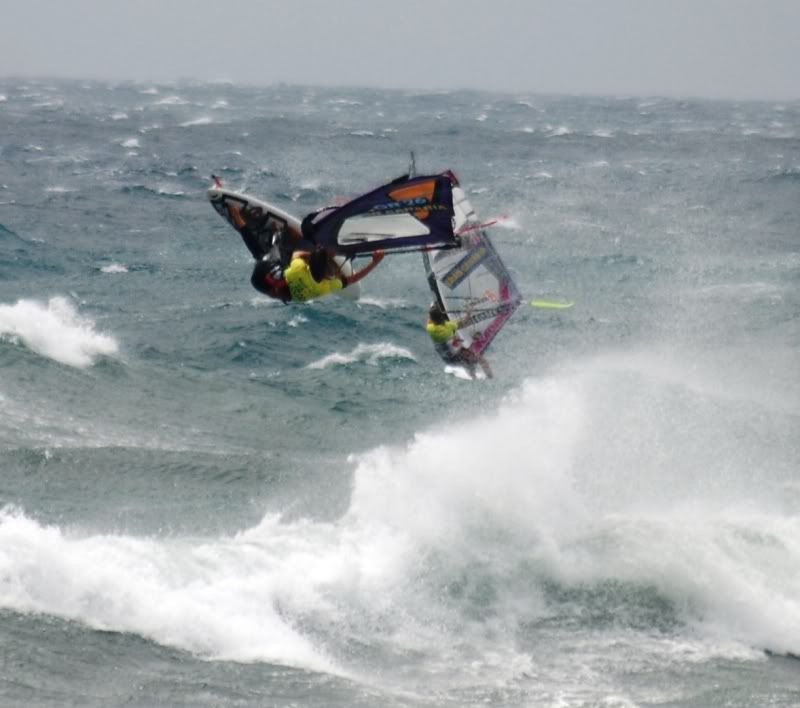 | | | |
| --- | --- | --- |
| Back in Pozo | | |
13th July, 2009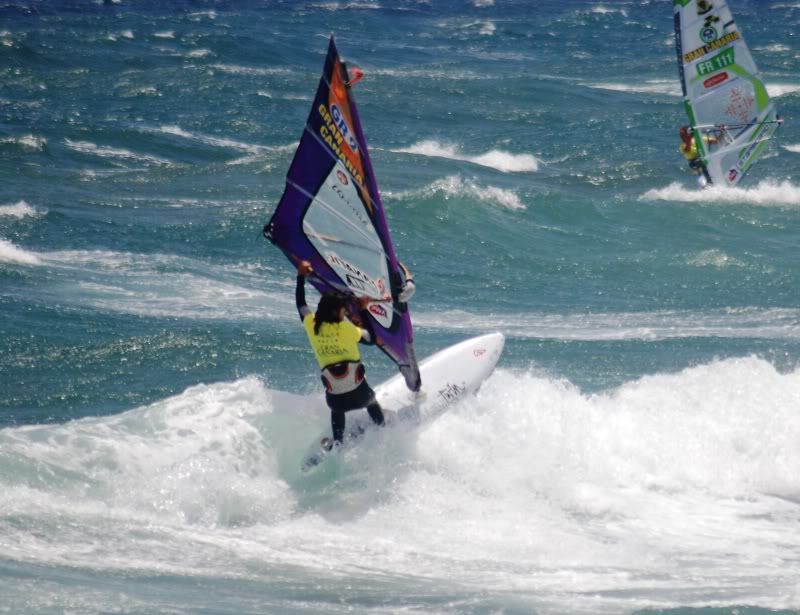 Pics: George Karakostas, Aris Xintaras
Hello everybody !
We're here in Pozo Izquierdo, Gran Canaria since last Friday for the PWA Wave event. It's been windy every single day since we're here and some days we've had good waves. Not massive, but it has been really fun to sail here, especially after 3 months almost without wind in Athens. My sister is also here to take part in the competition, and she's been really motivated and training every day. This year there's also a group of greek guys in Pozo, and it's been really nice to have them here with us...
We had the registration for the event on the 10th July and the event started straight away with the single elimination of waves. I was against Laure in my first heat, I was quite nervous but I went through to face Daida in the second round. I had a good heat, but Daida killed me completely, she's even more consistent this year and even lands takas on the wave most of the time. Iballa, Daida, Junko and Nayra were in top four, Nayra won the losers final and Daida won the winners final. The twins are standing out from the rest of the fleet, their jumping is amazing.
The guys are really ripping this year, everybody can do takas on the wave and their jumping has improved a lot, too, they go higher and have more clean landings. Those that made it to top four were Dario Ojeda, Jonas Ceballos, Victor Fernandez and Philip Koester. The final was between Philip and Victor, the heat was just amazing. Philip won the single elimination, Victor was second, Jonas third and Dario fourth.
Now we have to wait one or two days because the waves are going down, they're probably going to do slalom and then switch to waves for the double elimination. The event ends on the 17th, so we have 5 more days to go.
Hope everybody's having some good sailing !!!!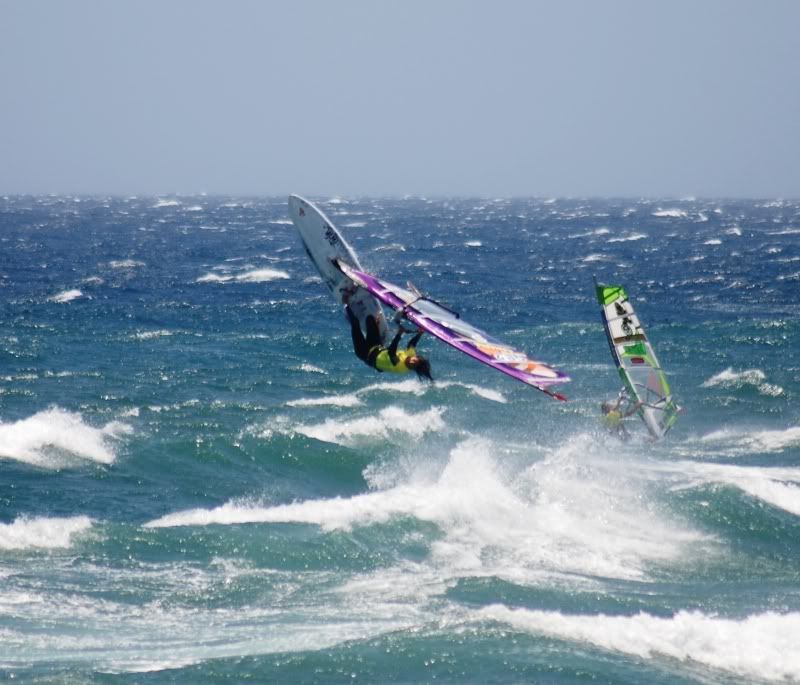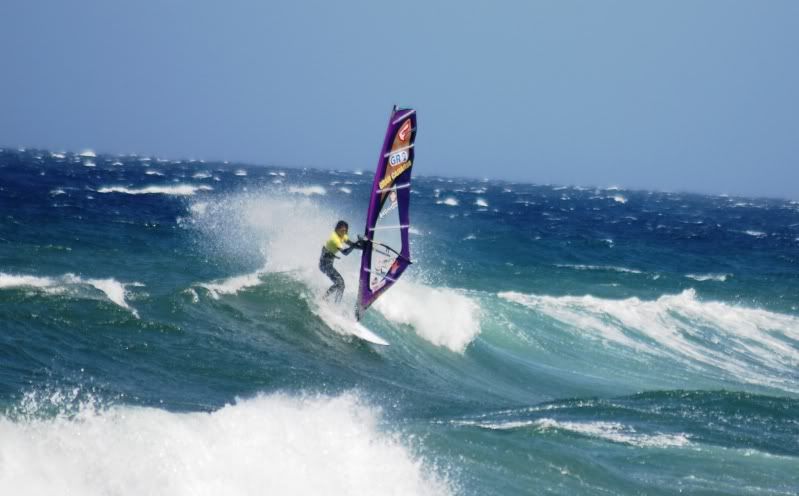 | | | |
| --- | --- | --- |
| Girls Windsurf Camp | | |
2nd June, 2009
Pics: Christos Zymatikas, Anna Tsouka, Alfred
The Girls Windsurf Camp that my sister Irene and I organized was a big success. We had so many participations that we had to run the camp for two weekends instead of one; otherwise we would not be able to teach all the girls properly. Yiannis was also a big help as he has teached people before and has a lot of experience with beginners. Both weekends were full of action, we were at the beach all day… We had 23 girls on the first weekend (23rd-24th May) and 18 on the second one (30th-31st May). We separated the beginners in two groups, so we had 12 on the first weekend and another 12 on the second one. So each weekend was a good mix of beginners and more advanced girls…
The camp ran for 2 days, Saturday and Sunday. What we did both weekends was more or less the following: we would meet at the beach at 9 in the morning, get to know all the girls giving them a welcome kit (everybody got a Brunotti t-shirt, a windsurfing dvd, some basic info about windsurfing and some little presents from Brunotti). Then we would do a 1-hour theory session for beginners using a simulator on the beach, explaining everything about windsurfing and then we hit the water. The beginners were separated into 4 groups of 3 girls, and Irene, Yiannis and me were in the water to teach each girl separately. When all 4 beginners' groups were finished, the more advanced girls were already in the water so we were on to them. On the afternoon when the wind dropped a bit, we would do one more session with the beginners. Both weekends we had light wind on Saturday and more wind on Sunday. On the second weekend it was even too much on Sunday for beginners, so only the rest of the girls were on the water. Both Sundays we had a 1-hour yoga session with Sofia in the morning before windsurfing.
All in all it was 2 great weekends and all the girls were really excited. We came to realize that there are a lot of girls in Athens that want to try windsurfing or that are already into the sport and want to improve, and they just don't get enough help and motivation…
We would like to give many thanks to Moraitis Sports Center for their hospitality. Also to the sponsors of the camp, Brunotti, Fanatic (Windstar.gr), Neil Pryde (Funsports.gr), West Wetsuits, Windsurfing.gr and 3S magazine.
Many thanks also go to all our friends that visited us at the event site, to help out and support us… And to Sofia Nina for doing the yoga class both Sundays !!!
Check out the Gallery section soon, I will be putting up more pics…

Until next time !!!!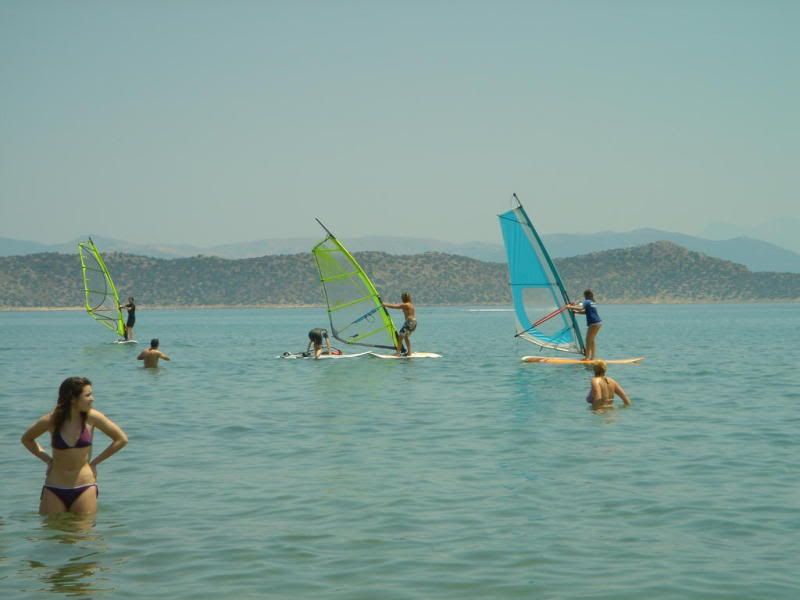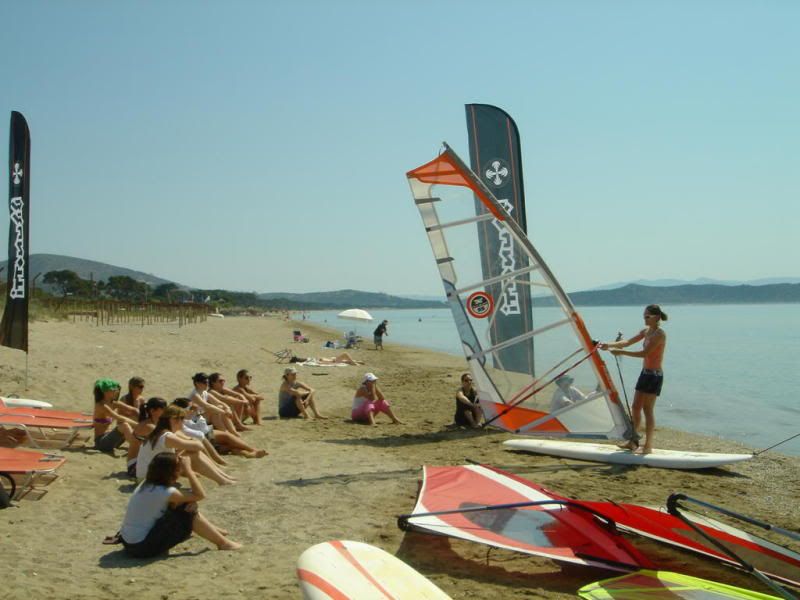 | | | |
| --- | --- | --- |
| 2nd Girls Windsurf Camp | | |
7th May, 2009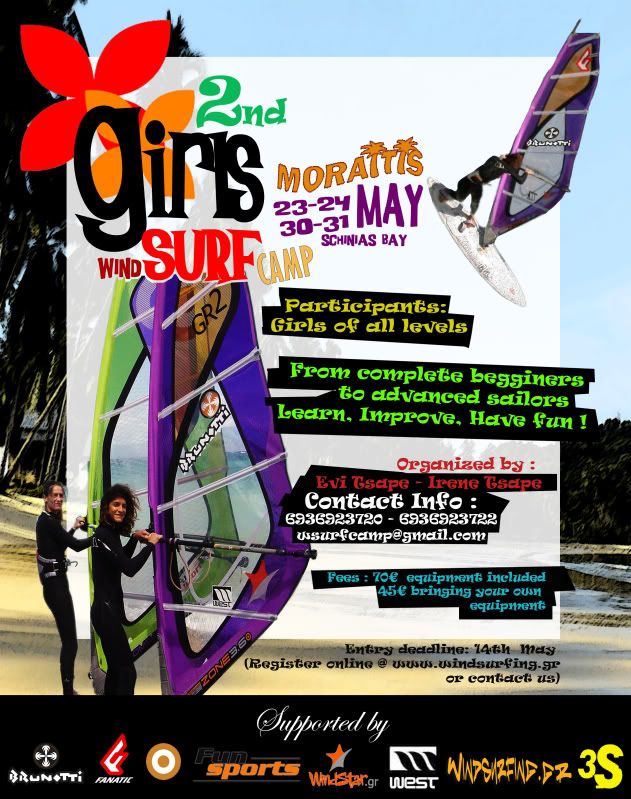 Poster editing by Alfredos & Irene !!! Thank you very very much guys.....
2nd Girls Windsurf Camp
23 – 24 / 30-31 May
Moraitis Sports Center, Schinias Beach
Participants: Girls of all levels
From complete beginners to advanced sailors
Learn. Improve. Have fun !
Organized by: Evi & Irene Tsape
Contact info:
6936923720 (Evi)
6936923722 (Irene)
This e-mail address is being protected from spambots. You need JavaScript enabled to view it
Fees: 70 € equipment included
45 € bringing your own equipment
Entry deadline: 14th May
You can obtain registration form online @ www.windsurfing.gr or by contacting us
Completed forms have to be sent to the email address: This e-mail address is being protected from spambots. You need JavaScript enabled to view it
Be there !!! We will be happy to see you !
The camp is supported by:
Moraitis Sports Center, Brunotti, Neilpryde Sports & Funsports, Fanatic (Windstar Hellas), West, www.windsurfing.gr and 3S Magazine
| | | |
| --- | --- | --- |
| Brunotti, New Sponsor | | |
12th March, 2009
Pic: George Kapsalas
Brunotti is my new sponsor. I am really happy both about the sponsorship deal and about the people that are behind the brand. They are really open people, very good at their job and ready to embrace all new projects and ideas concerning windsurfing. I am sure it's going to be a great partnership! I got Brunotti clothes for summer and my winter clothes are on their way, too. They are awesome, really good looking and of very good quality! Brunotti is also going to support me financially for all my activity in Greece and on the PWA in 2009.
So happy…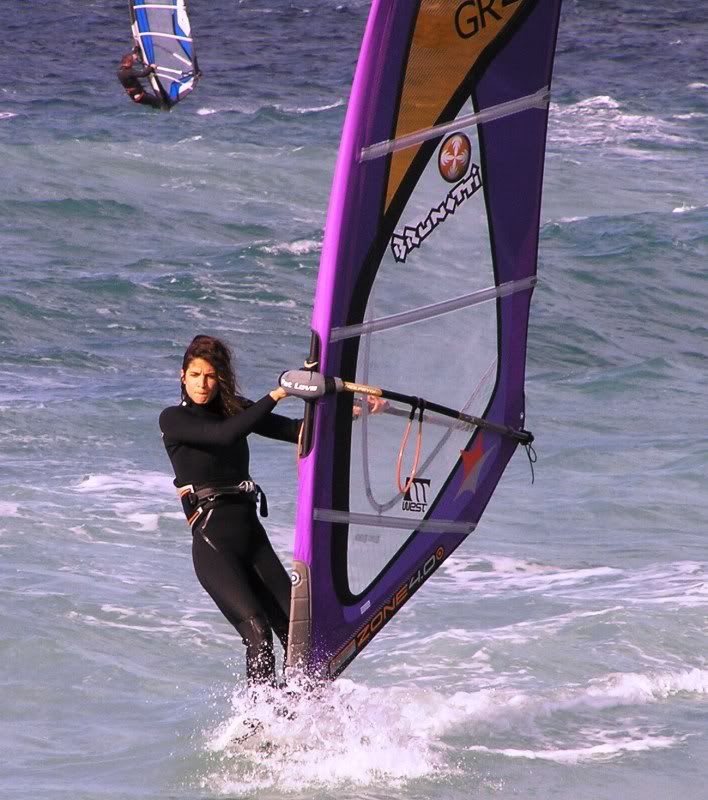 | | | |
| --- | --- | --- |
| Freestyle with sun | | |
9th March, 2009
South wind again and second day in a row on the water, this time for a bit of freestyling and some waveriding in really light wind. I was out on 5.1 The Fly and FreeWave 86. I hadn't freestyled for ages but the FreeWave is always good to practice freestyle with and play around with waves. It was fun anyways, especially as it was a sunny and beautiful day. I think spring is here, finally…
All pictures courtesy of Dimitris Moraitis .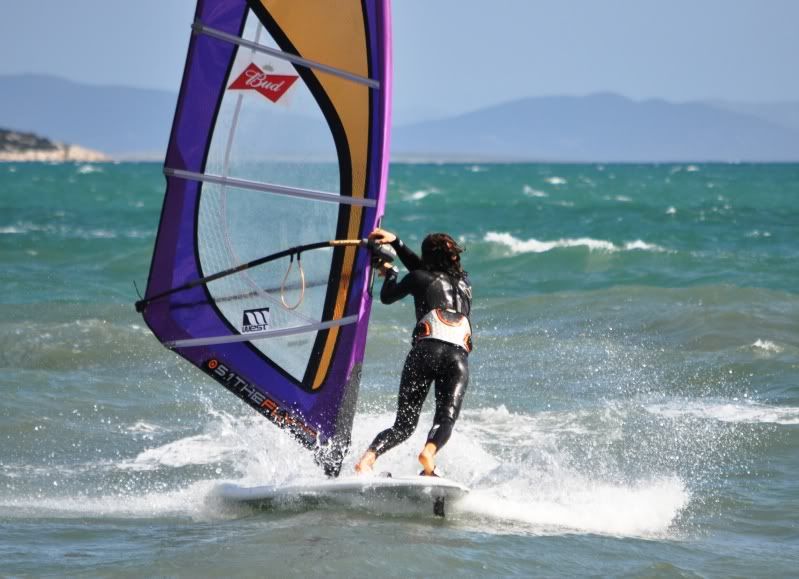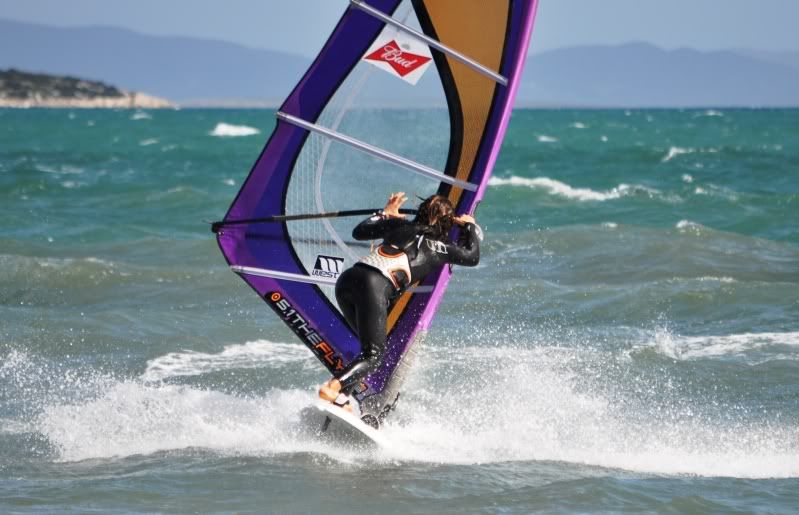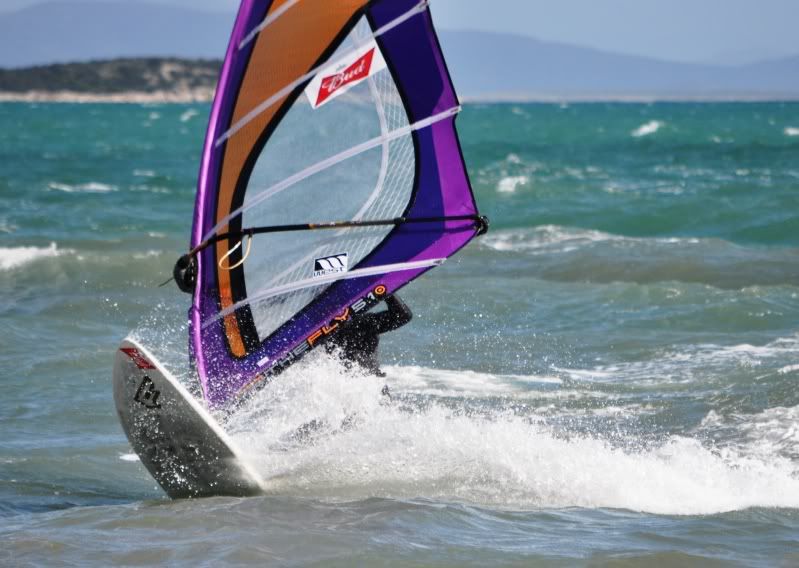 | | | |
| --- | --- | --- |
| South wind | | |
8th March, 2009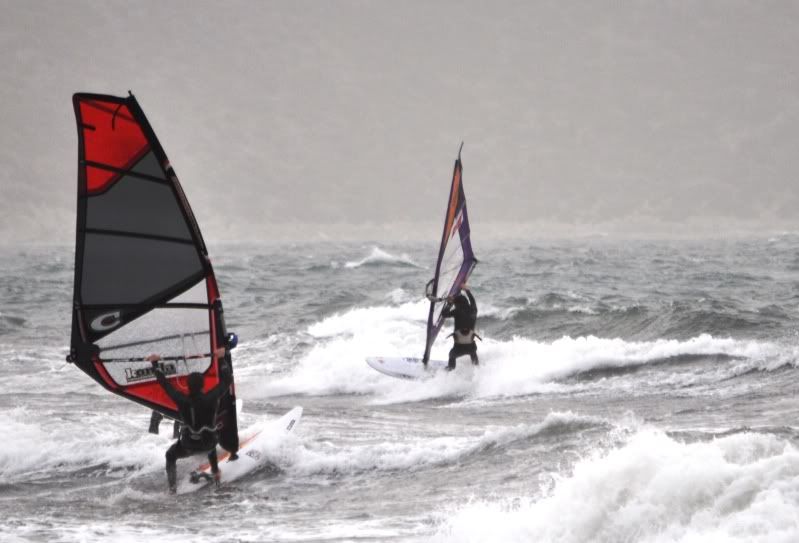 Yesterday we had South wind in Athens, quite strong, I sailed with 63lt and 4.0 - 3.6m2 sails. It was dark, quite gusty, but there were quite nice lines for waveriding, with some bigger sets breaking near the beach. Sometimes we could do 4 cutbacks on the same wave, which was really good. I also tried a few wave 360s and could land one in waterstart position. It was nice because it was warm and we could sail for 4 hours in total, quite rare in winter time. We came out of the water totally exhausted around 5 pm, when we could hear thunder and see flashes of lightning getting closer and closer, as rain was coming. Rain is quite common with wind from the south, especially in winter time…
The pics were taken by Dimitris Moraitis, who owns the beach club Moraitis Sports Center in Sxinias, where we hang out a lot, especially in summer time or when there is a forecast for south wind.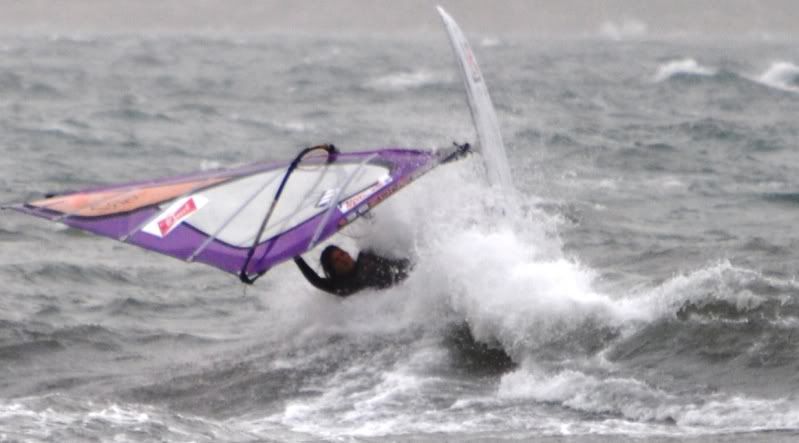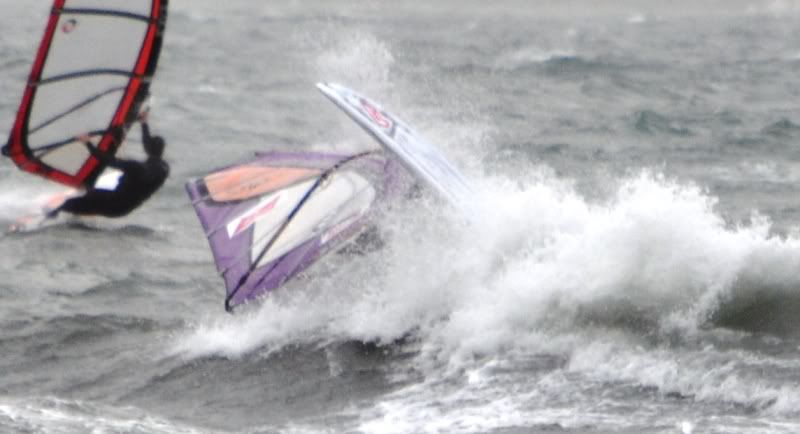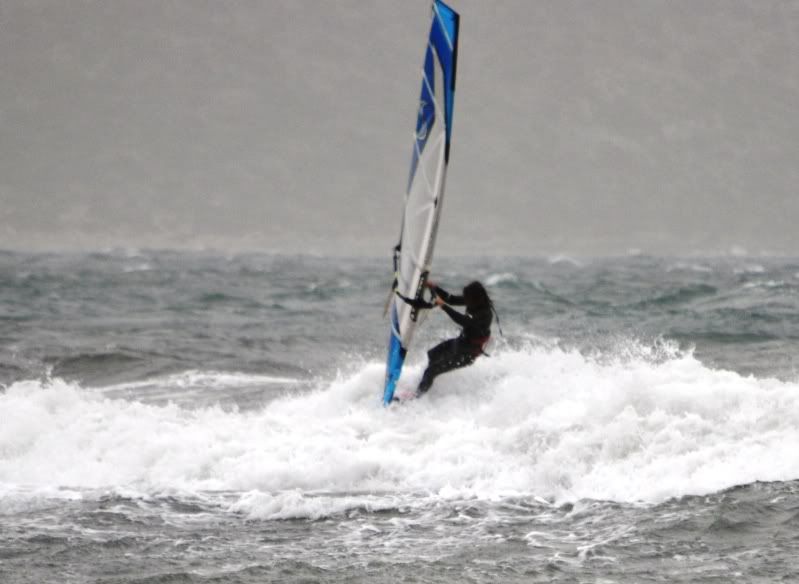 | | | |
| --- | --- | --- |
| West of Athens | | |
7th February, 2009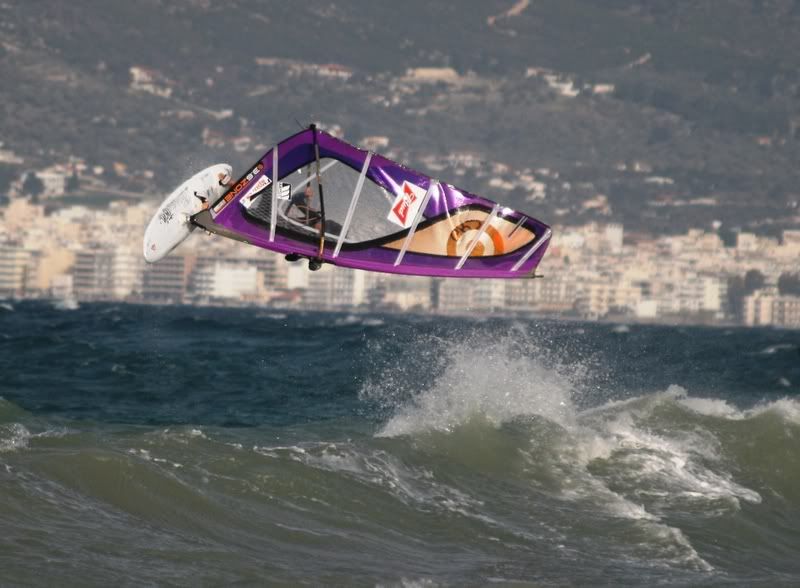 Pics: Fotis Papadopoulos
Still in Athens, this winter has not been too cold so far, but a few days ago we had snow for the second time in my place. We've had a few good sessions lately in the west of Athens, the Korinthian Gulf, where I had the chance to try my new small single fin Fanatic waveboard. I was completely overwhelmed.
Perfect for jumping and waveriding in strong wind, really light and very responsive, the ultimate precision tool. On it, I can have the most vertical positioning on the wave to hit it frontside, and the sweetest landings at my tabletop forwards and pushloops. Sebastian did it again, it is amazing…
I also sailed one day in Loutsa with my new custom 3.0m NeilPryde Combat which, together with the 63lt Fanatic NewWave, turns sailing with 40+ knots of wind into a walk in the park… I didn't even realize it was that windy…
Now we have 3 days of south wind in a row, time for some starboard tack sailing… My favorite !
Will keep you updated…