| | | |
| --- | --- | --- |
| National Championship weekend - very windy! | | |
5th November, 2009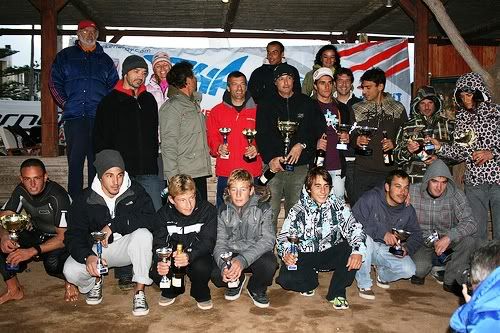 Pics: Raffaello Saracini, Eleni Maniati
The greek event was a big success. The slalom ran on Friday, Saturday and Sunday and the freestyle ran on Saturday and Sunday, with the single elimination on Saturday and the double elimination on Sunday morning. The action on the water was insane, since the wind was gusting up to 45-50 knots both days. I was sailing my heats with my 63lt board, 3.0/3.4 sail on Saturday and 3.0 full power on Sunday.
I had to compete with the guys, since there were no other girls that took part. For me it was really fun because I like strong wind conditions, since that's the only chance that we get good waves here in Athens. The conditions that we competed in were the only chance that I could get a good position against these guys, who have been training so hard all year long on their freestyle boards. If we were competing with light wind, I would never have a chance to do that good. The format was "5 best moves", and in some of the heats I could land all of my jumps. Especially during the double elimination on Sunday, the waves in the competition area were quite good, so I could land pushloops, tabletop forwards, tabletops, forwards and big shove its. I passed a few heats with this repertoire but then the waves started to drop and there were a lot of people sailing in the competition area, so after a point I could not find any ramps. And of course my 63lt board was too small to land any freestyle moves, so I had to settle for 5th place in the men's division, for which I am very happy. I was also 1st woman.
I was really impressed with the guys that were landing some really difficult freestyle moves in these conditions, such as esliders, punetas, flakas, clew first punetas, along with ponches, big forwards and table forwards. They were also trying insane shakas and getting some of the most impressive wipeouts I have ever seen. We definitely saw some impressive stuff over the weekend and it was definitely the windiest event that we've ever had in Greece. There were also two young guys that were competing, who were going for it without being scared, for sure they have a lot of potential to become really good sailors.
The full results for both slalom and freestyle have been uploaded by the organizers (www.karavi.gr). Freestyle results here and slalom results here .
There was also a kite contest running, with top greek kitesurfers competing in airtime. Noise productions and Dj Clo Clo were there as well, playing great music both days.
Thanks to everybody that contributed for this event to happen and mostly to the organizer, the main sponsor ("Shark" energy drink) as well as the judges. Let's hope there are more events like this coming !!!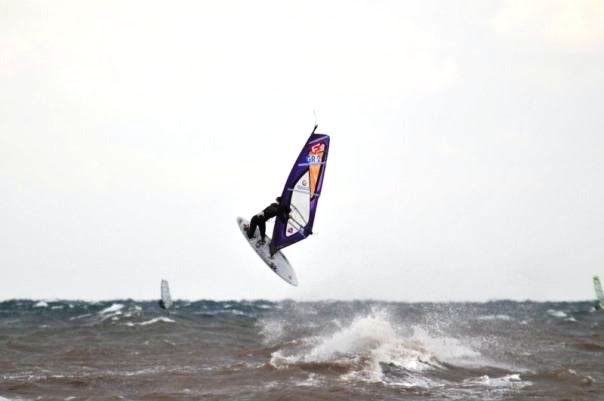 | | | |
| --- | --- | --- |
| Greek National Championships 2009 | | |
29th October, 2009
This weekend, 30th-31st October and 1st November 2009, the Greek Sailing Federation and the Athletic Sailors Association of Schinias Marathon (ANOSM) are organizing the greek national championship, FUN class (slalom & freestyle).
Categories will include general, men, women, adolescents, young sailors, etc.
The championship will consist of 2 separate categories, slalom and freestyle.
Event schedule:
Friday 30/10: 12.00 End of registration
12.30 Skippers' meeting
13.00 Slalom races, freestyle trials
Saturday 31/10: 10.00: Slalom races, freestyle elimination
Sunday 01/11: 10.00: Slalom races, freestyle elimination
18.00: Prize giving and closing party
Event venue: Nissakia Loutsa, Athens, Greece
The forecast looks really good for this weekend and the action is guaranteed to be intense!
Actually, looks like will have wind in Greece after almost 2 months of really bad conditions…
Fingers crossed that the conditions will materialize and see you all there!!!
Mpampis Maniatis, the event organizer
Pics: Eleni Maniati, Karavi Schinias Club
| | | |
| --- | --- | --- |
| NeilPryde & Fanatic equipment for sale!!! | | |
22nd October, 2009
Hello !
For 2010 I will be sailing on completely new equipment, both boards and sails, so I have put up my 2009 equipment for sale:
Neil Pryde 2009 sails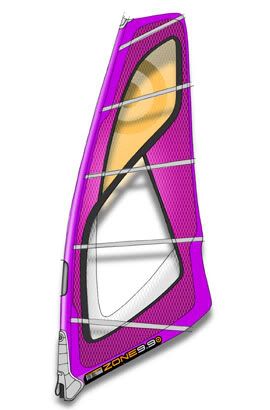 Sizes/model below:
3.0 NeilPryde Combat (custom made) purple, NEW, 310 Euro
4.5 NeilPryde The Fly, NEW, 300 Euro
5.1 NeilPryde The Fly purple, LIKE NEW, 260 Euro
Neil Pryde X9 Masts 2008 & 2009

Sizes:
400 cm 2008 like new (barely used), 290 Euro
370 cm 2008 used, 230 Euro
370 cm 2009 used, 250 Euro
Neil Pryde X9 Carbon Booms 2009
2 booms NeilPryde X9 carbon 135-185, very good condition, 260 & 290 Euro
Fanatic boards
Fanatic NewWave Team Edition 69lt, model 2008
Characteristics
Length: 237
Width: 52,5
Weight: 5,2kg
Construction technology: Technora Kevlar Double Sandwich/Light Finish
Fin: Fanatic NW G10 Fin 21,5cm US Box
Sail sizes: 3.3 - 5.4m²

Price: 550 Euro
| | | |
| --- | --- | --- |
| 3S magazine, Gran Canaria article | | |
17th OCtober, 2009
Hello !
Here is my article for the PWA Gran Canaria Grand Slam in the greek action magazine 3S.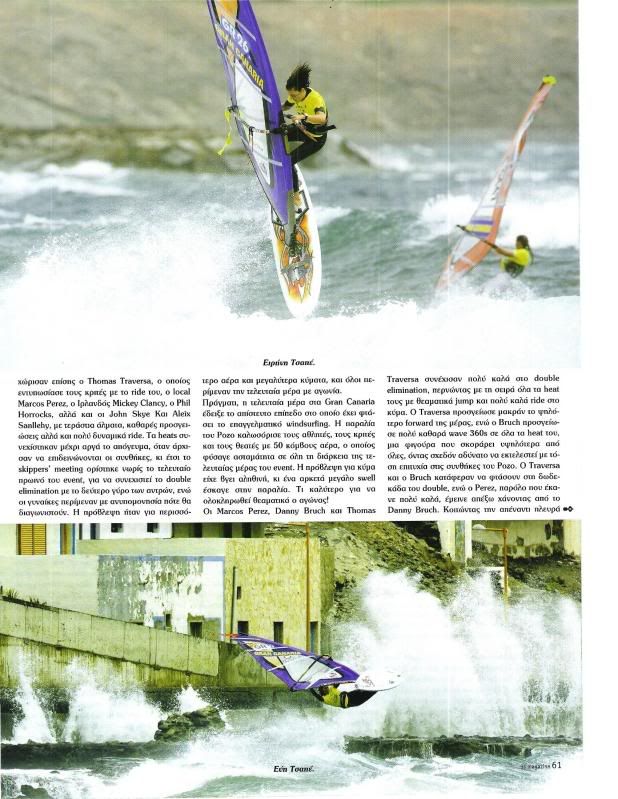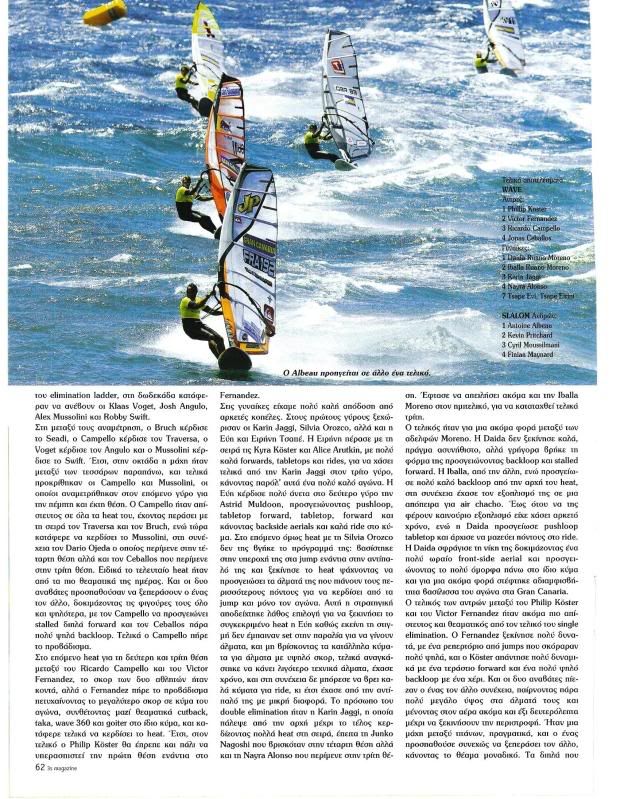 | | | |
| --- | --- | --- |
| Double elimination and 5th overall waves 2009 | | |
4th October, 2009
Pic: John Carter/PWA
Yesterday we had the double elimination in waves, in even bigger conditions than those of the single elimination. When the tide was pushing, it was pretty big. Duncan (the head judge) decided to start with the girls in the morning, since it was low tide, the waves were smaller and the shorebreak less punishing. We were sent out at 8 in the morning, it was quite cold but I could not feel anything from the rush and the stress of competition. A had a bit of bad luck when I was getting all my stuff ready, and had no time to walk upwind to the beginning of the competition area and launch from there, so when the red flag was up I had to run for my heat and start from the most downwind part of the area, next to the peer of rocks… which is the worst place to start, and where the shorebreak is really hard to get past, since you also have to avoid the peer when going out.
Anyways, I struggled a lot to get out, which left me pretty tired, but I made it past my first heat against Heike with forward, tabletop forward and some good waverides. Then I had to face Steffi Wahl, who is a really strong sailor and knows this beach so well, since she is sailing here all year long… I had to walk with my equipment all the way upwind to the start of the competition area, which was very exhausting… and there was hardly any time between the heats, because they were just running the girls and we aren't so many… so there was only one heat break before the next heat. By the time I reached the launching place I had to go out for my heat… I was thinking "man, I cannot do this for long", sail for 14 minutes then walk for 10 minutes and then sail for 14 minutes, over and over again… anyway I sailed good against Steffi, I did forward, tabletop forward, backside aerials on the wave and 3 nice waverides in quite good sized waves, I could make a few turns on the same wave. And I made it past. Next up was Alice Arutkin, and I had to sail against her for 5th-6th place and for a chance to go against Nayra Alonso who was waiting on the 4th place. Starting the heat, I got dumped by the shorebreak and got washed really far downwind, where it was almost impossible to launch from, but I just could not let her win. I summoned all the power I had and managed to get out, and could win the heat again… I was too tired to go big but I could still win by playing it a bit safe and keeping strength for when the shorebreak would punish me again. My waveriding was quite good, though, it seems that I picked the right waves and could do two or three turns on them.
And then was the hard part. After winning against Alice, I had to face Nayra for the 4th place. I had been competing since 8 in the morning, and had been sailing, swimming, getting punished by the shorebreak, pumping, walking upwind and all that for almost two hours non-stop. I was really starting to feel tired now, and I had cramps in my forearms and legs. I ran in the tent to drink some water and made it back to the launching spot 4 minutes before the green flag for my heat. I started to go out, but was unlucky with the shorebreak. I was tired, which made me a bit "not too concentrated" maybe, and I was punished by the shorebreak, again… Man, it was really hard. I was caught in the shorebreak for quite a while, I could see Nayra sailing the heat and I was so pissed off. I got really punished this time, I even went over the peer with waves breaking over me, lucky not to break my neck or completely trash my equipment. When I stepped my foot on the shore, really downwind of the competition area, there were 6 minutes left of the heat. I literally RAN upwind to the competition area, dragging my equipment against the wind, jumped in the water and strived so much, just to get out there. When I started going out, completely exhausted and out of breath, I looked at my watch and it was 3 minutes before the end of the heat and I remember thinking, "what the heck, I'm not giving up". I made it out, jibed, sailed upwind to gain some ground (I was almost at the downwind end of the competition area), jibed, did 2 jumps in one go and still had to find two waves in 1.5 minute. I then took a good wave to ride as I was coming in, I did 3 turns on it. I still had 1 minute, so I get out again to find another wave to ride, I needed one more waveride to complete my scoresheet. But no sets were coming in, so I had to get a small wave, not so good …. I came in knowing that I had lost the heat of course, gutted. And when I checked the scoresheets, I was even more gutted, because I had lost for just half a point. I sailed for 3 minutes, hardly, and lost for 0.5 point, so I think if I was out for the whole 12 minutes of the heat, I would have made it. But that's life, you can really get unlucky sometimes.
So that leaves me 5th in the Sylt competition, and 5th overall in waves for 2009, which is the best result I've had so far, so I'm quite happy.
The girls continued competing as the swell was building up, Nayra did well against Karin but then lost against Daida and had to settle for 3rd. I was caddying for Iballa for a bit for the final and the waves were quite big already, she launched two massive jumps, pushloop and backloop, they were pretty impressive. I was watching the twins compete in the final, going big and getting punished at times, as the shorebreak was growing bigger and bigger... In the end, Iballa finished first, followed by Daida, Nayra and Karin. And then they had to re-sail for overall standings for 2009, which left Daida 1st, Iballa 2nd, Karin 3rd and Nayra 4th.
The men were competing in insane wind and building swell. Klaas Voget, Peter Volwater, Robby Swift and Danny Bruch made it to top eight and in the end it was Klaas who went through to face John Skye, who was waiting in 4th place. Klass sailed brilliantly I must say, as he must have been pretty tired after all these heats in these hard conditions, winning against Skye in 4th, Albeau in 3rd and even Angulo in 2nd, only to be stopped by Alex Mussolini who was waiting in the final. So the guys finished: 1st Alex, 2nd Klaas, 3rd Angulo, 4th Antoine and overall for 2009 1st Josh Angulo, 2nd Kauli Seadi, 3rd Robby Swift, 4th Klaas Voget.
All in all, Sylt was quite an epic event this year, really cold, with really massive shorebreak and really good action. And really good parties, probably, but we never made it there… We were too tired, I guess, and since skippers meeting was so early in the mornings of competition, we went out only one or two nights and came home quite early.
Today they're running a jumping super session, but not for the girls, as it is a bit too big for us to go out. And I am really looking forward to go home !
| | | |
| --- | --- | --- |
| 5th place in the single elimination | | |
2nd October, 2009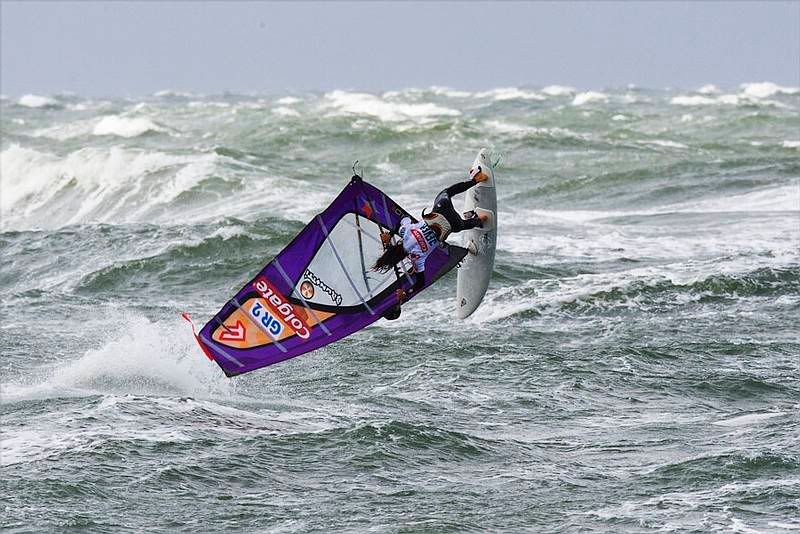 Pics: John Carter/PWA
After almost one week of waiting for the right conditions, yesterday we finally had the single elimination of waves here in Sylt.
It was quite hard to sail, the wind was almost dead onshore, a bit starboard tack, so it was quite hard to go out. The shorebreak was quite heavy and together with the current, which is incredibly strong, it was a mission just to go over the breaking waves and make it out there. The only way was if you would take slightly bigger sail and board than you would normally need for sailing in this wind, and that's exactly what I did. I had to take 4.0, which I left a bit loose to have more power and my 72lt twinfin, so I would make sure I would be planing on the inside full power, to get past the shorebreak.
I started to go out one heat before mine, so I would make sure I would actually make it out in time and not lose my heat. If you didn't find your way between the waves and you got nailed, it was really hard to get back out. A lot of the competitors spent half of their heat trying to go out again after getting nailed on –or after- a waveride. I started as upwind as possible within the competition area and was lucky to get out, really, I was pumping my sail like crazy. A lot of the girls did not even make it out, I think in the first heat of the women only Laure made it out, she was sailing the heat by herself, which was really unusual to watch.
First I was against Sarah-Quita, the freestyle champion, they were counting 2 waves and 2 jumps. I made 2 jumps and then started to look for waves to ride, keeping in mind that I should stay as out the back as possible, but there weren't any waves on the outside, so I decided to take the chance and ride a wave all the way to the inside. I did a proper ride, not so bad for the onshore conditions, but then I could not make it out anymore, I was getting nailed again and again in the shorebreak. Sarah had a harder time than me, though, so I made it past that heat to face Daida Moreno.
I knew I would have to do well to win against her, she's always faultless… Although it was blowing something like 35 knots out the back of the waves, I still took my 4.0 sail to have power on the inside, and changed my board to 69lt single fin, so as to be a bit less overpowered in my jumps. But I was quite overpowered, again… Anyway I did a few jumps and then made a wrong choice of a wave (again) and had to ride it all the way to the beach… I shouldn't have… The thing is, it's my first time sailing this spot and I never really had full awareness of where I was, related to the judges tower and the beach. I was always more on the inside than I thought. So I take this wave, ride it, and then step my foot on the beach. And all these sets were coming… Really heavy ones. And I wait a bit and then start to make it out again. I almost made it, and then on the last wave, as I go full speed against the whitewater, to get past, boom! my mast separated from my board.. I was so scared, I could not even swim towards the shore, I was between the peers and the current was taking me here and there and I could do nothing. Thank god there was a surfer swimming close to where I fell, so he caught my board and we swam together to the shore… It was completely ridiculous. That was the end of my heat, as you can imagine, I had to walk back upwind to the sailors area, took me like 10 minutes.
There were a lot of surprises in the guy's fleet, quite a few broken masts and booms, since the guys take bigger risks and go bigger when they are competing. In the end, Alex Mussolini took first, followed by Josh Angulo, Antoine Albeau and John Skye. Quite a few surprises here, but in these conditions, anything can happen.
In the women, Iballa came first, followed by Daida, Karin and Nayra.
Congratulations to everybody!
I took 5th place in the single elimination, quite happy, although I can always do better…
Check Victor Fernandez in the shorebreak pic below !
Now we are waiting for the storm that is predicted for this weekend, it's supposed to be really big and really windy ! Epic conditions to run the double elimination, so let's see what happens.
Skippers' meeting tomorrow at 7.30…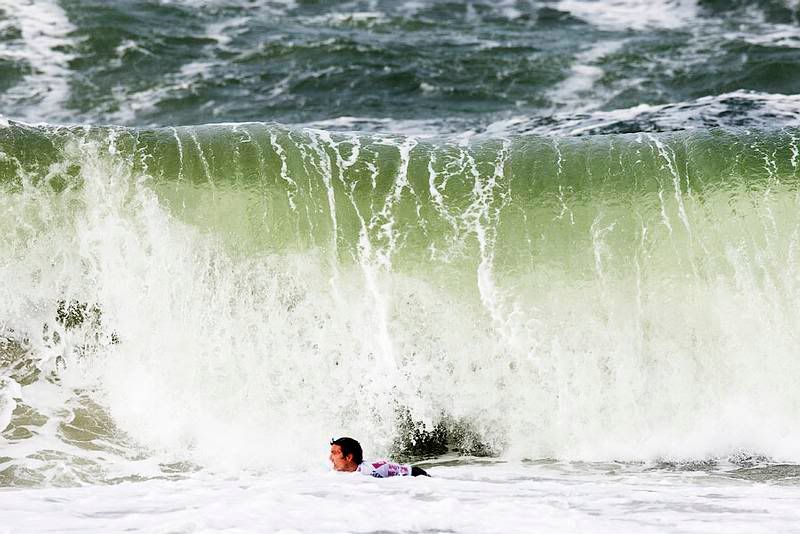 | | | |
| --- | --- | --- |
| Ready for the competition in Sylt | | |
25th September, 2009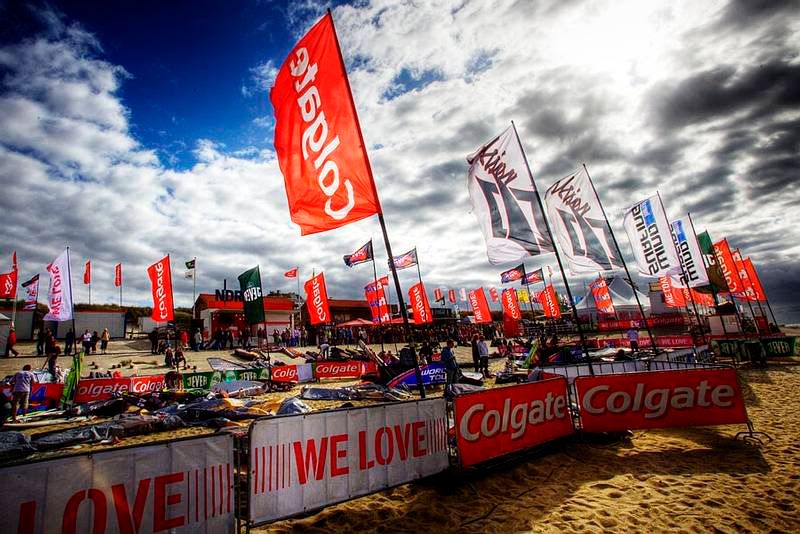 Pic: John Carter/PWA
Hello!!!
I'm in Sylt, Germany, for the 2nd and last competition for waves for 2009. It's my second time here and it's windy this year, looks like we're going to have waves, too! The first time I was here in 2006 I didn't even have the chance to go in the water, let alone compete, so I'm happy it's going to be windy this time. It's going to be cold though, I'm with my jacket and everything and I think it's going to be really cold in the water. The event started today with registration, and on Sunday it looks like it's going to be windy.
Check out the PWA website for the live ticker, I will also try to keep you updated!
| | | |
| --- | --- | --- |
| Evi on Brunotti.com | | |
12th September, 2009
Hello everybody !
I have my page on www.brunotti.com (riders section). It's nice to be part of the Brunotti family.
I also have a Brunotti blog there, which I will try to update as often as possible.
Check it out !
Evi
| | | |
| --- | --- | --- |
| 3S magazine, 2nd girls camp | | |
3d September, 2009
Hello !
We have an article in the greek action magazine 3S about the girls windsurf camp that my sister and me ran in the end of May.
| | | |
| --- | --- | --- |
| Sailing in Paros | | |
16th August, 2009
Pic: Dimitris Papanaklis
Hello!
I am back in Greece since the 19th of July and I've been working for 3 weeks non-stop. Now it's time for a break! Since a week we are on Paros Island in Greece, relaxing and sailing for fun. The conditions are ok, not really good for jumping, but there are some nice waves to play with on the reef so we've had the chance to waveride, although the waves are small. We sailed 4 days in a row and after 2 days without wind, the "meltemi" started to blow again today and we were back on the water. We are sailing at the beach of "Tsoukalia" on the east side of the island, which mainly works with North-Northeast wind. The conditions are pretty similar to Pozo, only the wind is a lot lighter - I've been on 4.0-4.5 mostly- , and the waves are a lot smaller. Also, the waves are not breaking outside, only on the reef which is right on the beach, which is a pity because it's such a nice wave, but it's breaking so close to the beach that you cannot do more than two turns on it. If you stay more on it then you hit your fin on the reef.
The forecast is really good for the next days, actually it looks like it's going to be blowing non-stop the whole week! Let's see if we get some good conditions!
Thanks a lot to Dimitris for shooting !