| | | |
| --- | --- | --- |
| Still windy in Athens | | |
30th November, 2010
Hello!
South wind seems to love Athens this autumn; it's still blowing every other day and we've scored some more good sessions in the last 2 weeks. Since I started sailing, I've never seen a weather system like that staying for such a long time. Plus it's like springtime over here, with the temperature ranging between 21 and 25 C during the day… What more could we ask for???
Our friend Mixalis Papadopoulos spent more than an hour on the beach the other day to watch the action through his lens... Thank you Mixali!!!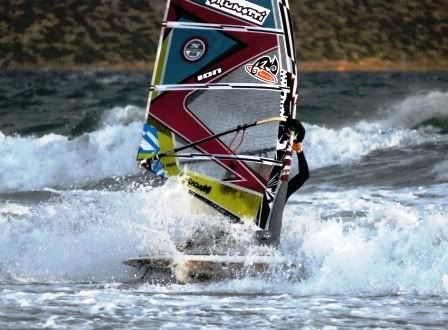 | | | |
| --- | --- | --- |
| Blessed with South wind | | |
12th November, 2010
This week we had a nice surprise from the god of wind here in Greece; 3 days of sailing with wind from the south. Waves, warm, sunny weather and 3 days in a row in the water… I had missed that… South wind is also my favorite wind direction here in Greece; it is the only direction where there is starboard tack wind and waves in Athens. We seldom get to sail starboard tack, but I always enjoy practicing all the jumping moves from the opposite side and waveriding on my "good" side. I absolutely love this weather…

So, on Monday, Tuesday and Wednesday life was all about sailing for as long as the conditions and my body permitted, whilst at the same time trying to get real-life work done (and it has been way too much these days), trying to get some filming and pictures made, plus all the driving to and from the beach…. Hard work... And to make space in your daily routine to devote 5 or 6 hours a day to windsurfing is so difficult at times. It's the kind of days that I pause for a bit to think about the cost of this lifestyle I am doing. I always get stressed to get everything done. It doesn't leave me time to devote to the people that I care for. It doesn't even leave me time for myself, to get my head straight or get enough rest. There are days when I don't even have time to pick up the phone and call my friends. If it's windy, I have to get up really early, work, go to the beach, train, and then get back to work and stay up until late. Working in the evening after 4 hours of training in the water is not easy, sometimes just the tiredness stresses me out.

This is the hard cost that I have to pay for this kind of life, a cost that I would dare say that is unavoidable. Not many people can do what I am doing and even if they could, they would most probably prefer to take it easy, and miss a day or two of sailing for the sake of being able to get their work done without stress and without having to run like crazy all the time. Despite the fact that I get really stressed out some days trying to juggle everything, I would not change what I can do for anything, as at the end of the day I am always happy, and the experiences I have collected by living this life are one of a kind. Every day in the water is so unique, so different... Being in the water windsurfing is what I am by nature, so I try to stick to it as much as I can...

I was also stoked to have almost perfectly landed my first wave360 on Tuesday; first time I got the rotation right and got the feeling for the move. It's been a long time since I made any improvement in windsurfing. Also had some pretty bad crashes trying pushloops and backloops on starboard tack, it's been ages since the last time I sailed with this kind of wind direction. It was so much fun!

All 3 days that it was windy, Dimitris Dimitropoulos, a fellow windsurfer, who had a minor "operation" in his mouth and could not go in the water, made the effort to sit with his camera and shoot the action from the beach…

Our friend Mixalis Papadopoulos was also there late in the afternoon on Tuesday to check out the conditions, and also took some nice pics before the wind died…

Thanks a lot to both of them...

Pics are already up in the gallery section. Check them out!!!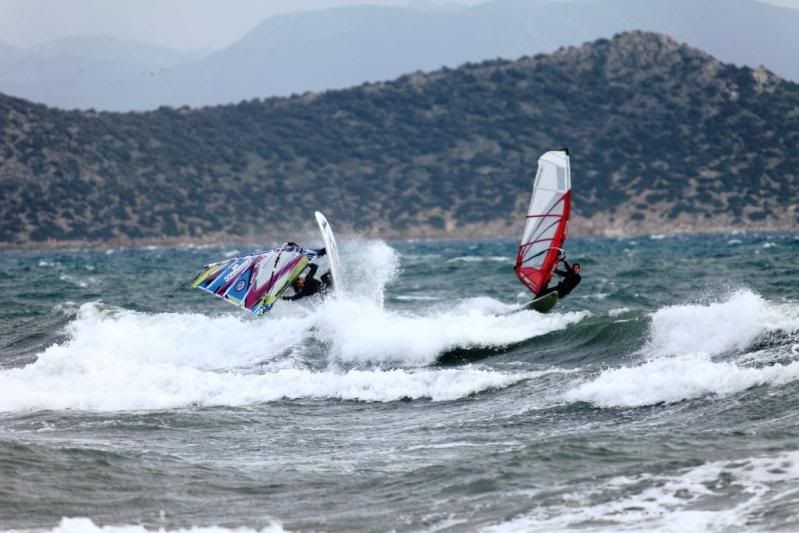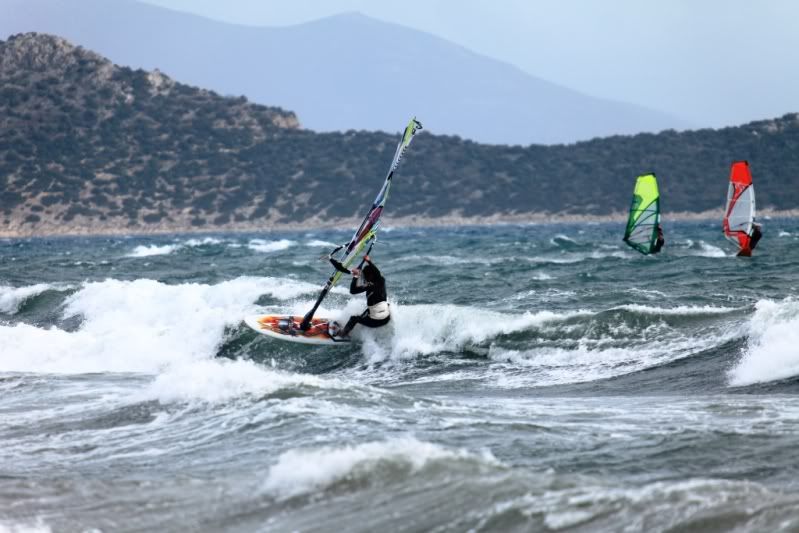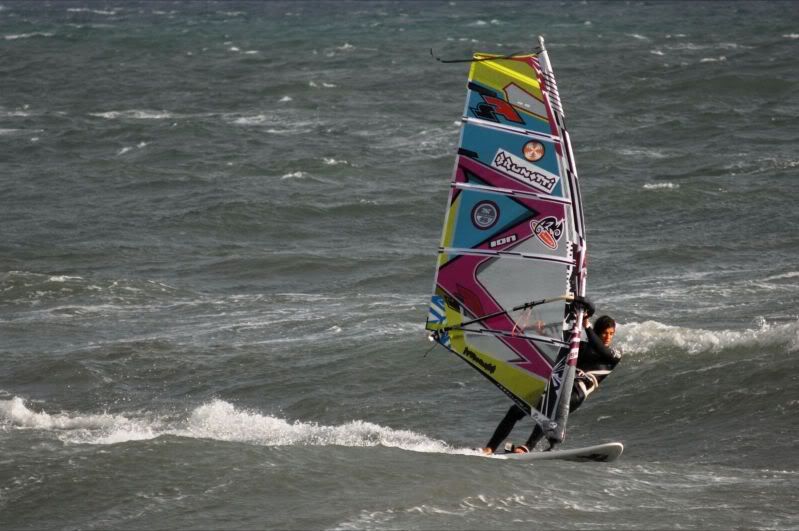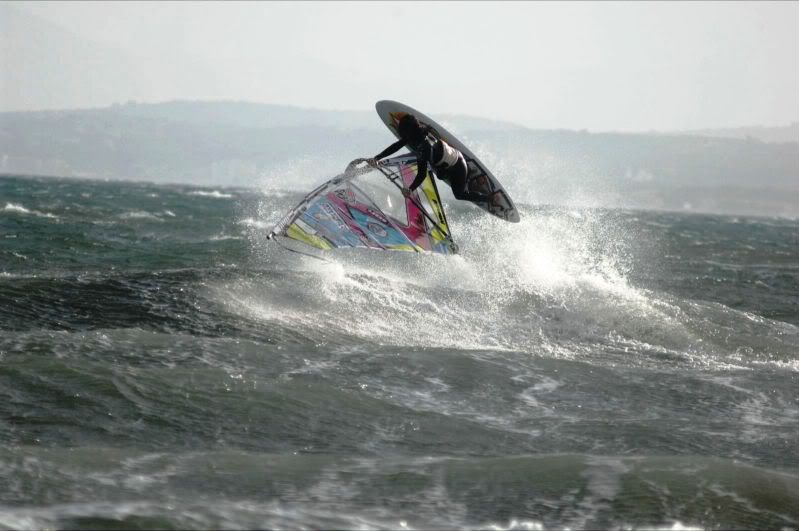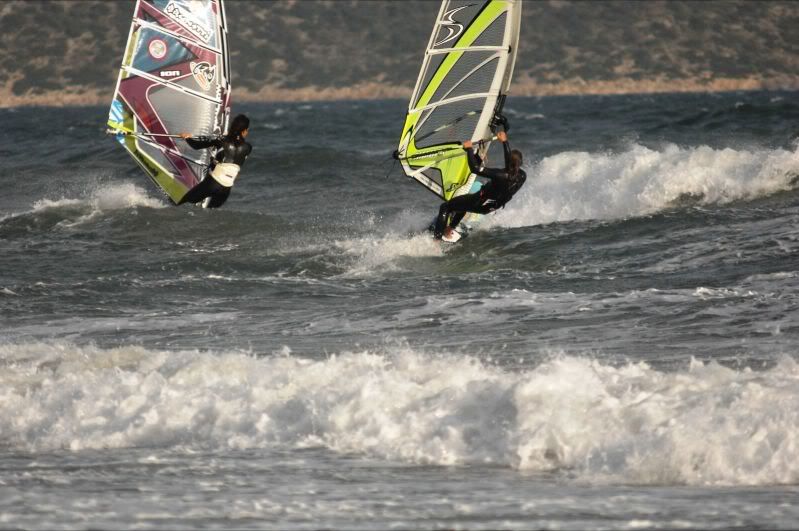 | | | |
| --- | --- | --- |
| North Wind | | |
28th October, 2010
A national holiday today, and Aeolus, the greek ruler of wind, greeted us with very strong winds. I sailed with my NS Ego 3.0 m2 for the first time, as I didn't have the chance to use it last season with my injury and all. It was one of the rarely big days at my homespot, Loutsa, with good ramps to jump and nice waves to ride. The wind gusts reached up to 50 knots around 3pm, proper Pozo conditions… It has been a long time since I sailed with this kind of wind, so overpowered. I had forgotten how it is… The only problem was that it was a bit too crowded on the water; with this kind of wind there are people that are sailing a bit out of control, so it gets crazy at times… But it's ok, we can't have everything… It was a good day, with lots of action and some really hard wipeouts, just to remind me that my neck is getting better and better. It has gone through all the tests with flying colors! Looks windy for the next few days; fingers crossed that we're going to spend more time on the water!
Below is a nice sequence from fellow windsurfer, friend and photographer Foti Papadopoulo, who always likes to shoot with his camera before and after his session… Thanks a lot!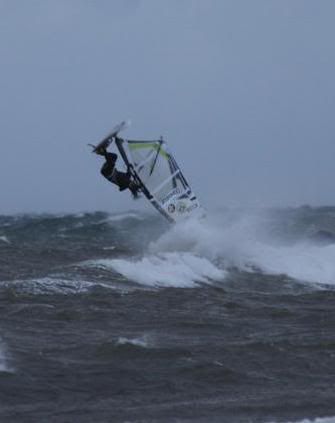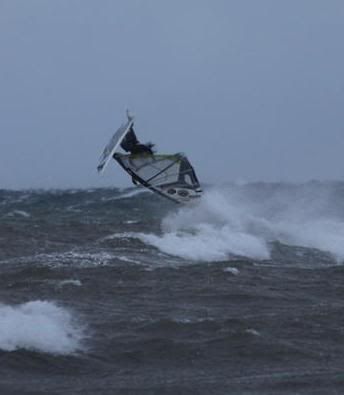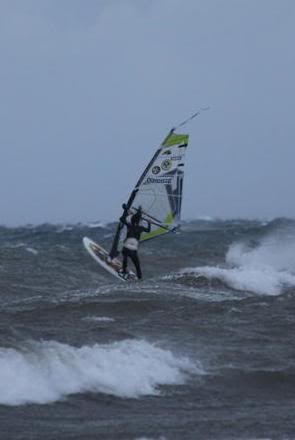 | | | |
| --- | --- | --- |
| Pictures online… | | |
26th October, 2010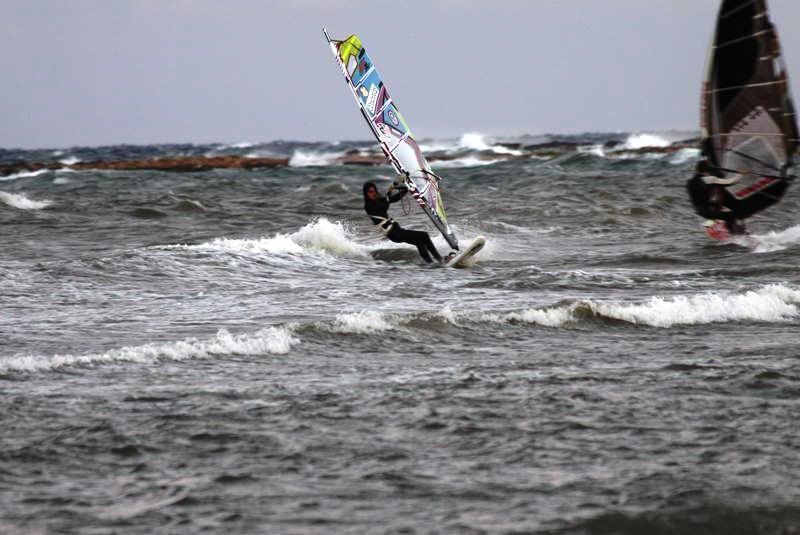 All good here in Athens, we've had some wind, some waves, some rainy days, some sunny days, good moments, bad moments. Life is a mix so we never get bored… Everything happens for the better. I've been doing lots of running around Athens to get everything done, my lifestyle is so crazy at the moment… I also have the feeling that after such a long time off the water I can't seem to be getting enough sailing to satisfy my hunger for windsurfing. If I could be in the water all day every day I would be even happier… Amongst everything, I managed to upload pictures from the training weekend in the gallery section. All pics courtesy of Panteliz Photography . Copyright © Arteliz.eu 2010 /
Check them out…
Hope everybody's doing perfect!
| | | |
| --- | --- | --- |
| Girls training weekend & Evi's Birthday party | | |
4th October, 2010
How many happy moments can fit in two days? How is it possible to feel so complete and full of joy for 30 hours in a row? How is it possible to work hard all day long and then party like crazy all night and never feel tired? We can do anything we want if we want it enough, because our energy never runs dry when we are in the right state of mind…
Joy started from being around all these girls that want to improve in windsurfing; girls that have felt the enchantment of this beautiful sport and give it back to us, who "guide" them in getting to know this incredible sport and this charmed lifestyle, in the most beautiful way.
Joy goes on when working together with Tony Frey which was my idol when I discovered windsurfing and was fascinated with the waves discipline… She had taken part in the World Tour, had traveled to places like Australia, South Africa and Maui… A free mind. Tony was a girl who was sailing as good as the guys… Such an inspiration…
Joy carries on when our first day of the girls training weekend finishes -such a fulfilling day- and my birthday party is starting…
Joy picks up as we eat and have our first drinks after a whole day in the water… Life is so good… And then so many people arriving for the party, which we organized in the same place where the event was held… It was amazing because I was in the water all day long with the girls, everybody was calling me but I never answered not even one call… My cell phone battery died 6 times that day… And I had no idea who was going to come to my party because I had no time to find out :) It was such a great surprise to see everyone arriving…
It has been a very long time since I felt such an inspiration in what I am doing. And it is god-blessed that this source of inspiration came into my life in such a magical way, as though it was always meant to be like that… I am so grateful…
I am also pretty sure that once you are on the right track you can feel it, and life just gets better and better…
Many thanks to Tony, Margarita, Konstantino and Tanja for their great cooperation on the beach, I think we made a really good team there! Also to everyone else who was with us on the beach these two beautiful days. Many thanks to the guys from "Ricci di Mare" -where the event and my birthday party were held- for their hospitality… Many thanks to all the girls that took part; we hope we transmitted enough portion of the "windsurfing virus" that will change their life forever! Many thanks to my family and friends who graced my birthday party with their presence!
Pictures and video coming soon, as most of us are still recovering from two days full power on the beach and also the birthday party…
Here's to all the great things that come our way!
| | | |
| --- | --- | --- |
| Girls training weekend with Tony Frey | | |
25th September, 2010
Well !!! Autumn is here for good… We were planning to hold a windsurfing weekend for girls on the 25th-26th September, together with Tony Frey, but the weather here in Athens had other plans :) … It is raining a lot this morning, time to catch up with all the projects that are always left behind when it's windy… I'm sure you know what I mean !
The girls training weekend is postponed for next weekend; the weather looks good next week, let's hope it will stay like that… You never know, September in Greece holds a lot of surprises…
The last few days we have been working together with Tony on the simulator for the techniques...
Will keep you updated!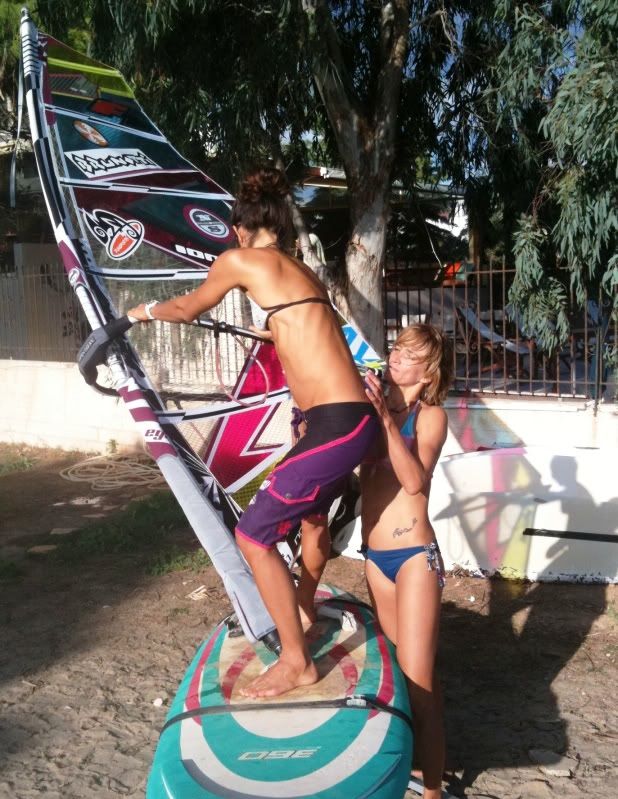 | | | |
| --- | --- | --- |
| Athens life | | |
24th September, 2010
Hello!
After a short vacation in Paros, I am back in Athens since the beginning of September… Straight back to work and the hectic lifestyle of the big city ;-) We've had some windy days though and I've been building up my confidence in the water. Two days ago we sailed with strong wind and good waves in my homespot, Loutsa, after a loooooong time… I was full power on my 3.7m sail and 63lt board, I could have easily been on my 3.4m… I landed a few pushloops after such a long time and I had a few nice crashes too, realizing that I am getting over my fear after the accident really fast now. It's amazing how my will to sail as good as before makes me try all these things in the water, despite the hesitations I've had. After the accident and all the unhappy moments involved, I had almost forgotten how happy windsurfing makes me… Now I am just grateful…
Our close friend Mixalis Papadopoulos, a photographer, always tries to pass by when it's nuking, to take some shots of us sailing. It's incredible how much this guy loves the sea and what we are doing with the wind and waves, and how he snaps all these incredible moments we are experiencing in the water. Thank you Mixali once again !!! For more pics, please visit the gallery section…
I hope everybody is having some sailing! Take care and see you in the water!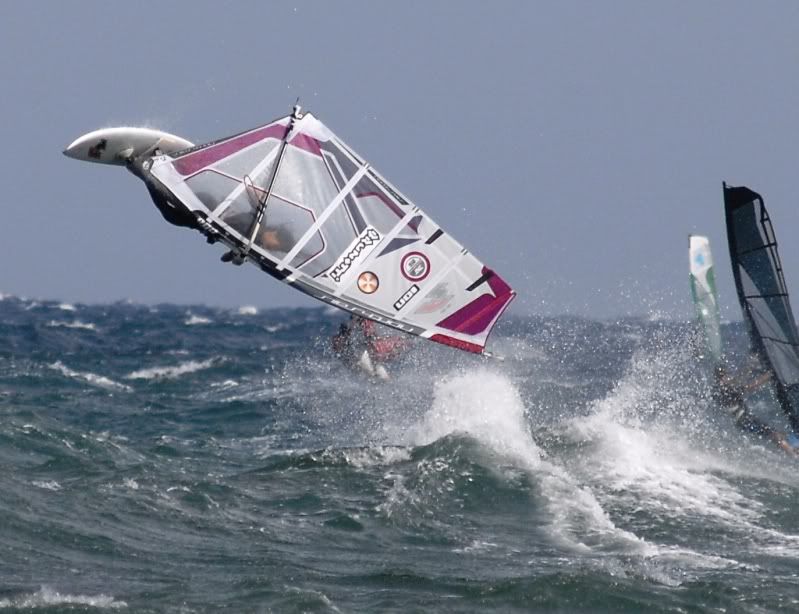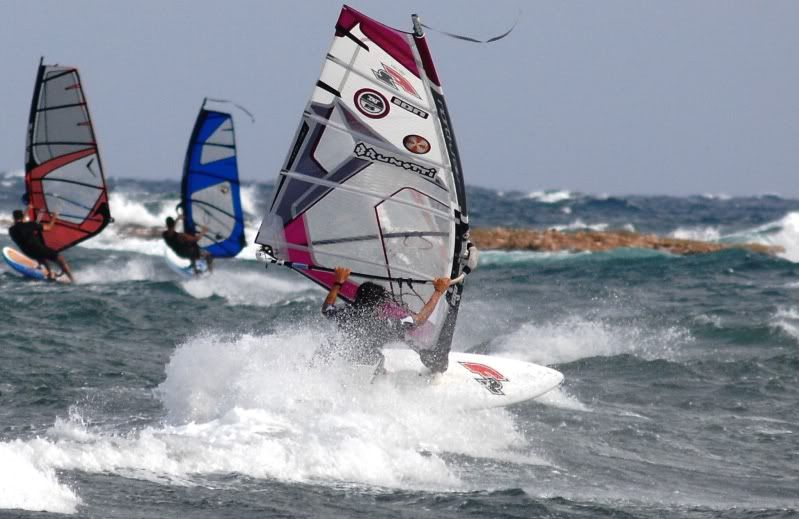 | | | |
| --- | --- | --- |
| Sailing in Paros | | |
25th August, 2010
Hello!
I am on the greek island of Paros since the 20th of August, sailing every day with the meltemi winds in my favorite beach of Tsoukalia… It is like a dream to be back on the water after 6 months… I am so happy… We've had very good conditions, and although I still cannot go for it at all in the water, since my neck bone is still very fresh and I have to be very very careful, it feels great; just being on the water again, taking some waves and playing around on them and doing some turns seems unreal…
We've had some of the best days I've seen here in the last few years that I have sailed in Paros. On my first day here I sailed with 4.5 and 4.0 and started to get dialed into the beachbreak of Tsoukalia beach. On Saturday I had a mellow 4.0 session in the morning followed by nuking wind around midday; I was very powered on my 3.4 meter sail and broke my mast in the shorebreak, after a bad choice in waveriding. I was scared, and it was not so much fun for me to be sailing like that after the accident, so I waited for the evening when the wind went a little bit down and had a 2 hour session with my 3.7 and nice peeling waves, we could do 2-3 turns on them. Plus I was almost alone on the water as everybody was destroyed.
Sadly, we have no pictures from sailing here, as this trip was organized last minute, but we took some video so I can take some screen grabs from there… In the meantime, check out the 3rd girls windsurf camp video which is up on the internet already! Many thanks to Dimitris Maniatis for the editing!
| | | |
| --- | --- | --- |
| 3 weeks in the water | | |
6th August, 2010
Hello!
The girls camps have just finished and I must say that we almost turned into mermaids… half day on land, half day in the water. We started with the camps on the 17th July and the first weekend was so crowded that we had to do lessons also during the week for the next two camps. So literally we've been in the water every afternoon since then. It has been really fun, especially for me, to get back in the water after such a long time, even if it was with beginners/intermediate equipment… It was the best way to slowly get back into windsurfing and start getting over the fear of the terrible accident I had.
I've started uploading some pics in the gallery section and also wrote a little story which is up on the Brunotti website. There are loads more pics coming, and the video is coming out soon as well.
I would like to thank all my sponsors; Brunotti, F2, North Sails, ION and Funsports who always support me, and "Karavi Water Sports" for their hospitality in their very organized facilities. I would also like to thank Gianni Xefteri who was with me every day and Philippo Andrianopoulo who has been with us all three weekends, as well as Kosta Politaki and Dimitri Zografo who helped out some weekends. A big thanks also goes to all the girls that participated and everybody who hang out with us on the beach. We really had a great time!
| | | |
| --- | --- | --- |
| Girls camp running | | |
29th July, 2010
The 3rd girls windsurf camp is running since the 17th-18th July. A lot of girls have participated in the first two weekends; there are so many girls that want to try for the first time on a windsurf board that we also have to give lessons on weekdays, because there is no time during weekends to have a full hour with every girl separately in order to show her the basics… About 40 girls in total have participated during these 2 weeks… It's amazing to see some of these girls have their first try with windsurfing, do their first runs on the water, their first tacks and jibes… It reminded me what a great sport windsurfing is, and how much joy it gives to people who practice it…
I must say that all the beginners that have participated this year are pretty good. After the first lesson they are more or less independent, and can go out, tack or jibe and come in by themselves… proper sailors ! I really hope that some of them will get hooked with windsurfing and come back next year having improved a bit, so we can get into more advanced techniques. Some girls have already arranged to continue windsurfing lessons at the "Karavi" windsurfing school, where the camp is being held.
Besides my sponsors, Brunotti, F2, North Sails, ION and Funsports, who have already been supporting the camp, we have also started a new partnership this year; it's with the dealer of the powerbalance bracelet, Gianni Karaxalio, who is with us every weekend doing the tests and trying the bracelet on some of the girls.
We still have this coming weekend to go!
Here are some pictures from the first two weekends, I have also started to put up some in the gallery section. Check them out!!