| | | |
| --- | --- | --- |
| Pozo, Gran Canaria PWA Freestyle World Cup | | |
18th July, 2007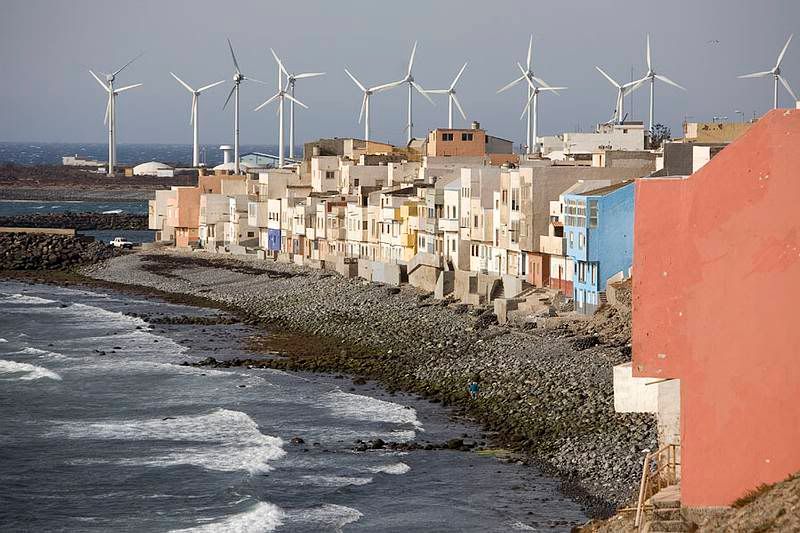 Β 
Β Pics: John Carter/PWA
Β 
Β 
After 2 single and 2 double eliminations here in Pozo I am finally 8th in freestyle, together with Yoli de Brendt, who is a very good freestyle sailor. Not bad at all…
The conditions here in Pozo were changing quite a bit during the week that the freestyle took place… There were some surprises, also, like in the second single elimination, when Sarah Quita lost against Junko Nagoshi and the day ended with Laure beating Daida in the final! It was pretty hard for freestyle here, choppy on the outside, and the gusts were so strong that I was mostly overpowered in my heats.
In the first double elimination, Sarah took 1st place, Daida 2nd and Iballa 3rd, Laure was 4th. But then in the second double, Daida was 1st, Laure 2nd, Sarah 3rd and Iballa 4th. So overall –after two doubles- Daida is 1st, Sarah-Quita 2nd, Laure 3rd and Iballa 4th.
Yesterday we had skippers meeting at 9.30 as usual, but it was looking quite windy and most girls didn't feel like competing in freestyle. So we decided not to go out in the water… Today they decided not to run freestyle again… The waves are looking quite good and there is a jumping super session that is sponsored by the local Canarian β€œEl Maquinola" magazine, it is going to take place this afternoon! For sure it is going to be fun !!!
Β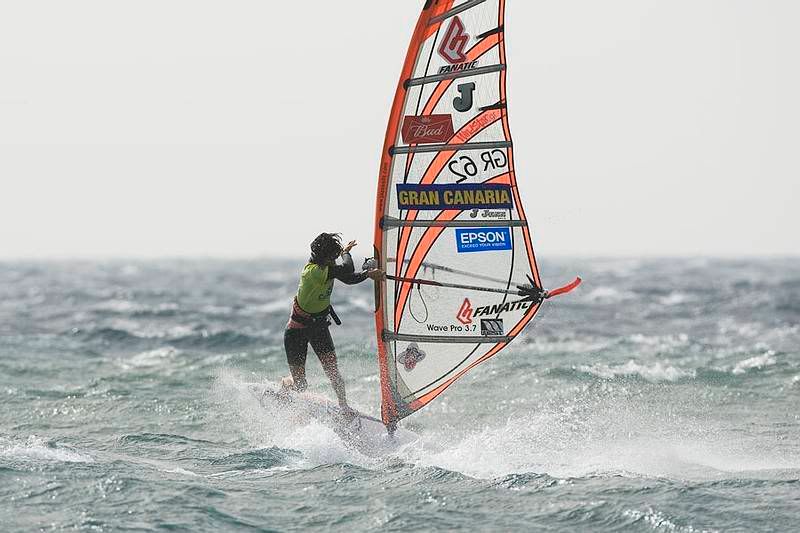 | | | |
| --- | --- | --- |
| Pozo, Gran Canaria PWA Wave World Cup | | |
12th July, 2007

The single and double elimination in waves is already finished and I am once more in the 9th place in waves for this event… I know I could do much better in the waves here, but in competition I cannot get myself together and sail as good as I can when freesailing. Especially in waveriding, I was so stiff and unconfident that I could not show what I can do. Whenever I have to do well I am always nervous, and if I make mistakes at the beginning of the heat I lose my confidence and motivation very easily. My jumping was quite good, but in waveriding I never really went for it.
In general there were not many surprises this year. In the men, Victor was sailing unbelievably well and consistently, his double forwards were even higher and cleanly landed than last year, his backloops were insane, and he also did some more tricks on the waves, backside aerials, takas, shakas and forwards off the lip and some unbelievable frontside wave 360s. He won the single and then the double elimination, quite easily and straightforward. Kauli was second, he was sailing good also, and landed an insane pushloop forward in the final of the single elimination. But he wasn't as consistent as Victor to win. In the double Julien Taboulet managed to go through many heats and finally finished 3rd in front of Vidar Jensen.
In the women Daida dominated once more, with insane jumping moves like pushloop tabletop, high backloops, massive stalled forwards, double attempt, and really consistent backside aerials. Iballa was very close behind, with pushloops, backloops, big forwards and really good waveriding. Karin Jaggi was third, whereas Junko Nagoshi was the surprise this year, and managed to finish fourth, winning against Nayra in the double.
Tomorrow we start with women freestyle. Let's see what the conditions in Pozo are going to be like….

(Pics: Mixalis Papadopoulos)

Β 
Β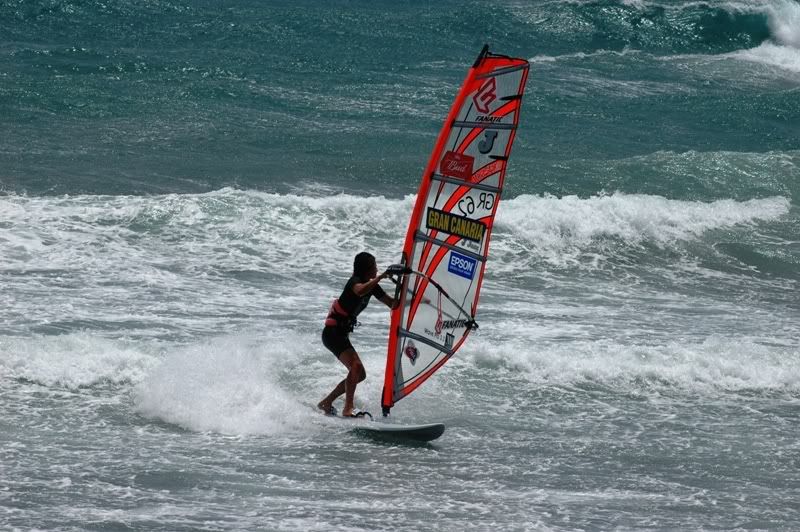 | | | |
| --- | --- | --- |
| PWA Freestyle Costa Teguise, Lanzarote | | |
7th July, 2007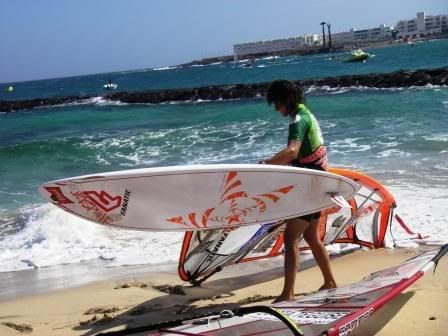 After a very windy week in Lanzarote I finished 9th in the first freestyle event for 2007. Not that great, but not that bad also, considering the fact that I did not train that much in freestyle during the off-season and that my foot is not 100% well yet. For sure I need to train a lot more in freestyle.
Β Β Β Β Β Β Β Β Β Β Β  The event was amazing, we had really good waves some days, breaking right in the middle of the competition area… The guys' sailing is insane this year, with massive jumps, switch stance combinations and incredible moves in general. Some of the girls have improved quite a lot also, doing flakas, spocks and even switch stance moves.
Β Β Β Β Β Β Β Β Β Β Β  After 3 double eliminations, the final results are; for the men, 1st Gollito Estredo, 2nd Kiri Thode and 3rd Ricardo Campello. In the women, Sarah Quita won in front of Daida and Laure Treboux finished third.
Β Β Β Β Β Β Β Β Β Β Β  Everybody is now moving to Pozo, in Gran Canaria, for the PWA Grand Slam that starts there on the 9th July… Women have to compete in both freestyle and waves there, Β for sure there's going to be a lot of action!Β Β Β  Β  Β  Β  Β  Β  Β Β  Β  Β  Β  Β  Β Β  Β  Β Β  Β 
| | | |
| --- | --- | --- |
| Training in Pozo!!! | | |
27 June, 2007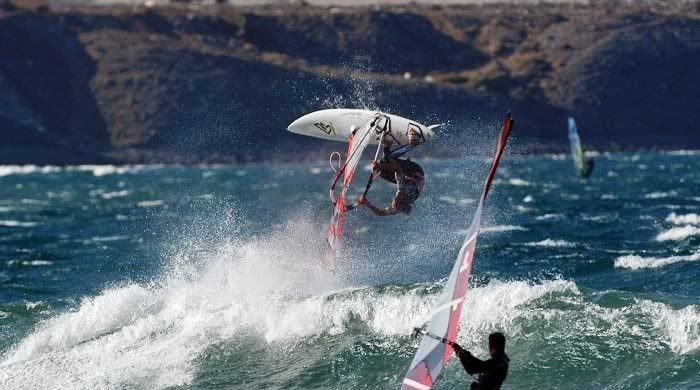 I am back to Pozo in Gran Canaria since the 23rd June… I came here for one week before i go to Lanzarote for the freestyle competition, to train in the waves in Pozo before the Gran Canaria event, because there will be no time in-between the two events. The wind is howling, as usual, day and night, and we had a few days with good waves, too... A lot of the sailors are here training, whereas the rest of them are in Lanzarote, for the upcoming freestyle competition there. The water is boiling before the Pozo PWA Wave contest; everyone is really motivated and really going for it… Let's hope that the wind and waves are going to be good for the contest!
pics: Fernando Sanchez (www.ffotosports.com)
| | | |
| --- | --- | --- |
| EFPT Ialyssos, Rhodos | | |
15 – 17 June, 2007
At the moment I am on the greek island of Rhodos, to take part at the EFPT event that is organized by Windstar Hellas. Lefteris, the event organizer, is also the greek importer of Fanatic boards. He could finally make the event happen, and the greek Fanatic team is present at the event to take part and also support him… Two of my very good friends from Athens were also taking part at the event, together with me… Sadly, Lefteris had some problems with the municipality of the island, and as it turned out, a greek guy who also owned a club on the same spot as Lefteri's has some personal hatred against him… the same guy decided to ruin Lefteri's plans to bring the best European riders on the greek island, to put up a great show and run the event at the fantastic spot that his windsurf club is located at…
Because of these problems, we finally had only one day of competition, the first one, in which we ran both a single and a double elimination. After that, the event was stopped and we were just free sailing for the next two days that the event was supposed to take place. I saw many friends here, and the level in the boys in freestyle has raised a lot since last year… Most of the heats were really amazing, the guys were doing like 10-12 moves in 5 minutes. Andre, Normen, Kevin, Mattia Pedrani and Michi Rossmeier were sailing really great. Also the greek guys both pulled some high level moves in their heats…
For me, although I could not do much against the boys, it was a good experience, and free sailing with all these good sailors motivated me to go for it more in freestyle, although I don't like it as much as the waves…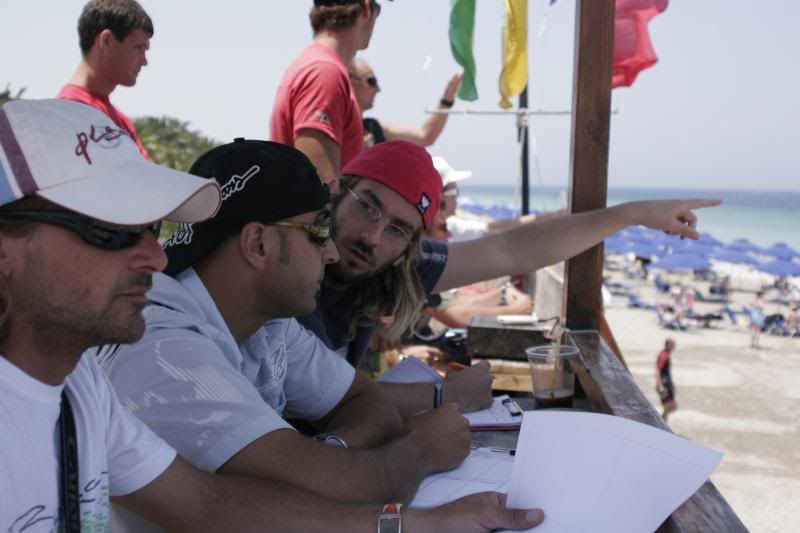 pic: Alkistis Tsitouri

| | | |
| --- | --- | --- |
| Guincho PWA Wave World Cup | | |
4th June – 9th June, 2007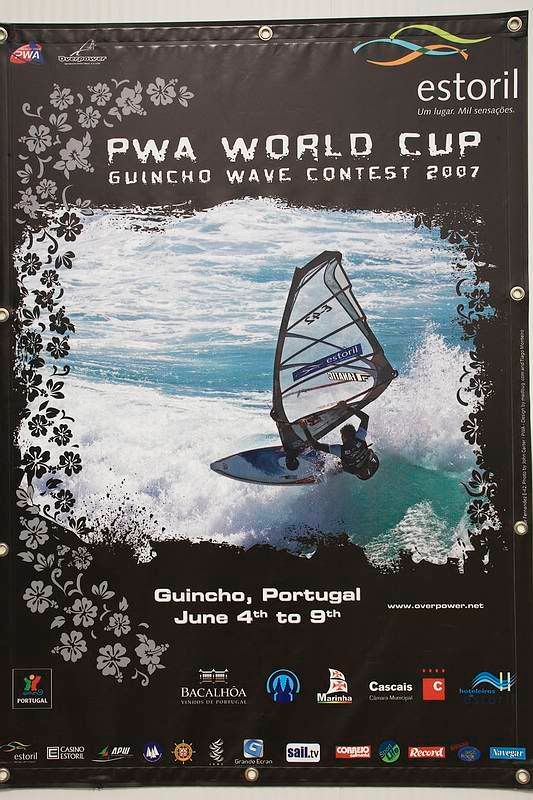 Pics: PWA/John Carter
I just arrived back home in Greece from Guincho, Portugal. I was there for the first wave contest for women for 2007, which did not go well for me… I was pretty sick during the whole contest, taking cortisone pills for a nose allergy that has been bothering me for a month now, and needed to get rid of it… My doctor just picked the wrong time to give me the medicine... I arrived in Guincho 2 days before the competition, and I could barely train for one hour each day before the contest, because I felt really tired and sleepy from the pills. And when the contest started, I was already pretty stressed about the fact that my physical condition and concentration were not going to help me at all to do well in the competition.
My starboard tack skills are not that good, nothing to do with the confidence that I have when competing in port tack conditions… The wind was pretty tricky, so they were counting 2 waverides and 1 jump. Besides the fact that I was totally weak physically, I made a few mistakes during my heat that cost me a lot. I should have taken a bigger fin on my board to be able to plane better and drive upwind, since the current was strong… and I also had the wrong tactics in my heat; on my first way out, I could not see any wave to jump, so I just gybed on the outside and tried to stay as upwind as possible, close to the wind, but the current was making me drift downwind more than I expected. And as I was getting closer to the beach, the first wave of the set was already starting to break, and I knew that on my next way out, I would not find a wave to jump, so I decided to take the last wave of the set and waveride. On my next way out, the same as before happened, plus that I was a bit more underpowered and went more downwind to hit the waves, which never materialized… and on the second way in I took another big wave, which left me even more downwind than before. I started to get a bit nervous and I knew that if I would not try a jump I could never advance to the next heat, but I was already struggling downwind and could not do anything. It was so light where I was, that I could not even plane to go upwind, let alone try any jumps. So I just went outside and took one more wave, hoping that Uli Hoelzl, who I was sailing against, was also too underpowered to try any jumps. So my heat was basically four waverides, and no jumping. When we got out Uli told me that she tried a forward, which she did not land; but although she crashed it she still had one jumping attempt to count and I did not have anything… So she advanced and I did not…
And that was pretty much it for me, since the wind did not stay long enough to run a double elimination…
Although the contest did not go well for me, it was still a very useful experience to be on the beach in Guincho and watch the competition… It was my first time sailing so big waves starboard tack, and watching the best of the best sail in this beach was absolutely great. There were many surprises this year, with a lot of big names staying out of the top 8, and very experienced wavesailors getting beaten by the young guys… Victor, Jonas, Kauli, Brawzinho, Boujmaa, Josh, Thomas and Yann Sorlut made it to the top 8, nailing some amazing jumps and waverides in their heats… I was really amazed with some of the guys' sailing… In the women, it was the usual Daida, Karin, Iballa and Junko that made top 4. Nayra, Anne Marie, Uli and Silvia stopped in the second round…
The final heats of the single elimination were held in very onshore conditions, and it was very much a matter of tactics to be able to do good. Victor was really consistent in his jumping, as always, and even in these light conditions he could always nail some radical jumping moves to be counted in his scores… I was really impressed with the tactics he was using, always staying upwind so he could have enough space to bear off and hit the waves going out, whereas other sailors just went wherever, and always were more downwind than him during the heats. He stayed with this tactics and could finally win the event!
In the women, the final for 1st-2nd was Daida against Karin and the final for 3rd-4th was Iballa against Junko… it looked pretty difficult for everybody, with not many waves to jump off, but finally Daida won against Karin and Iballa won against Junko.
After the single elimination finished, there was no wind to start the double, and it stayed like this for the rest of the contest… Because of no wind, I tried surfing for the first time, and had a really good time learning something new… I could catch a few waves on the second day I tried and was really stoked with surfing. It is a very good way of keeping fit and in tune with the waves when there is no wind… in Greece I do not have the opportunity to surf so much, but I will definitely try to find waves to surf when there is no wind…
Overall, Guincho is a really beautiful place, with good waves, but the wind is not that consistent for windsurfing. At least during contests, as usual… It was my first time sailing there, and I learned a lot during the whole week… Next time I will be much more prepared to compete in these conditions!!!
Next wave competition is the PWA in Pozo, Gran Canaria, which is my favorite conditions; port tack with really strong wind : )
But before that, I will compete in freestyle in the PWA Lanzarote, end of June.
| | | |
| --- | --- | --- |
| mTwins Training camp | | |
29th April – 6th May, 2007
pics: Fernando Sanchez, Dani Miguel, Mario Entero
In the beginning of May I went to Tenerife, in the Canaries, to join 49 other girls for the "girls only windsurfing camp".
The camp was organized for the third year in a row by Daida and Iballa Ruano Moreno and the main sponsors for the camp were once more Volkswagen Canarias, Caja Canarias and Roxy.
The level of the girls that took part in the camp was quite varied, as professional windsurfers that actively take part in the PWA World Tour mixed up with girls of every level, that were learning their first water starts, jibes or forward loops !
All 50 girls, coming from 15 different countries, had a fantastic week in Tenerife, together with the chance to improve their windsurfing skills and hang out with other girls that share the same passion. There was loads of windsurfing, sightseeing on the 2 days when there was no wind, yoga every morning with Anne-Marie Reichman as well as windsurfing videos that were played every evening on a big screen at the apartments where we stayed during the camp. And of course, some big parties at the end of the week…
Once more, the camp was very well organized by the twins and their sister Sabina Ruano, who had mobilized many people to ensure that the week in Tenerife would be fantastic! The crew included two photographers, Dani Miquel and Mario Entero, 2 videographers, Patrick Guisasola and Kasia Narewska, some press people, and many more, to ensure that everything was catered for.
The wind was strong most of the days in Tenerife and the beach of "El Medano" was in the complete capture of the 50 girls, who filled it with their boards, sails, smiles and giggles during the whole week. The girls were followed inside and out of the water from the photographers and video cameras, to ensure that the footage from the week is a showcase of what women windsurfers have to offer in the sport !!
The most fantastic aspect of the whole week was that the beach of El Medano was filled by totally stoked windsurfing girls, who were always smiling, always encouraging each other to go for the next move and always having fun !!!
It was once more a great week, during which everybody made many new friendships, shared new experiences and enjoyed to the most the conditions in Tenerife…
Thanks to everyone who collaborated for all this to happen !!!
| | | |
| --- | --- | --- |
| Easter in Naxos island !!! | | |
During Easter I went to Naxos island, where I stayed for one week. We stayed in Flisvos Sportclub, right on the beach of "Ai Giorgis", which is the beach that normally has very good starboard tack conditions with waves. We had wind every day but not very good waves, so we mostly sailed freestyle in "Mikri Bigla" while we were there. We had two really good wave sessions, though, one was in "Amyti bay", in the north of the island and the other one was in "Ai Giorgis" beach, right in front of our apartment.
Amyti bay seems to get a lot of swell, even when it is pretty much flat at the rest of the island. It is one of the first beaches to get waves, but the wind is always very onshore and light, so it is really hard to go out if the waves are big. We had a really good session with 5.0 – 5.3 sails, and the waves were breaking really nice.
The best day we had in Naxos was with North - Northwest wind. There were 2 meter waves in Ai Giorgis beach, really good for both jumping and surfing. The wind was a little bit gusty, but it was blowing 20 to 28 knots during the whole day. The wind was sideshore/side-on from the right. Sadly we don't have much footage from that day, because everybody was in the water sailing and no one came in to take pictures or video :) .
The rest of the days we sailed in Mikri Bigla and Laguna. Laguna is right downwind of "Ai Giorgis" beach and is a lagoon, very good for freestyle. We only sailed one day there, but it is amazing how much you can improve in one day when the water is warm and waist-deep everywhere. Some of the best greek guys in freestyle were in the water with me, and everybody was really going for it, so it was really motivating to be sailing there and trying new moves.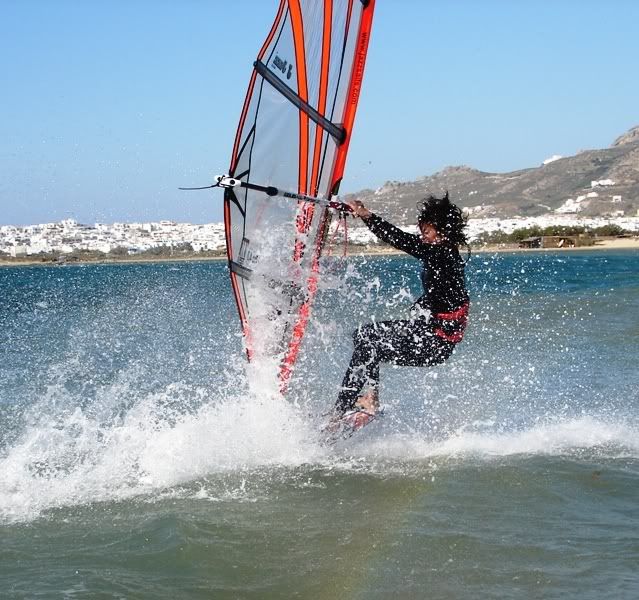 Overall, Naxos was a really good experience, although I did not score as much wavesailing as I expected. I would surely go back, however, with a good forecast for north wind in the Aegean sea. Also because the food there is absolutely amazing… !
Thank you Jan (Flisvos Sportclub) for the hospitality !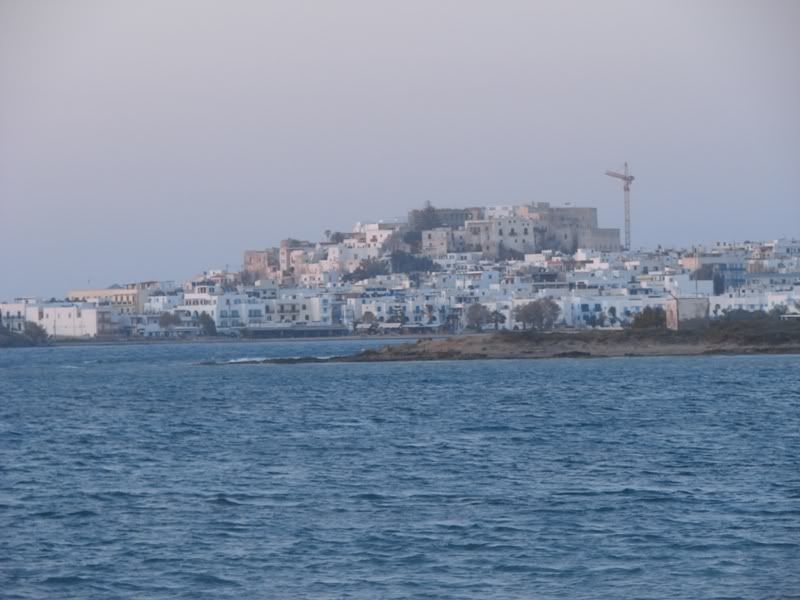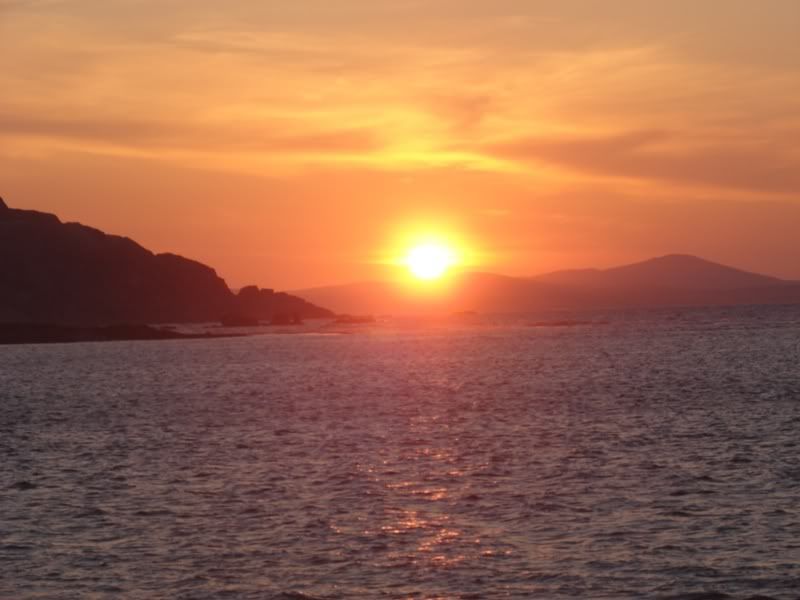 | | | |
| --- | --- | --- |
| BUD Beer Sponsorship | | |
BUD Beer is also going to be my sponsor for this season. We are planning a lot of interesting things together, and it looks like it's going to be a very successful collaboration...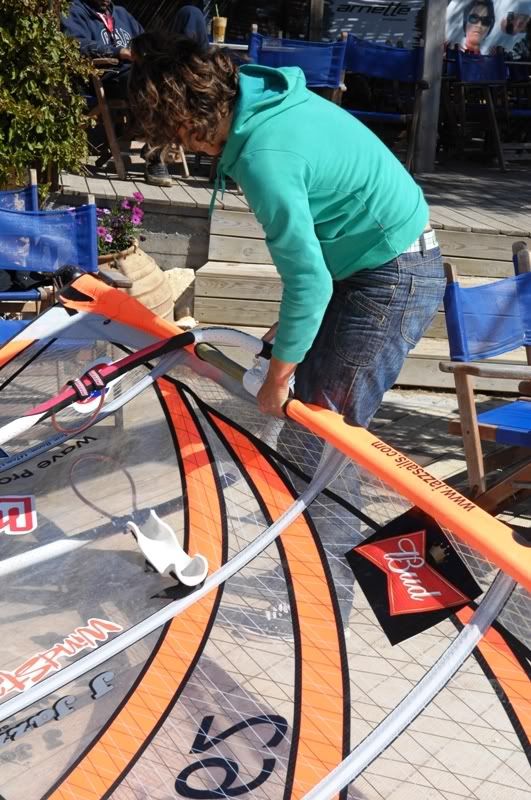 | | | |
| --- | --- | --- |
| Fanatic Test Event, Athens | | |
Windstar Hellas, the Fanatic distributor in Greece organized a test weekend on March 31st and April 1st at Nissakia Surf Club in Loutsa, Athens. Luckily we had wind, and we were able to give away all the boards to be tried by people that were interested. It was great to have so many people asking questions about the Fanatic boards and to see them stoked on the water on them !!!