| | | |
| --- | --- | --- |
| Athens is what I call home | | |
8th September, 2011
Back in Athens and the city lifestyle. Definitely not nice. Can't even put down a handful of reasons why I live here at the moment, and these reasons are disappearing one by one. One good thing, though, is that we had some good days in my home-spot (Loutsa) in the beginning of the month and I was able to rig up and try out all my new North sails 2012. I've got the Ice in small sizes (3.4, 3.7, 4.0) and the ID in 4.5 and 5.0. I like the sails a lot and I must say that the revelation this year is that North finally made some light sails that deliver good power. Feeling less in the hands and having the same performance is just great. My new F2 Barracuda 72lt was also at home, waiting for my arrival from Naxos. The wind has disappeared now, but I'm looking forward for more sessions before the last wave competition of the year in Sylt; I need to fine-tune all my new equipment!
I also (finally) got round to updating my gallery with pictures from the PWA competitions in the Canaries in July, as well as some pictures from sailing the wave-spot of Agios Georgios on the greek island of Naxos. Compliments and many thanks go to John Carter/PWA and Fernando Sanchez for Gran Canaria / Tenerife pictures, as well as Manuel-Netsurfingsport.com and Swen from Flisvos for the pictures from Naxos! I also added some lifestyle pics taken by Rene Willemsen in South Africa February 2011 and a few pics from sailing in my homespot (Loutsa) taken by George Karakostas and Fotis Papadopoulos.
What is also interesting to check out is Amy's FLOW riders network . Amy has been doing a great job creating a womens' watersport network and the community is growing. Hope we'll see and help more and more girls get on the water.
Got to run now, lots of projects; besides everything I also have to get ready for the cold weather in Sylt, brrrrr. Catch you later!
Pic by dearest friend and photographer Fotis Papadopoulos! Thanks!
| | | |
| --- | --- | --- |
| Weendy is here !!!! | | |
22nd August, 2011
At last... A greek innovation in the world of wind and waves... Greeks first after a while there ;)

First of all, a big congratulations and thanks to Yiannis and Katerina who developed the app. They are windsurfers that share the same waves as we do, really nice guys. Not only the idea but also the implementation of the app is great, and the greek wind/water community has something to be proud of...
Weendy is the only real-time wind and wave application. It is not based on forecasts, but on real-time input from the users. You can see updates of other users as well as post your own updates and share them with the community. Weendy can be used from all kinds of water users alike; windsurfers, kitesurfers, surfers, sailors... Everybody can use the same information and the way to go is to share it on an application like this. Whoever is on the beach first can let the not-so-lucky ones know what is happening, with just 3 clicks on his phone. So easy...
The app is really simple to use. Once you download it, you can "shoot video" straight away. The camera on your iphone opens and you can record what the conditions look like, someone on a wave to show the community how the waves are, the water state, anything really. The video can be up to 10secs (you can stop it any time if you want to make it shorter). Then you choose your estimation of wind strength (0-10 knots, 11-16 or 17+ knots) and post whatever comment you want, to supplement your wind estimation.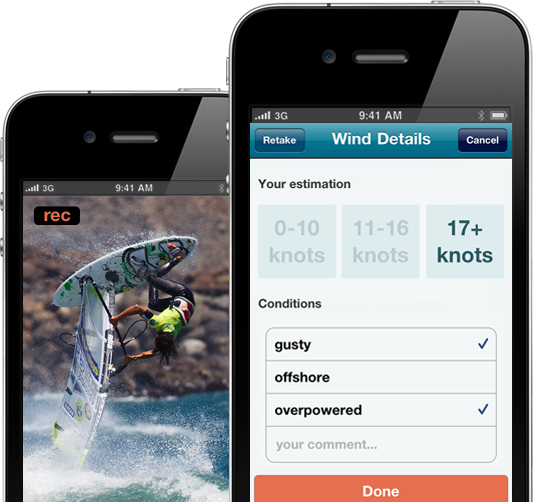 Once you press done, your video, estimation and comment gets posted on the map, at the exact location where you are. Everybody can see it, not only Weendy app users with iphones but also the people who are following you on facebook, twitter or foursquare, as you can link your updates to be posted there too.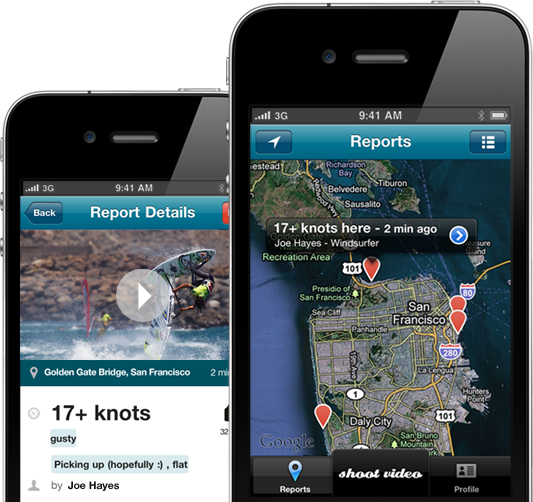 Α very useful feature of the application is the push notifications; you can go on your profile and edit the settings so that you are notified when someone posts an update that meets your criteria. For example, you can choose to receive a push notification when someone posts an update for 17+ knots in 40 miles proximity of where you are located. Once someone posts an update, you get notified immediately without even having to check the app yourself.
All users earn points when posting a report/update, when someone "likes" their report, as well as if they link their reports with their social networks. There is a "deals" section where in time there will be discounts on products and other stuff; users will need to use points earned to get a discount.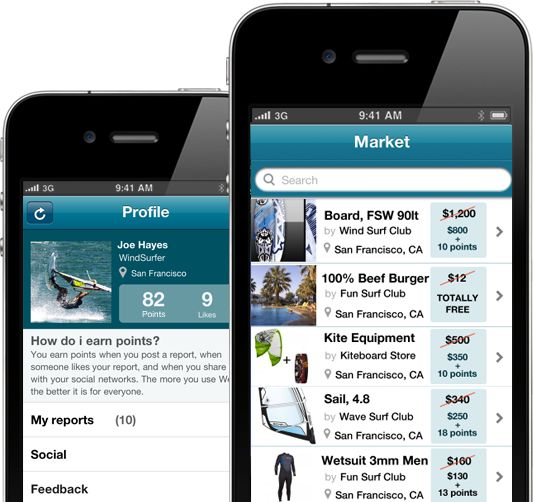 The greek community has been using the application for more than a month now. It is so much fun to see where everybody is and what the conditions are like; most of us know each other and it's cool to see what everybody else is actually doing. It is easy to let the community know where you are and what it's like, instead of receiving/making twenty calls on the phone. It's nice to be able to see real-time what is happening on another spot near you, so that you can compare the conditions and maybe try it out the next day. It's nice to see where and when the thermic wind builds up and people are out sailing, something that no website will ever be able to predict. It's good to use the app if you get out of your office at 16.00 pm to go sailing; everybody is on the water and no-one is picking up the phone... What can you do? Where is the best to go? Which is the closest good spot? All you have to do is check the latest updates on weendy. For sure someone posted a video less than 30 minutes ago, so you know if there is wind somewhere.
Windsurfing is a sport that you practice by yourself, but one that you also share with others. A good session gets 100 times better if you can share it with your friends. In that sense, weendy is also a networking mean, where you can give and take input, information, as well as have fun. Check out the Weendy website to download the app and find more details or answers to your questions. Then you will be ready to join your nearest waterman in his next session on the water!
| | | |
| --- | --- | --- |
| Flisvos Sportclub Naxos | | |
4th August, 2011
Here I am on the greek island of Naxos. Quite a big island of the Cyclades, blessed with the meltemi wind during the whole year. I arrived here end of July, straight after the PWA competitions in the Canaries. I did not even have time to breath or drink a coffee with my friends in Athens.
Agios Georgios in Naxos, where the Flisvos Sport Club is situated is also famous for its starboard tack wave conditions with northwest-north wind. It's not supposed to be epic waves in summer, but the wind is blowing every day and for sure we're going to have some good days. BUT, this time around I am not here for training on the water; I am here to work with Flisvos Sport Club Naxos, in order to obtain my VDWS watersport assistant qualification and be able to take part in the windsurfing instructor course when the season ends. Flisvos Sport Club is a recognized VDWS school, run by Jan Andres in Naxos for more than 15 years now. If you would come here and see what is happening then you would take your hat off to this guy. I have visited a lot of surf spots in Greece, I've seen quite a few surf schools as well in the 9 years that I am into the windsurfing scene. But nothing like this...
I've been working since a few days now, full power 09.00-18.00 on the beach, which is completely full at the moment. My training has started with school and rental business practice: I am in the reception talking with the clients, signing them in, selling the various services to accommodate their needs, taking care of their every need, listening to their feedback, taking care of paperwork; all that has to do with front-office of the business... Quite a lot of work. It's high season in Greece, everybody's down here and it is absolutely crazy at the moment. Multitasking skills are needed most of the time; there are times when everybody on the team is doing two or three things together. Moreover, people that live in Europe and have been deprived of windsurfing for too long are too hungry to go on the water and therefore difficult to handle sometimes. Nevertheless, with the help of everyone at the surf station I've already learned a lot in just a few days and can handle most of the cases by myself ;)
Strong wind is coming in a few days time, so I'll be back with pictures from the team on the beach and the action on the water very soon! (Hope we DO get some time on the water with all this work!)
Hope everyone's somewhere warm and windy and enjoying the water in every possible way!
See you later!!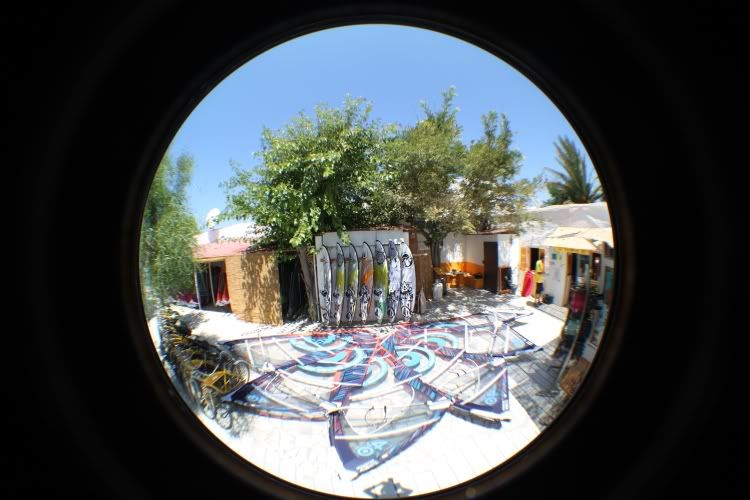 | | | |
| --- | --- | --- |
| El Medano Tenerife, PWA Wave | | |
21st July, 2011
The second wave competition this year took place in El Cabezo. El Cabezo is one of the three spots of El Medano in Tenerife; the wave is a left-hander, and once you learn the place well, when you pick the right wave you have room for 3 or 4 cutbacks on a clean face. A true riding place, as opposed to Pozo in Gran Canaria. The wind here is generally a lot lighter than Gran Canaria, mostly 3.7, 4.2m. The wind on the inside was quite light while we were there, so it was not always possible to jump. I only used my 4.0 once during the competition, as the womens' heats were (as usual) run not in the best of conditions. These guys for sure think that we can not sail, so they time the whole competition so that we are out when the place is at it's worst. Especially when the tide was low (when we were out), jumping was almost impossible, as the wind was gusty during the early hours of the morning (so you needed a bigger sail than you would take if freesailing) and dying during the evening hours. The only windy hours were when the tide was pushing or high, but that's when the men were competing. I was mostly out on 4.5m slightly overpowered and my twinfin 70lt, but during the two most critical heats (against Nayra in the single elimination and against Laure in the double) even 4.5 was a bit too small for me, especially for going for moves like pushloop. You needed good timing, luck, and knowledge of the break so as to be able to check when the good set would come in during the heat. It was tricky, to say the least.
Dany Bruch, the event organizer, impressed pretty much everyone with the extremely good job he did. The atmosphere was warm and the place was very welcoming, as opposed to the rocks of Gran Canaria where we had spent the previous 6 days. There was a big tent, which was the place for the sailors to hide from the wind when they did not have to compete, to hang out and to eat lunch during the day. During the night the tent was transformed into a party venue, with good music to entertain the people who were there to watch the worldcup. It has been a long time since I've attended such a nicely organized event. El Medano is a really nice town as well, definitely one of the best places I've ever visited in the Canary islands, if you really want to both sail in good conditions and have a life outside the water.
El Cabezo... Definitely a riding place, and knowledge of the break was a big advantage for the sailors. Myself I had sailed only once there, during the Moreno twins girls camp in 2006. Back then I did not know much about waveriding though, so I did not even remember what the waves were like. It was practically my first time checking out the waves. We barely had time to check out the spot; we arrived there on Monday after the contest in Gran Canaria, without our equipment. Our boardbags arrived with a container on Tuesday quite late, when there was almost no wind, so Tuesday was wasted as well. Wednesday was the day before the contest, there was not much wind, everyone was out there checking out the place... Basically, the only chance I had to check out the waves was after registration on the 14th July. I went out with 4.0 and my 70lt board when the tide was pushing (pretty much during the best hour of the day), in really nice head high waves... Of course by the time we (the ladies) got to compete on the first day, the conditions looked nothing like what I had sailed in the same morning.
It was quite difficult to pick the right wave in El Cabezo and it takes a bit of time (like always) before you get the spot dialed. If you would see Dany sailing, he was always at the right place at the right time, to get the best wave of the set and make sick turns on clean faces. On the contrary, everybody else who was out at the same time, was choosing waves that would close out after the first smack. With low tide it was also quite difficult to sail, as there are a lot of rocks sticking out; as the water gets shallower and shallower, it's very easy to make a wrong turn and bury your rail on a rock if you are not careful or if you get unlucky.
I did not reach my full potential in this competition, I think I was sailing at 50% of my ability, by all means. I was using my twin70lt and 4.5 sail for 99% of my heats. After Pozo, where I was on 3.7, 3.4 and 3.0 and my 63lt thruster, the equipment was just too big. After the first few heats that I was out on it I did start to get more used to the new style of sailing, but I still felt too slow compared to Gran Canaria. Next year I am definitely going to bring a 4.2 sail if we get to compete in El Cabezo, as 4.0 was too small and 4.5 was too big; and definitely a 68lt board. The other thing is that the water was full of algae; we were really unlucky, as this kind of sea weed is seen only once in a month or so, for 2 or 3 days, and this time it just had the perfect timing to make jumping really hard during the competition, especially when the wind was light. Coming in and jibing, in order to head out and hit the ramps, my two fins would get so full of this thing that was in the water, that I was planing like I had an anchor underneath... There was just no way to avoid it. Plus, when it was really windy for me to go out on a 4.0 and a small board, when the jumping would have been easier, they were always running the men. In most of my heats I could not make use of my strongest point, which is jumping.
In the end I finished 6th, as I lost against Laure in the heat for 5th-6th place in the double elimination. That heat was a bit messed up and I did not come out of the water too happy about it, I prefer not to say more... On top of everything, it was super low tide and I was underpowered on my 4.5; marginal conditions to run a PWA contest in my opinion. Anyways that's competition, I am not taking the decisions and if I would want everything to be fair then I would have to change sport ;) Which I am not going to do.
After the double elimination was finished we ran a super session, where I came 2nd landing a nice pushloop. It was actually one of the few heats during which I had fun here, as I was nicely powered up on my 4.0... I also landed a pretty big forward and did some nice turns on the sets that were coming in during the heat. If I would have been on 4.0 during the contest I would have done much better. All in all, I liked Tenerife a lot, it's a spot that teaches you a lot of things and I would definitely like to come back and train waveriding here, as you can really go down the wave face without worrying whether the wind is going to rip the sail out of your hands, as is the case in Pozo.
After 2 wave events I stand in 5th place overall for 2011, waiting for the last competition of the year in Sylt to see if we will have any wind... Fingers crossed, as Sylt can be anything: epic, dead onshore, or no wind at all. I pray for good wind, preferably from the South, so we don't freeze up there end of September.
pic by John Carter: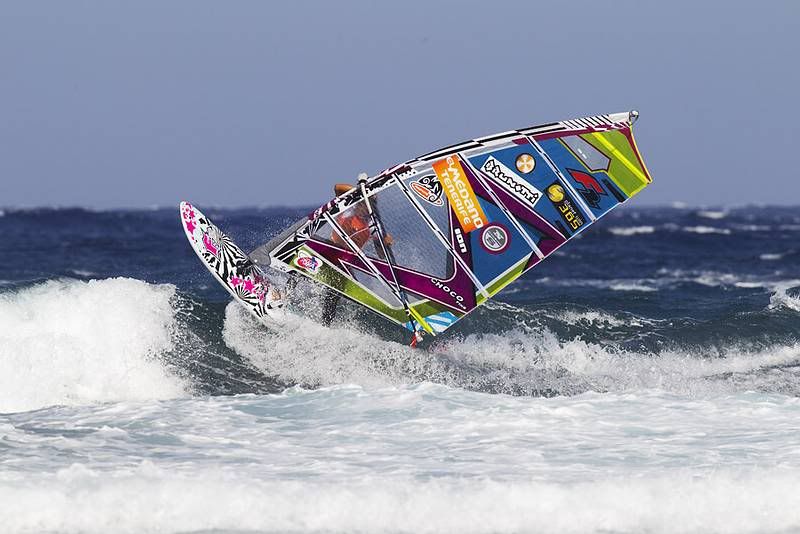 | | | |
| --- | --- | --- |
| Back in competition! | | |
11th July, 2011
Pozo, Gran Canaria, 2011... My comeback to the competition scene after this -errrr, minor? ;)- accident I had last year... I am still here, once again in the Canary islands... It's good to be back! Every year around this time some of the worlds' best wavesailors gather in Pozo Izquierdo for the World Cup, a showdown of their aerial skills. I flew to Pozo a bit late, a week before the event; late because I was left with no wind in Greece during May and June and really needed to spend hours on the water before the competition, and to make things a bit worse I did not even have the time to work out in the gym as much as I had meant to, to stay fit and up for the nuclear winds in Pozo. But then, we don't always need to follow the same plan, do we?
When I arrived in Pozo this year, I did not find what I had expected, so I decided I might as well go into the world cup event with a different strategy this time. I try not to control anything anymore. Because of some circumstances that happened to my life, including the accident I had last year, I am doing my best to just let things happen. I let them happen as free as possible. I found out that it's interesting to give a chance to luck. I used to try to control everything, waaaay ahead of its time. Now I am tired of trying to put everything in boxes and defining my way of doing things, have an idea in mind and try to follow it. I realized that when I put rules in every situation, it most often comes the other way round, and that makes no sense. During the last months, some of the best things in my life have come out of the blue. What happens happens; at the moment I enjoy trusting my life to these unknown forces, and see what they have in the bag for me.
So there you have it, Pozo, a very special and demanding venue to compete in, with zero training beforehand, on or off the water, one year after the accident. The conditions before the event were the worst I've ever seen here, plus the beach was super crowded with all the athletes that were training for the worldcup; adding up the tourists to that, I think it piles up to more or less 65 people down in the bunker at the same time, going up and down fighting for the few waves that were coming in. Hectic, to say the least.
I had a few short sessions with small waves, tuning my 4.0, 3.7 and 3.4. But none of the days was proper Pozo conditions, it was pretty light. The basic goal was to make it out there when nobody was out, and that was not easy... Pics by Fernando Sanchez, thanks!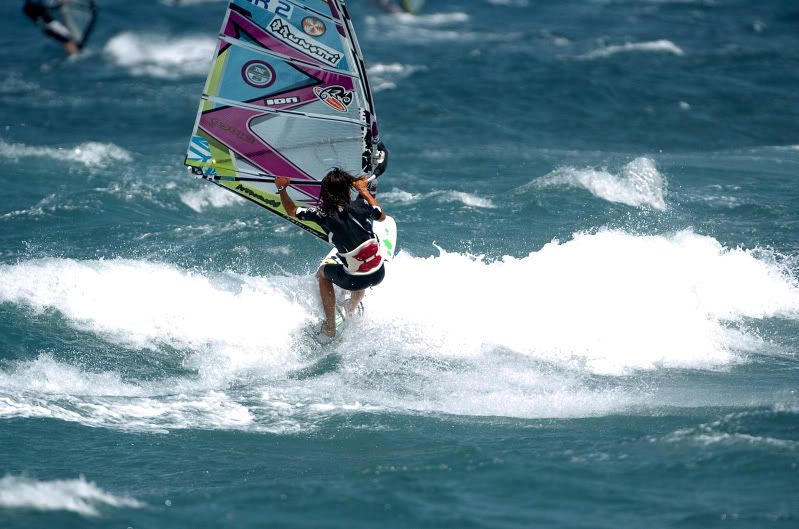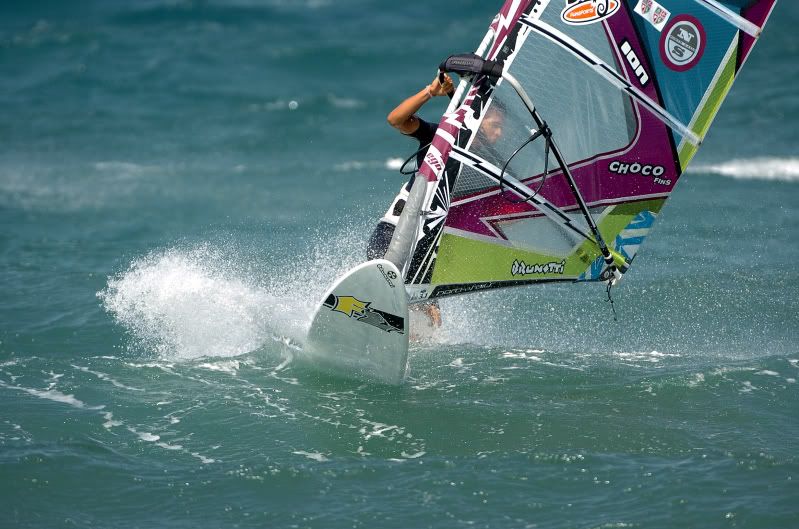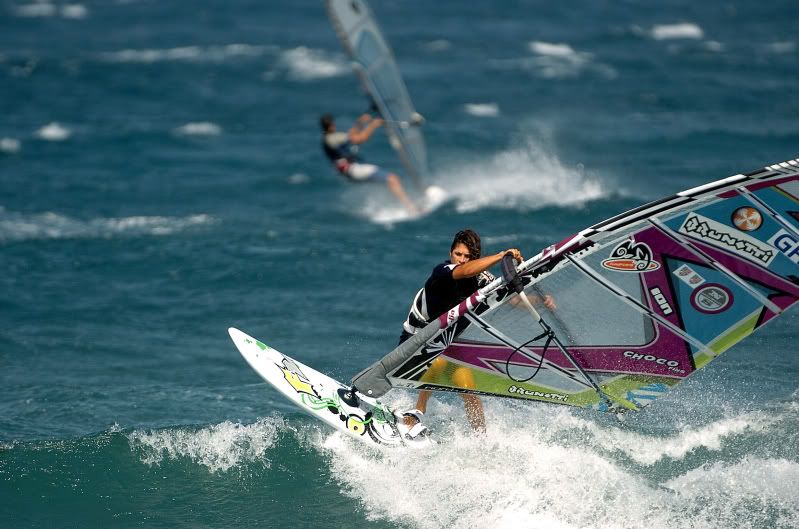 The only days that Pozo was really firing before the comp was when the spanish championships took place, on the 2nd-3rd-4th of July, just before the PWA event. But then the beach was closed for the rest of us, the only thing we could do was watch others sail :) I had to accept that my plan to train full power before the event was just not going to happen, and spent the week before the comp relaxing in the apartment, eating well, doing lots of computer work that had piled up, catching up on the (lots of) hours of sleep that I had been missing in the last few months, getting rid of the stress in my body that came from running around Athens... It was actually quite nice to stay in the same place all day, I barely got in the car during the last two weeks. Amazing, if you consider the fact that in Athens, I spend at least 3 hours a day in the car. Just using my legs to walk, and not getting in a car, was a real treat to my worn out body. Some days went by really slow, others fast... A bit of everything, like always. And before I even had time to realize, the PWA Wave Worldcup kicked off. In nuclear wind.
The first day was spent getting all the sails rigged up and taken down to the friendly rocks on the beach of Pozo Izquierdo, taking the group photo, then registration, then watching the mens' first rounds. The guys were pretty powered up on 3.7s and 3.4s on the first day of competition. I would have really liked to have a go in the single elimination in these conditions, the waves looked pretty hardcore and the wind was very strong, too. Amazing conditions. But -to my disappointment- no time for the ladies...
The next morning we woke up to the sight of a windless Pozo, and (I) spent most of the day catching up with other stuff back home. The third day of competition was more or less the same. There was wind, but it was really gusty and pretty flat. The forecast was really good for the last 3 days of the competition, with good wind and swell supposed to arrive. Nevertheless, the tide was on a wrong timing, the best time windows for waves came when there was no light for competition; it was either too high or too low during the day, no waves. So Duncan took the decision to push it, for fear that we would not have enough time to run the double elimination. And he pushed it quite a bit. Who was going to go out in these amazing conditions? The girls of course. It was absolutely cr@p!
I was in the third heat of the single elimination, against Nayra Alonso. My strong point is jumping, hers is waveriding. The first two heats were ok, most girls were on 3.7s planing most of the time. When I went out on 4.0 for my heat, the wind died. The tide was too high by that time, which killed the wind even more. My heat lasted 12 minutes, I was planing 3 minutes. There were no ramps to do anything, even if I would be planing all the time. Pozo had just turned off, it was incredible. I really struggled to find a suitable chop to do a forward and in the last minutes one to do a tabletop off of. Nayra did a bit better than me and passed the heat. It was the most ridiculous thing I ever experienced in competition. I was gutted. I watched the rest of the single elimination like I have done many times in the past, but this time I was feeling really down :)
From Friday on the conditions got better and better. On Saturday we started the double elimination in nuclear conditions. I went out for my first heat around mid-day on my 3.0 and could almost not go for a forward loop at all. A lot of the guys were overpowered on their 3.2s. It was insane. And then at some points the wind was going a bit down again, then up, pretty nuclear during the whole day. I sailed very consistently doing pushloops and tabletops in all my heats, and had some good waves as well. My waveriding is much better this year, but I still was not feeling too confident in these overpowered conditions, with so little training. Your arms need to be up for it 100%, as the forearms get swollen after a few minutes out in 50 knots wind. In my last heat of the day against Laure, she almost had me, the wind dropped a lot and I could not go for a pushloop. She had very good wave scores; but towards the end of the heat I found a nice ramp and did a clean tabletop forward, which saved it I think. I would fight against Karin Jaggi on the next day for 5th - 6th place, to see who would advance to face top 4 waiting up there from the single elimination.
John Carter took some nice shots: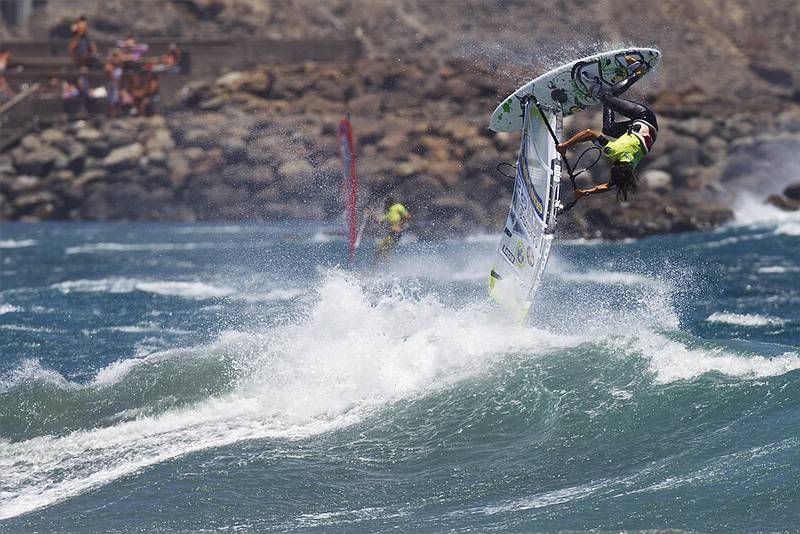 Sunday morning I was up and ready very early, the wind was a bit less, and I went out for 15 minutes to tune my 3.4, as I had not used it at all in competition, and it's good to be confident that you have your equipment trimmed correctly for the conditions. Sailing against Karin Jaggi, one of THE most experienced competitors, has no room for mistakes... It was super windy still, but not for 3.0, so I put a bit more downhaul on my 3.4 and went out for my heat against Karin. 2 waves and 2 jumps counting, no factor for the ladies, meaning that riding and jumping count equal towards the total score. My strategy was to land 2 good jumps in the beginning of the heat, and then forget about jumps and do the best I can in waveriding, as I knew Karin would try to ride the best waves out there. But I followed only half of this very good strategy, as the second part of it fell apart. My mind could not handle the pressure...
I landed a tabletop, a very clean pushloop, and then a second more tweaked tabletop to secure my jump scores. Then, instead of going on with waveriding as I had planned beforehand, I started thinking too much. I think my brain just clicked in the wrong direction, due to the pressure sailing against Karin. I knew she would do her best, she always does, so I thought "maybe she's going to land a pushloop too, should I maybe go for a tabletop forward so I make sure I have her in jumps" and then "to go for a table top forward I need to switch to my 3.0 (I was super powered up in 3.4)", "should I come in and get the 3.0"? I did think the right thing, which was come in and change to 3.0, only I did not do it... One thought led to another, I got disorganized, and spent the rest of the heat thinking what to do, going for waveriding but thinking about jumping and about switching sail... There you have it... I had really good jumping scores but very bad riding scores, so I did not make it. Karin did very well in the end, won against Silvia, Nayra, to be stopped in 3rd position by Iballa. I finished in 6th place. I take my hat off to Karin, well deserved third place.
Iballa and Daida had a very good final. High level of sailing and great jumping, very motivational to watch. We also witnesses a very good fight when Victor went head to head with Philip in the mens' final. Sick jumping and super slick moves on the waves, too. These guys are amazing. Victor went for a sky high backloop, landed it, and broke his downhaul rope, waiting for his caddy to bring him new equipment in the middle of the heat. His double forward was so clean... Philip was killing it, too, he even went for a triple forward in the final; he let go on the 3rd rotation though, as he went in it too vertical and got scared. In the end, Daida and Philip were the queen and king of Pozo PWA 2011.
For pics and report, you can always visit the PWA website.
We had the closing ceremony party on the terrace of Gloria Palace hotel in the south of Gran Canaria last night, and today we headed to the airport to take the airplane to Tenerife, for the second wave event of the year in the beach of El Cabezo, in El Medano.
Let's see what this island is capable to offer...
| | | |
| --- | --- | --- |
| Life in the fast lane | | |
31st May, 2011
May 2011 went by without even realizing that it involved 31 whole days... I look back and don't remember anything. It seems like all these days went by in a blink of an eye... incredible. I have barely had the time to realize what was happening. Every weekend was super busy on the beach and I have been up to the neck both on weekdays and during the weekend to organize everything and do the teaching in the water. I am overwhelmed, to say the least.
On the weekend of the 7th&8th of May I had the first girls camp for this year, which was hosted in Karavi Schinias. It was pretty early in the season still, the weather was a bit weird, still a bit cold... Not many people attempted to try windsurfing and fall in the cold water ;) So we only had a few girls on the beach, which made it a nice and quiet weekend teaching windsurfing.
The second weekend of May was quite busy, with 21 people, both girls and guys -I mixed it up in that one to see what would happen-. Most of the participants were beginners and improvers in the sport. With the help of Nikolas, as well as Babi and Eleni Maniati, I spent two days literally on a windsurf board, teaching all the participants of the camp how to master the tack and jibe... We hit the water at 9 in the morning and came back in at 6 in the evening. In the end of that weekend I started feeling like a fish! It was nice... I was very happy to see all these people improve in windsurfing and become more confident in the water...
And then... On the 21st of May we had the official start of the most important part of my life at the moment... A project that I have been working on for the last 6 months, finally kicked off. A project that involves kids, which are the future of windsurfing. Doing things with good collaborators definitely leads to success! Ιn cooperation with Costeas-Geitonas school, one of Greece's largest and most prestigious private schools, I have set up a windsurfing academy. At the moment we have 20 students from Costeas-Geitonas school, aged 7 to 16 years old, training in the establishment on Saturdays, Sundays and weekday afternoons. Windsurfing lessons kickstarted on the 21st May; the kids started coming to the beach, straight on the simulator and then on a windsurf board. On the same day we also ran a windsurfing exhibition where 35 kids from Costeas-Geitonas school all had their first go on a windsurf board. They left with the best of impressions for our sport. Myself I am convinced that there is not one kid that will get on a windsurfing board and will not love it straight away; except of course if it is too young, too overpowered, too overwhelmed by the wrong equipment or just doesn't have much fun on his/her first tries... We are next to our children every single moment to ensure that none of the above happens and take care of every child separately and within the team.
It's such a pleasure and a blessing to teach windsurfing to these kids. A picture speaks a thousand words and if you are not there to see then I cannot say much in writing.
On the 28th May we had the second round of the windsurfing exhibition day, attended by 25 students of Costeas-Geitonas school. I am most certain that kids will get more and more into the sport, and the windsurfing school of Karavi Schinias, where the windsurfing academy is being hosted at the moment, will be seeing more and more kids with time.
I promise to upload pics from both windsurfing exhibition days and lessons soon...
All pics courtesy of Katerina Kotti. You will be able to see more of her great skills once the gallery section is updated.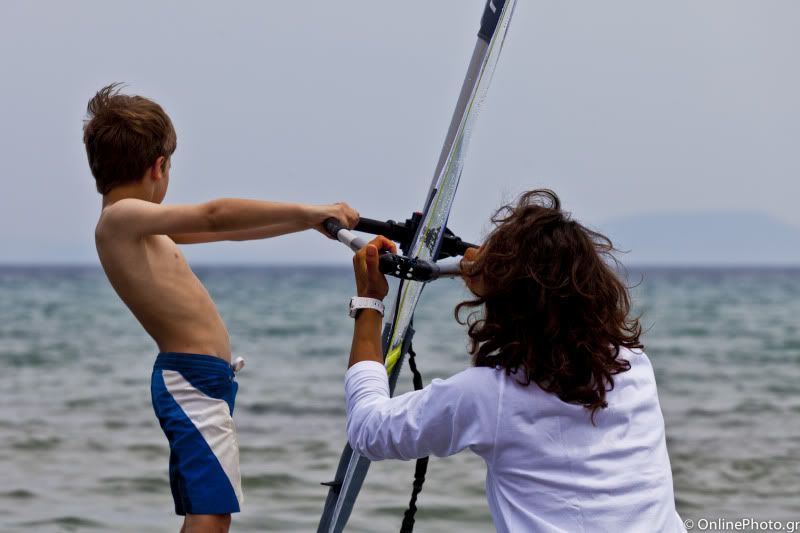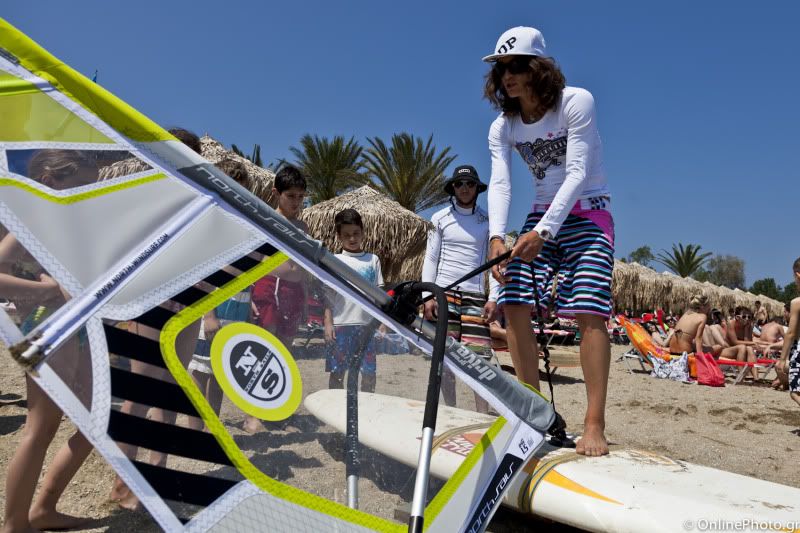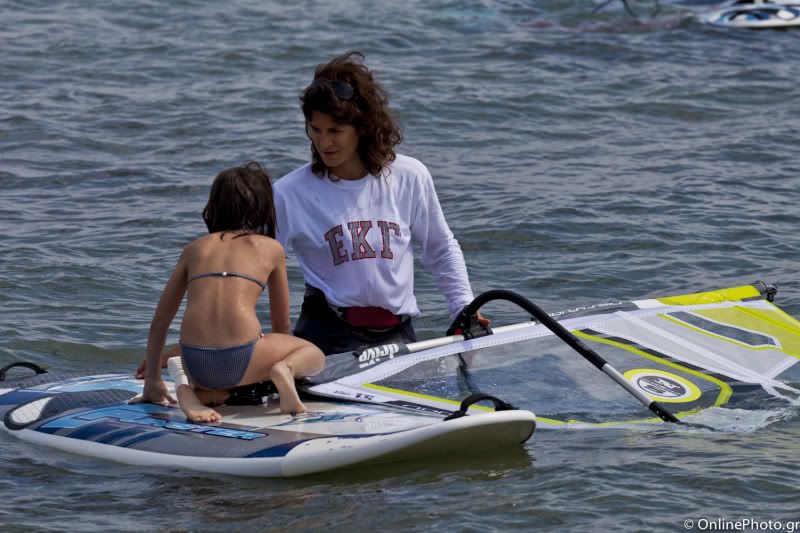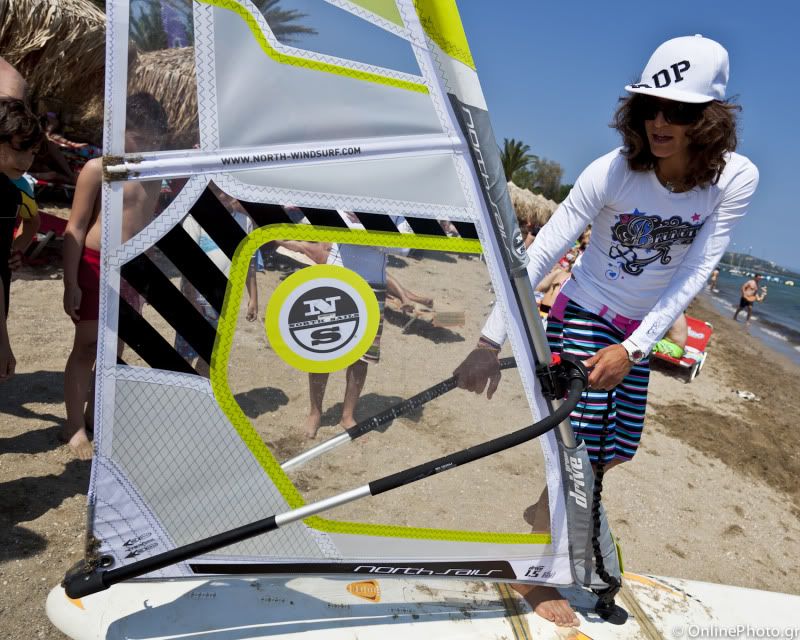 | | | |
| --- | --- | --- |
| Athens news | | |
20th April, 2011
Hey everyone!
All good here, although with not much wind until now. From tomorrow on it looks really windy though, hopefully we can have a few good sessions during Easter vacations. The good news is that my boardbag is back from South Africa, it finally found it's way after 1.5 month being held hostage at the airport of Istanbul... I could not believe it when they called me last week to tell me that they were going to send it to Athens. I picked it up last Wednesday, and last Thursday I had THE most amazing session in the Korinthian Gulf with NorthWest wind. I sailed with my new thruster 63lt and 3.4m sail in 1.5-2 meter waves, sideshore port tack; I was riding waves from 8.30 until 11.30 non-stop... When I came in I could barely walk to my car carrying my equipment.
The other news is that we have announced the dates for this years' windsurfing camps.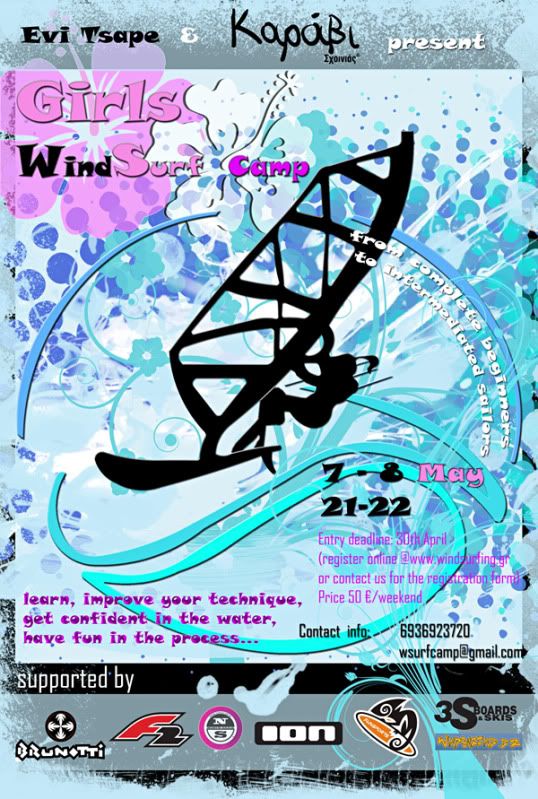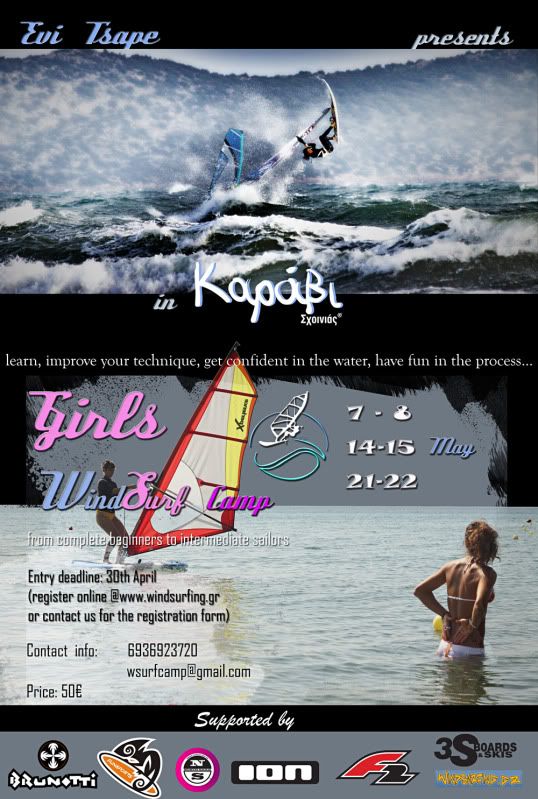 7-8 May and 21-22 May is for girls only, 14-15 May is for boys as well. As you can imagine, most of the applications I have received are for the weekend 14th-15th, which is pretty odd I think; I would never have imagined that... :)
Many many many thanks to Antonia Papaioannou for the camp posters !!!
| | | |
| --- | --- | --- |
| Lazy days in Athens | | |
9th April, 2011
Hello!
The session in Peloponnese on the 26th March was a disaster after all; it was windy alright, but very gusty and the waves never came... Apparently it was blowing from the wrong direction; the system has to be from the northwest for the waves to enter the Korinthian Gulf and build up. As it was blowing from the west-southwest, we had wind but no waves. We still made the most of the day playing around with what we could find, time spent on the water always counts...
After a one-week break, we sailed in Loutsa, Athens, 2 days last week and another 2 days this week; all days were quite nice. On most of these days I was on 3.7 ("my" smallest sail at the moment), at times really overpowered... Never before have I sailed for so long with a bigger sail than I have to; I always used to come in and rig one size smaller. Now I just go out on a 3.7 and live with it in all kinds of overpowered conditions, which is a good thing, training-wise... I am 90% into riding waves these days, for fear of breaking in half the only small board I have left :) . Another chance to train in what I never used to (riding), I always used to prefer jumping... Now I enjoy waveriding just as much, maybe more. In the beginning it was painful to pass by all these nice ramps; now I really enjoy looking for the best wave to ride on the way in...
No pictures this time... Waiting for the next session and for the day that I can go to the beach with all my equipment again :)))
| | | |
| --- | --- | --- |
| Athens on fire! | | |
26th March, 2011
Hey everyone!
In the beginning of this week we had three amazing days in my homespot, Loutsa, Athens. The wind averaged around 45 knots on Monday, 50 knots on Tuesday and 30+ on Wednesday. It was nuking... The waves were amazing, we sailed in some of the biggest I've ever seen here in Athens with North wind. After two days of 3.0m -super overpowered on Tuesday- and one day of 3.7 - full power, as quite a few of the guys were also planing on 3.7s-, I am now able to say that I got my adrenaline fix after 22 days out of the water... I really needed that :)
It's easy to put two and two together from the pictures; I still don't have my equipment back from South Africa. I am lucky because my 2010 boards are still in the garage, and I also have good friends who were kind enough to lend me what I was missing. The luckiest part of all was that my custom 3.0 NeilPryde 2009 sail is still in my possesion :) I would have lost two very good days without it...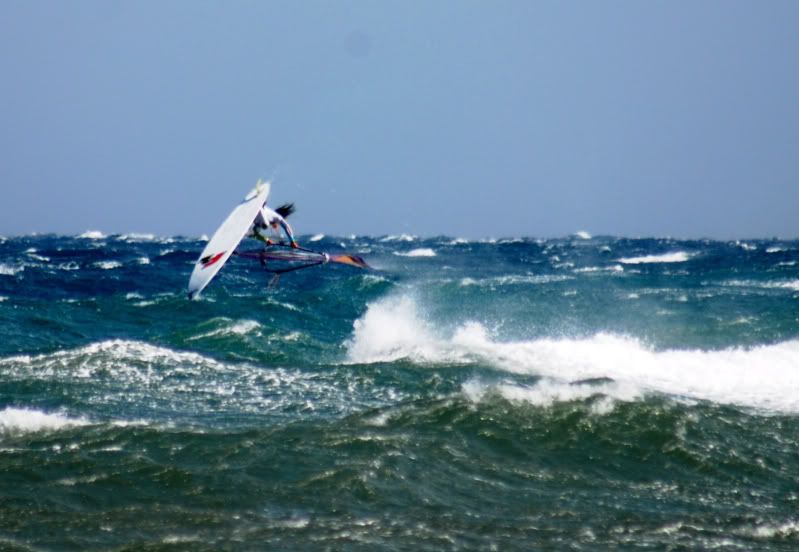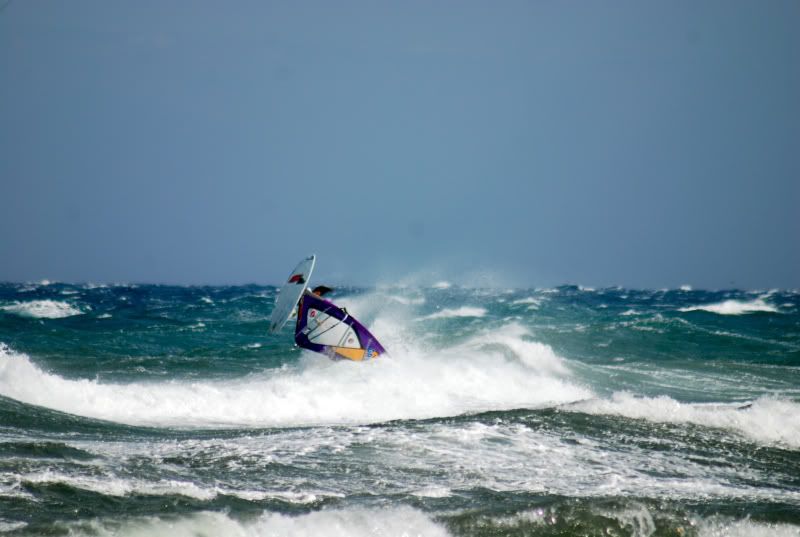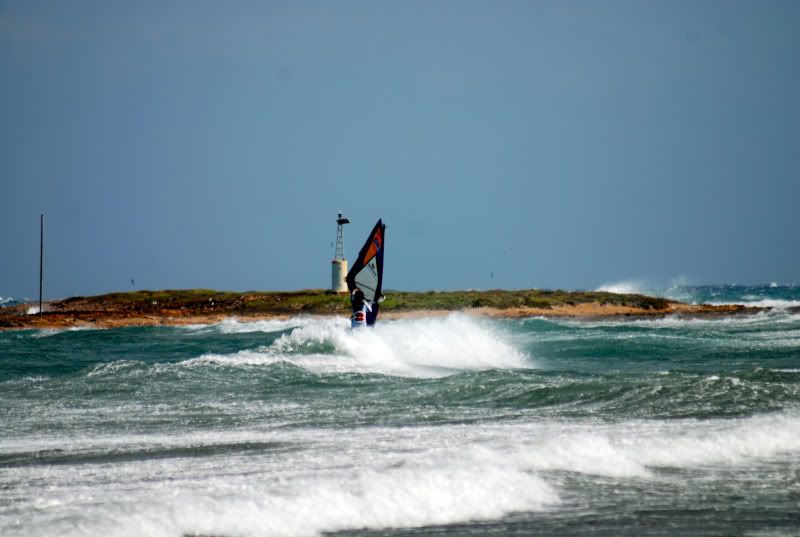 I shall make a new section in the gallery soon, as I'd like to put up pictures of everyone who was ripping these 3 days; I saw some amazing skills out there...
Got to run now, as today there's a good forecast for the Korinthian Gulf in Peloponnese. I've got to load the car with all the gear; thank god it's not too much at the moment, so less things to carry... :) I'm going to drive to the spot where I had the accident last year, first time I'm going to sail there since that; a whole year has gone by without even realizing it... So I have to get mentally prepared for that session too... ;)
I'll be back tonight with amazing pictures, I am sure, as the forecast is for 26-29 knots. Fingers crossed the weather sites know what they're writing...
See you!!!
| | | |
| --- | --- | --- |
| Gallery updated | | |
9th March, 2011
Finally!
Last weekend was devoted to my websites' gallery. I went through thousands of pictures... I must have been in front of my computer for at least 7 hours. I started from pics taken mid of November 2010 and went through all the sessions we had in Athens in December and January.
It was nice to remember all the days in the water we had in the end of 2010; it's cold and no wind now, plus I still don't have my equipment to go sailing. It's still somewhere in the world trying to make it's way back. I am sure it will... Going through the pictures was a good opportunity to remember how it actually is to go windsurfing :) This winter we sailed a lot in Schinias beach, Athens; lots of days of South wind, which is the best that can happen during wintertime. It was warm and windy... So good... We also had two nice days in Methoni and Romanos (Peloponnese) and one in Agios Ilias (Peloponnese). You will find all the new sections in the gallery. Most of the pictures have been taken by Fotis Papadopoulos and some by Michalis Papadopoulos; all the windsurfing community is grateful to these guys ;)
Lastly, I put up a few from my recent trip to South Africa, where we were shooting with the F2 team. I am not allowed to put up all the pics because most of them are with the new (2012) boards, which are not supposed to hit the market before summer... A certain person would kill me if I did...
Enjoy!