| | | |
| --- | --- | --- |
| Back to base... | | |
4th March, 2011
My trip to South Africa is over... 4 weeks, over 2.500 kms of driving, 15 days of sailing in all kinds of conditions. Finding proper conditions to sail in was a mission this past month... I arrived at home on the 28th February after 17 hours of flight/transit time, exhausted...
My boardbag didn't make it back, though, it decided to stay in Cape Town airport; probably figured that it's too cold here to go sailing and wanted to steal a few more days in the warm weather. Makes sense...
I have been running around Athens - as usual - for the first few days that I'm here; got some small setbacks as well. I am just starting to go through all the pictures from Rene Willemsen and Raffaello Gardelli, so as to put them all up in the gallery section.
Other than that, I only saw the greek sun for half a day yesterday morning. Spring started, yet winter is still here...I'm pretty sure that the cold days will soon be over, though, and we'll be hitting the water full power again.
It seems that we're going to have snow in Athens next week... I hope it's not TOO cold to go sailing. I've been out of the sea for a week now, seems like ages... If it's too cold I might as well hit the nearby mountain slopes for some snowboarding... Let's see...
Until I get some pictures up in the gallery, here is a taste of some, taken by Raffaello Gardelli, a few days before I left.
I hope my equipment arrives soon, so I can sail my new F2 Rebel Thruster 63lt, which I absolutely loved in Cape Town conditions... I'm pretty sure it's going to be even more amazing in onshore conditions at my homespot. Looking forward to that session...
See you!
......
Going out.. Waiting for the sets... Too heavy shorebreak...
Riding waves with Cape Town in the background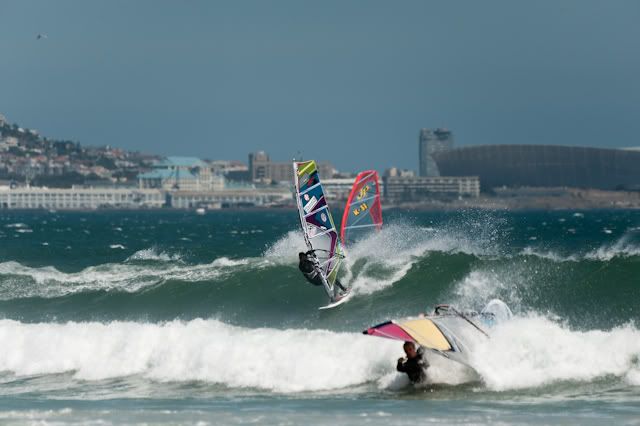 Trying out the thruster board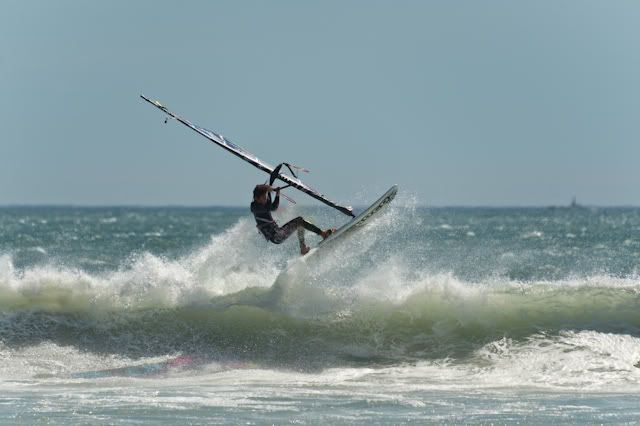 | | | |
| --- | --- | --- |
| Finally some good conditions | | |
17th February, 2011
We've finally had two proper Cape Town days down here. All the spots have been on fire yesterday and today. Yesterday we sailed Melkbos around 12pm, with nice sized waves to ride and jump... As soon as it got really windy we drove up to Yzerfontein and had the session of our lifetime.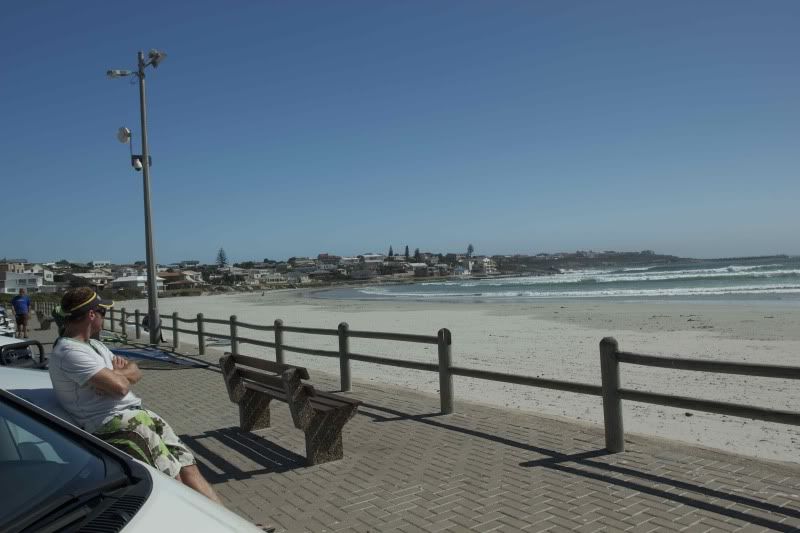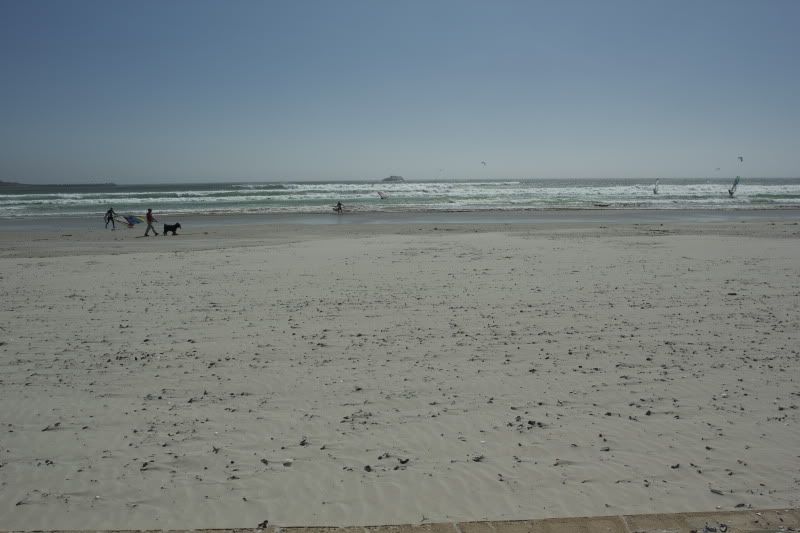 This place is just amazing when it works... The sets were a good 4 meters in size, with their clean faces never ever breaking... You could go down the line, do the first cutback, and the 4meter wall was still there in front of you, waiting for you to do the next cutback. Unbelievable; definitely the best spot to ride waves when it's so big...Once on a wave you could not see the beach anymore; the waves in front of you would hide the sand near the waters' edge completely. You could not even see the sailor on the wave behind you or in front of you. It was like you were on an elevator, 4 or 5 meters above sea level... On the inside, all the people trying to go back out again seemed like they were two storeys down... Unreal...
Here are a few pics just to get an idea; the thing is that Rene -who was on the beach taking shots- could not really see us when we were riding the proper waves... Because the wave in front of us would hide us completely :) ... so we're just going to keep these waves in our minds forever, and you will have to do with trying to imagine how it looked like...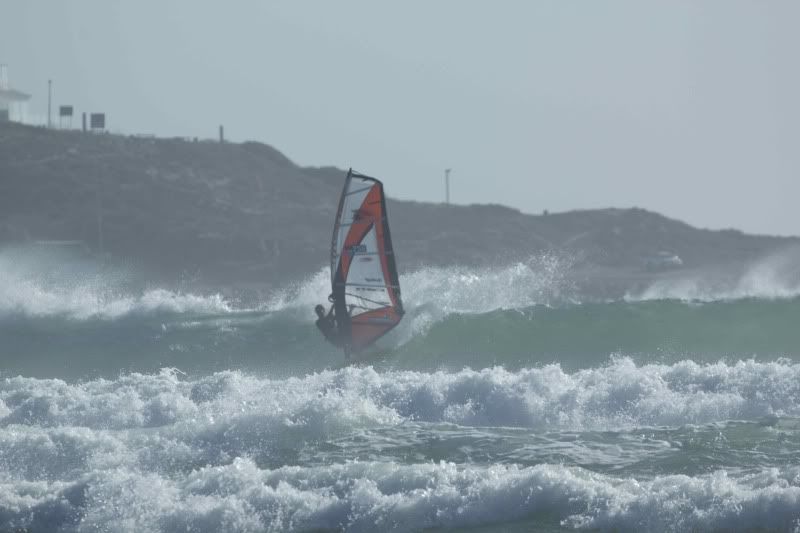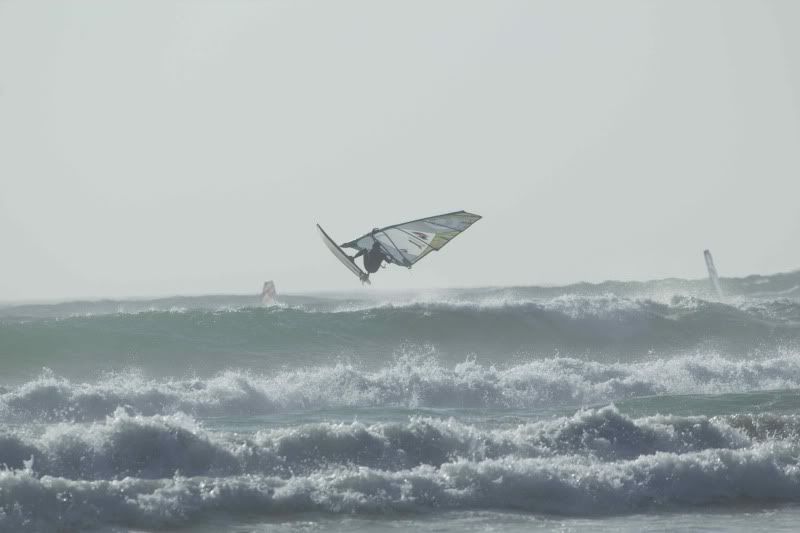 I think that yesterday we were out there riding waves for more than two hours non-stop; the adrenaline kept pumping... We could not feel tiredness at all. Around 5.30pm it became too light to go past the first wave. It kept punishing you... On the fifth attempt I got hit hard from my mast, which almost broke my shin-bone as I was getting washed. I got hit so hard that my skin opened under the wetsuit... It was definitely time to stop :)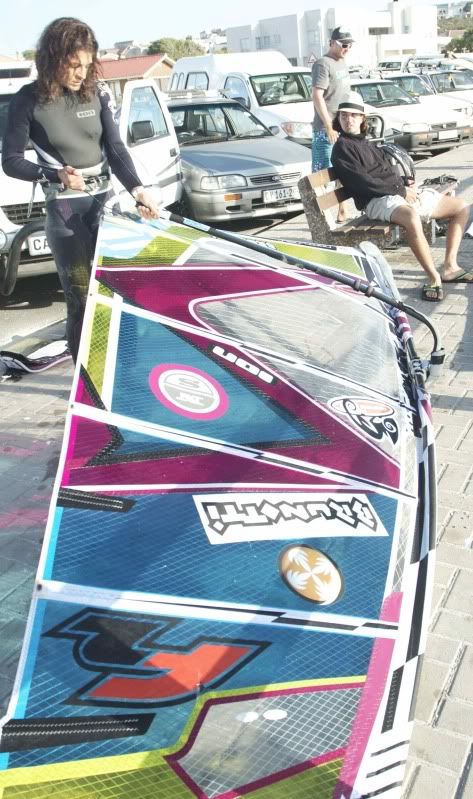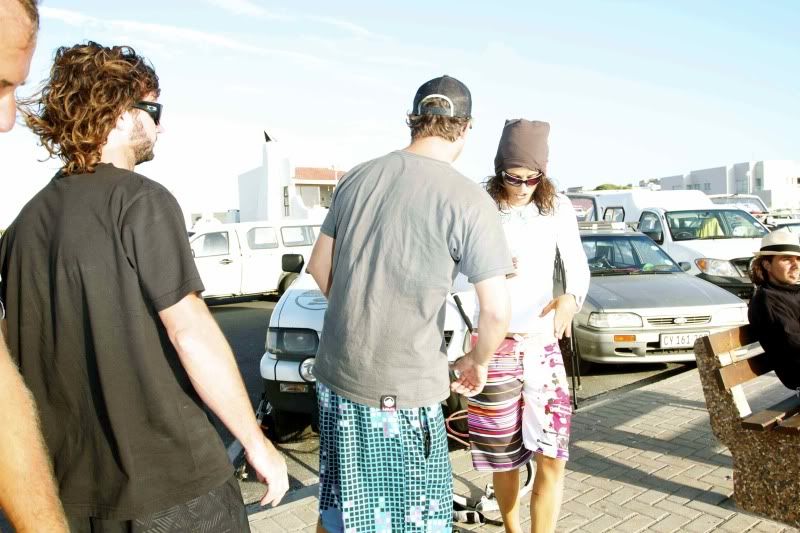 Today was another good day. First session in Sunset beach around 12.30 pm; 3.4m2 and Rebel63, full power jumping for 1 hour. Then Melkbos with 3.7m2 and nice 3+ meter waves. Did not make it to Yzerfontein for a second day in a row, as by 4 pm I had already sailed for 4 hours... Adding it up, that makes 8 or 9 hours of sailing in two days... I could almost not walk up to the car parking carrying my gear when I decided I had had enough.
I just love Cape Town when it's like that... You also have to love it before that; and after that as well... That's the deal, as with most things in life... :)
p.s. All pics courtesy of Rene Willemsen. Thanks!!
| | | |
| --- | --- | --- |
| Elands Bay... | | |
15th February, 2011
Just came back "home" in Cape Town from a two-day trip to Elands Bay... An amazing spot in the north, around 3 hours drive from Table View. Danny invited me to join; the plan was to drive up to Elands Bay, spend the night there and maybe get a chance to sail and take pictures with the new F2 boards. There was not much chance for wind here in Cape Town...
The trip was ok, going up straight R27; this road is unbelievable, it runs in almost a complete straight line along the west coast of South Africa up to Namibia. No wind in Elands yesterday; as soon as we arrived up there we hit the local shop to get some supplies for the barbecue, and then checked the guesthouse where we would be spending the night.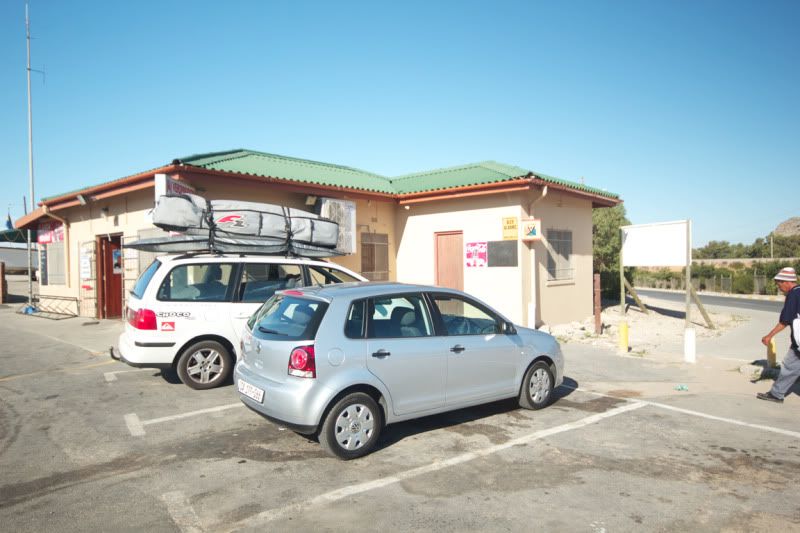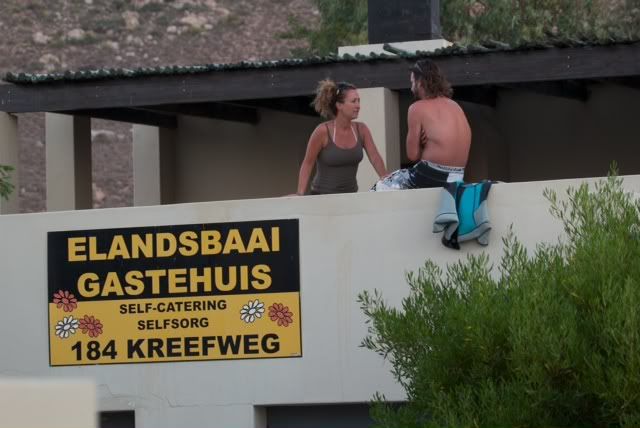 A very nice place... Once settled there, we drove back to the beach to check out the spot; there were some nice waves breaking. Danny went out for a SUP session, we went for a walk on the beach, which is just endless... It goes up north as far as the eye can see.
After the sun went down we went back to the house to prepare the barbecue... We spent a quiet night chilling out, cooking, eating, having a few drinks... It was a relaxing evening and very nice getting to know all these people.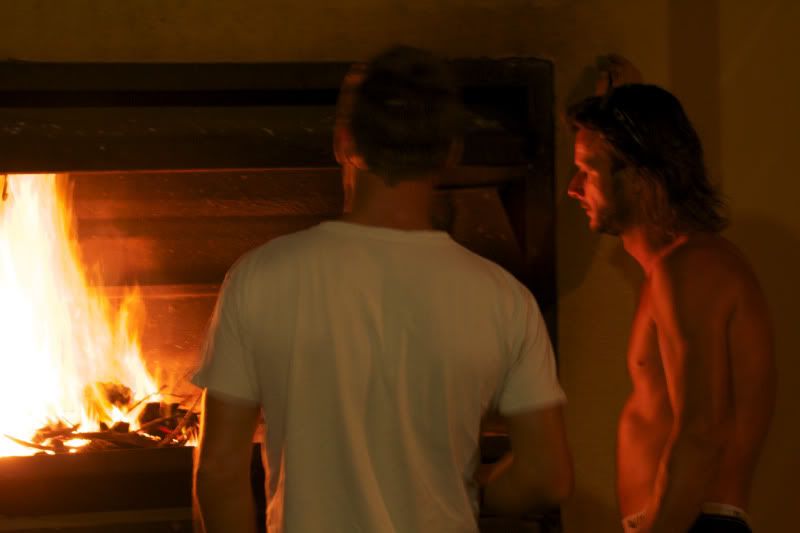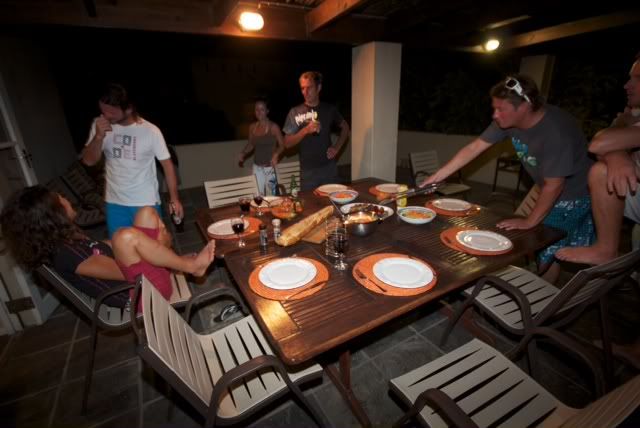 On the next morning we woke up to see a not-as-wavey-as-we-expected ocean;it wasn't long before the waves started building up. The wind was not there though, so by mid-day we had started to get disappointed and were almost about to leave. But, as in most cases, patience is a great virtue...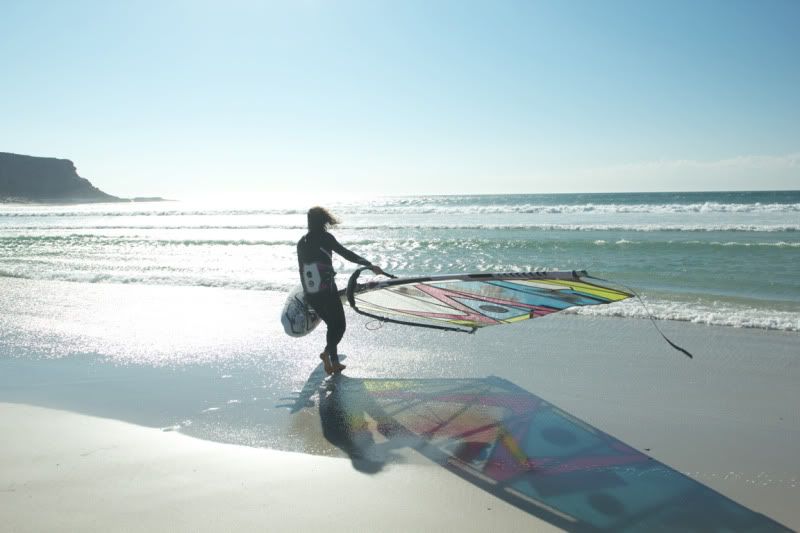 Around 3 pm the wind kicked in and we sailed with nice waves for 1.5 hour. I took out the Barracuda 77lt 2012, first time I was on a quad fin actually; I liked it. It feels a lot smaller than its volume suggests, it's very compact, has great upwind performance, great speed, drive as well as traction on the water.... I was impressed. In as much as I enjoyed trying out the new board, I was overpowered on my 4.0, so after the excitement was over, the 77lt was way too big to control with my 60 kilos. I switched to my Rebel63 and sailed for another hour, still overpowered, but at least there were instances where I could dig my rails in the wave and smack some lips.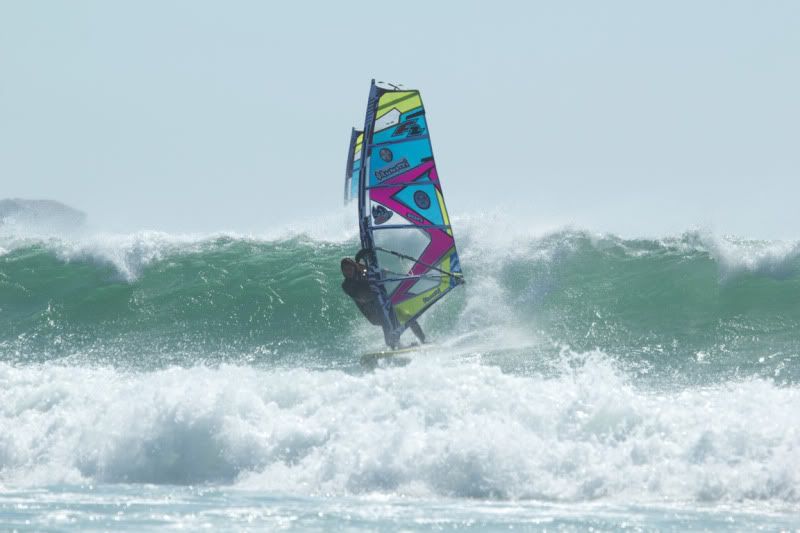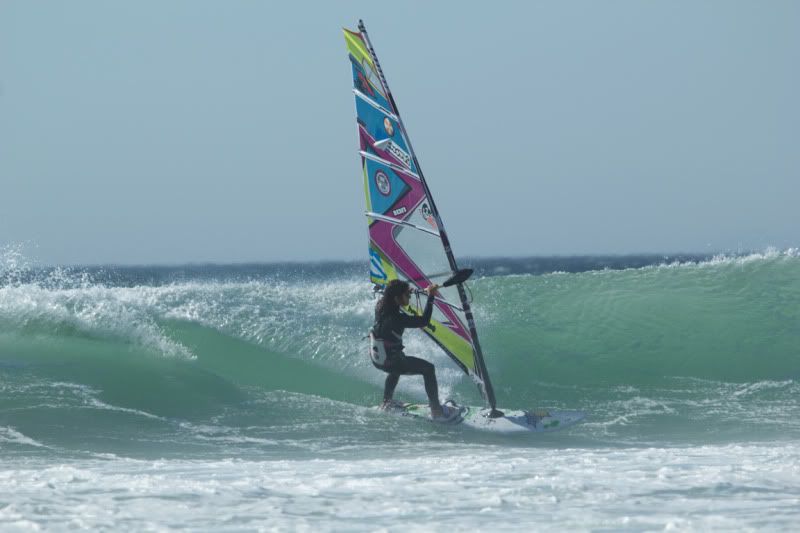 It's always gusty in Elands and also hard to control the equipment going down the line with the gusts exploding on your sail when you least expect them to, but you can get one or two days of good waves when in Cape Town it might not even be blowing. By late afternoon the waves had diminished both in size and in quality; the wind had gone completely crazy; plus our arms where longer by at least 2 cm from trying to hold our sails down for 1.5 hour. So we called it a day. Packed all the gear, loaded the cars and took off on the long road back to Cape Town.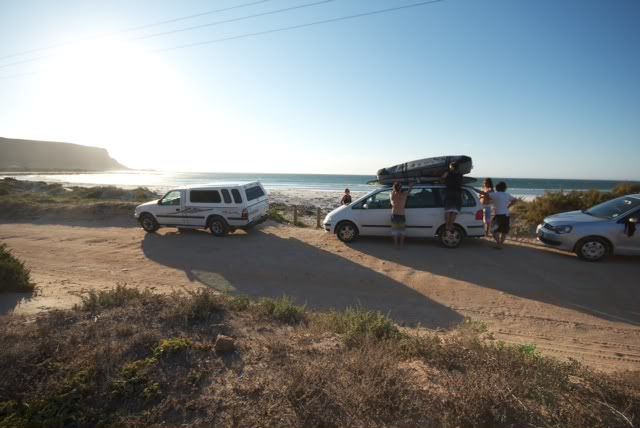 This trip was worth it 1000%...
All pics courtesy of the one (and only) Rene Willemsen !!!!
| | | |
| --- | --- | --- |
| Cape Town update | | |
9th February, 2011
The wind here in Cape Town still has the blues... So does the weather, it's been quite a few mornings here when I was wondering if I woke up in a different place than where I went to bed in. Along with the weather, we're feeling a bit blue too from time to time. We've made such a long journey and there's no wind in any Cape Town spots... But then again -after 10 days here-, I'm thinking: there is no place like South Africa, with such good wind consistency. We've done more than 1,000 kms in 10 days to find sailable conditions, but seriously; where in the world can you be in the water almost every other day, even when the forecast is bad? Everybody who just arrived here is disappointed because the wind is gone and it's not the typical SouthEast weather blowing in all spots around Tableview, but still, if you take your car and do the good old trip to Cape Point, you can still sail with decent conditions sometime during the day, when the tide is right and it's not too crowded. We really can't complain, can we?
Saying that, we just came back from Cape Point, where we had a nice session this morning. Went out on 3.7 and my 63lt Rebel; it was gusty but once on the wave, 3.7 was THE perfect size. The good sets were not coming all the time, but the proper ones were a clean 3 meters... Amazing... It was perfect for about 45 minutes, then more people came out in the water and it started to get a bit crazy... We sailed for another hour or so; the wind started picking up, by 2pm I could have easily gone out on my 3.0. I chose to call it a day and drive back up home...
Yesterday we sailed in Melkbos for about two hours late in the evening. I normally prefer not to be out during "sharks' feeding hour" - sunset time, but this time we couldn't really avoid it, as the wind decided to arrive really late...
Looks like the wind and waves are backing off again for 3 or 4 days... As said, they have their blues, so we need to be patient :) There's a big swell coming next week though, let's see...
Sorry about the lack of action pictures; unfortunately Liz is not around this year... All the greek gang is hungry for windsurfing, so nobody's staying on the beach with the camera. Plus we are not sailing more than 2 hours once every few days, I'm sure you get the picture here... Will take care of it soon...
| | | |
| --- | --- | --- |
| Platboom Bay | | |
6th February, 2011
Hey up!
Two days ago we had a short sail down in Platboom Bay, Cape Point. First time I sailed there; first time I sailed with a different wind direction in Cape Town, actually. The wind was blowing from the NorthWest (side-offshore, starboard tack), steady around 20-25 knots and the waves were about 2.5 meters high, glassy. There were not many people out, because not a lot of them thought it was going to be windy. Τhey did not "smell" the wind, as we say in Greece :) So all of us who drove down there could catch lots of waves :)
It was a short session, a bit more than an hour. Then the tide was too high and the waves were gone. I was on my 4.0 and 70lt Rave twinfin. Could have used my 3.7 once more, as it was quite offshore and once on the wave the 4.0 was a bit too much. The waves were amazing... Blue and glassy... It is the only spot I've sailed so far where you can see what's going on underwater, as the sea is crystal blue. I don't know what I prefer though, to be able to see what is swimming underneath me, or not? :)
I always enjoy it a lot when I'm waveriding with starboard tack wind. I've had so many hours of snowboarding with my left foot forward, carving full speed, that it just feels so natural to do it with my waveboard now; I charge the wave with much more confidence... Sailing in Platboom was kind of special. First of all it was unexpected, no one of us who drove altogether down there was expecting to find such good conditions. Second, it's been a long time since I sailed close to the end of Africa. When you turn your eyes south and cannot see anything in the horizon, the first thought that crosses your mind is that the next land from where you are is Antarctica. To have this idea in the back of your head when you're in the water for sure is something...
Another session in the bag... Different spot, different waves, different colors... Different experience... More nice pictures engraved in my memory...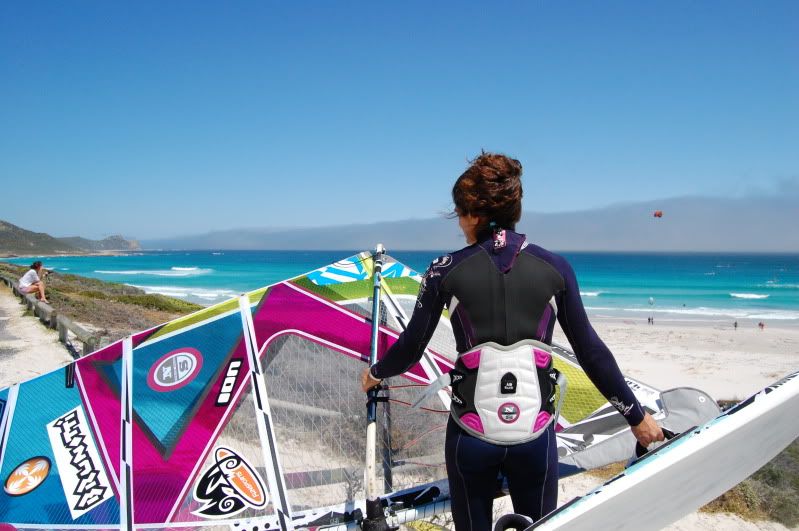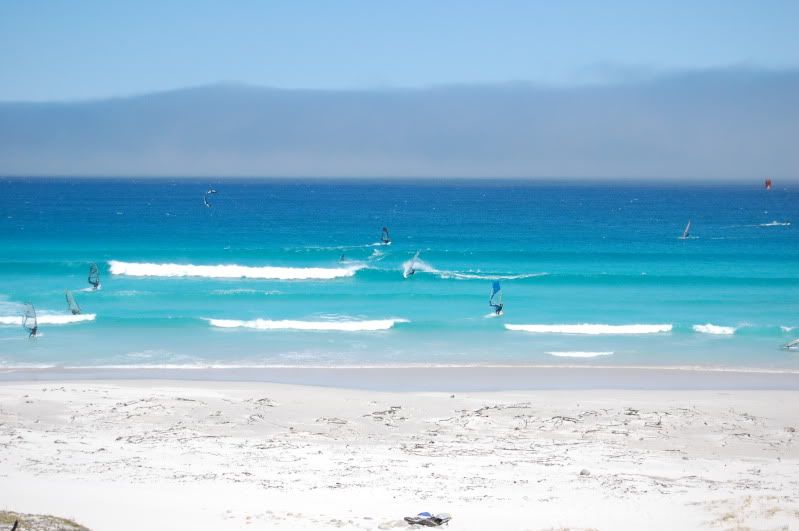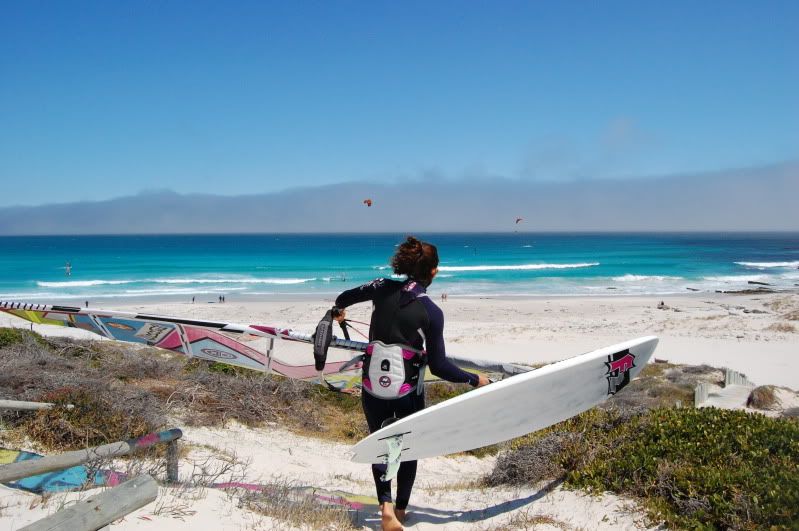 | | | |
| --- | --- | --- |
| South Africa... | | |
3rd February, 2011
Hello everybody!
I'm in Cape Town, South Africa; arrived here on the 30th of January.
This time I'm with two of my greek mates; a whole bunch of greek guys are here actually, trying to escape the cold weather in Greece. I saw a lot of other sailors here; South Africa is one of the best places to travel in winter if you're looking for waves.
We arrived on Sunday noon; the first two days were a mission... First time I ran around like crazy over here. It was windy but we didn't have the chance to sail much, as we were running from one place to the other all day, to get organized with everything... Now we are dialed and ready for action. But the wind just decided to take a little break for the next few days...
So far:
-Monday: 1.5 hour sailing in Melkbos, quite late in the evening, it was nuking. I went out on a 3.7m which was too big. Did some nice pushloops but the sail was way too big to ride waves properly. Came in and changed to 3.4m, went back out, sailed for a while and then at some point, as I was swimming with my equipment in the water getting ready to waterstart, a mountain of water broke so fast on top of my gear, I didn't even have time to blink! Boom! 2.5 meters of thick water exploded on my sail. My mast broke like a carrot, and somehow my sail started getting derigged, the extension in the bottom came loose. I was swimming for about 15 minutes to get in, trying to get all my equipment on land without losing anything and without my sail being ripped into pieces... End result: broken mast, broken sail sleeve above the boom, 5 battens broken (!!!), pulled left shoulder from swimming with my equipment and getting washed to get back in... All that in my first session here... :) I must say this is my all time personal record (leaving out the accident I had last year of course).
-Tuesday: we had a nice session in Yzerfontein. This place is around 70 kms north of Cape Towns' main beaches. Went out there quite late, around 6pm, for 1.5 hour, on 4.0m and 70lt twinfin. Had some really long rides on 1.5-2m waves; you could make at least 6 turns on the good ones. And if you didn't mind smacking 0.5m whitewater afterwards then you could do 15 turns on the same wave until there was no water under your fins :). My arms were not up for that though; I've been out of the water for too long in Greece and my shoulder was a bit stiff; after 5-6 turns my arms could not hold anymore. I was a bit overpowered as well on the wave on my 4.0, could have easily been using a 3.7 or 3.4... To say the least, though, it was the best day we've had here so far.
-Wednesday: afternoon-evening was spent in Melkbos, in really gusty conditions, with small waves. We went there because Sunset beach was almost completely flat. The biggest sets in Melkbos were a bit less than 1m high; I was on my 70lt board and 3.7m. Should have gone out on my 4.0, but being overpowered for two days and with my shoulder still stiff, I decided to go a bit smaller; bad call. Took some waves and did a few rides, underpowered. Although it was not such a great session, it was good to play around in the water. I am in the south hemisphere, it's warm, it's sunny, I can't complain...
Today we woke up to see the ocean completely flat and windless, which always is a strange sight here. It is hot as hell, too.
The wind is coming back soon. It's been howling for the past month anyways, for sure it needs a small break before it comes back full power...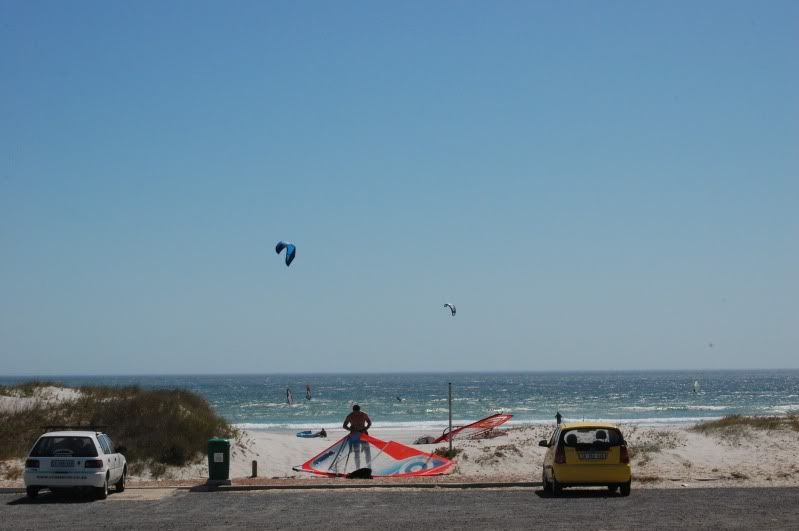 | | | |
| --- | --- | --- |
| 3rd place Johnnie Walker contest: Your keep walking film | | |
21st January, 2011
Hello!
Last night we attended the prize giving of the Johnnie Walker film contest, which took place in a nice little theater in the center of Athens. Johnnie Walker is a lot into working on commercials and ideas using stories and achievements of both celebrities and ordinary people around the globe. Dimitris Maniatis, a friend of mine who is a lot into film editing/producing, took part in the contest by putting together a very nice little film to talk about my story. We had a lot of fun working together on New Years' Eve to film a little bit on the beach and then at my place on some lines for the interview.
We attended a nice event where the host talked a lot about creating our "own ways" in life. It was nice to be reminded of all that; I realized that as we live every day of our life and as the days pass by one by one, we don't really ever stop and look at the "trail" we've made in life, the track that we ourselves have chosen to create... As far as I am concerned, I believe this lack of "self-observation" is even more profound, as I am always focused, trying to juggle everything together in one single day... I never give myself the time to see my progress or to think about where I'm going... Which is really important :)
After watching all 8 videos that had made it into the final, Dimitris was awarded the third prize... Pretty good job he did there, and I believe that if we had worked a little bit more on the scenario prior to filming, then he could have easily made first. Dimitris is really talented and really loves what he does...
Here is the video. It's in greek, so sorry to all my foreign friends reading this... You'll just have to watch and try to understand the story :)
A massive well done to Dimitri for his great work! Next time we'll be even more prepared :D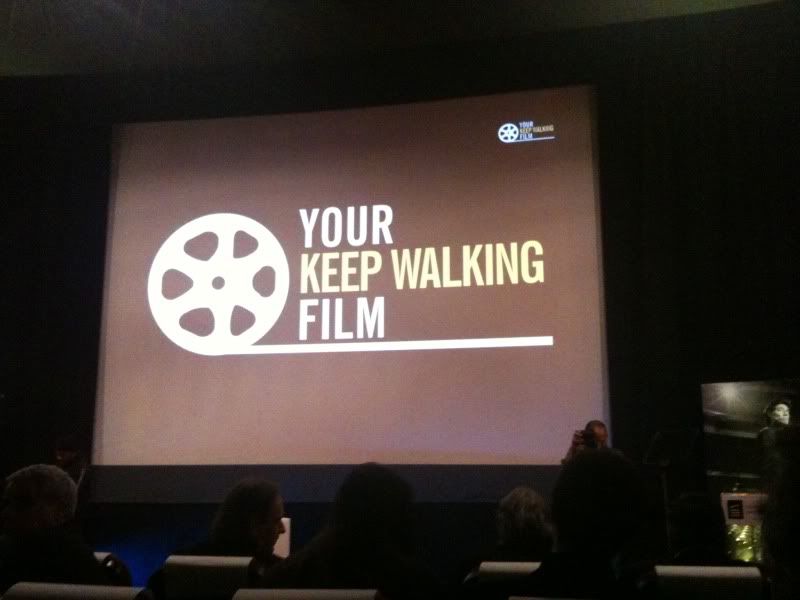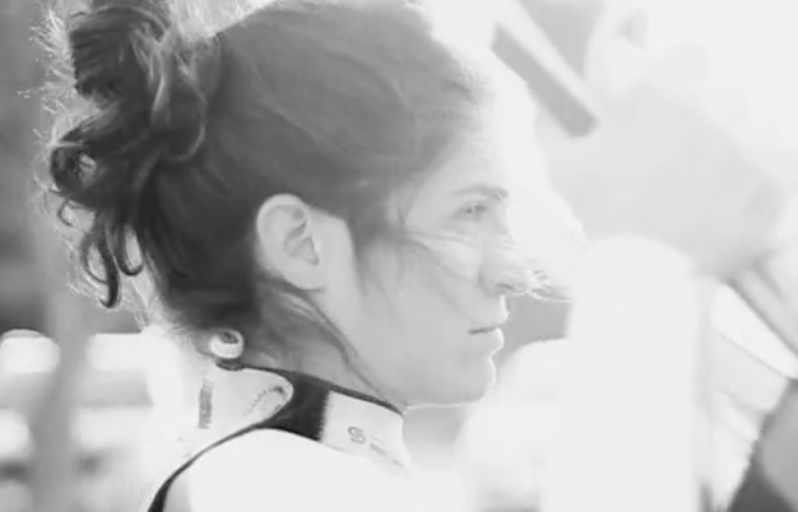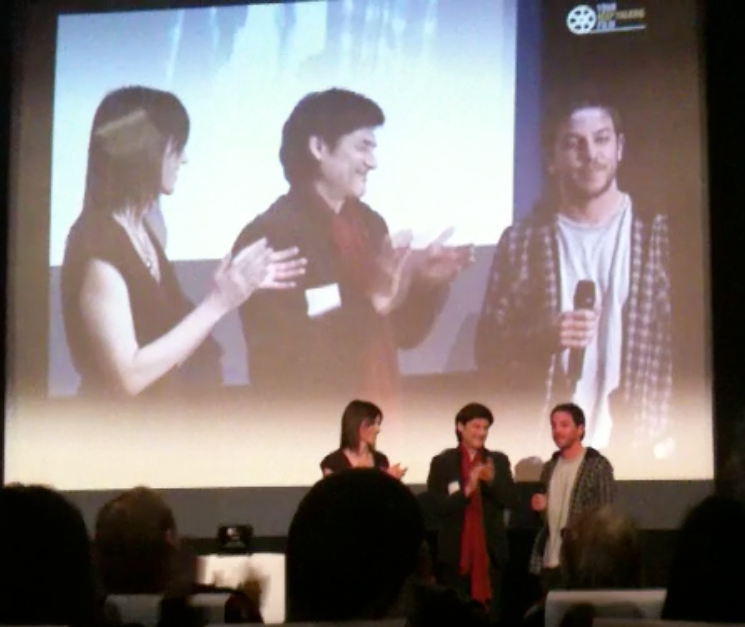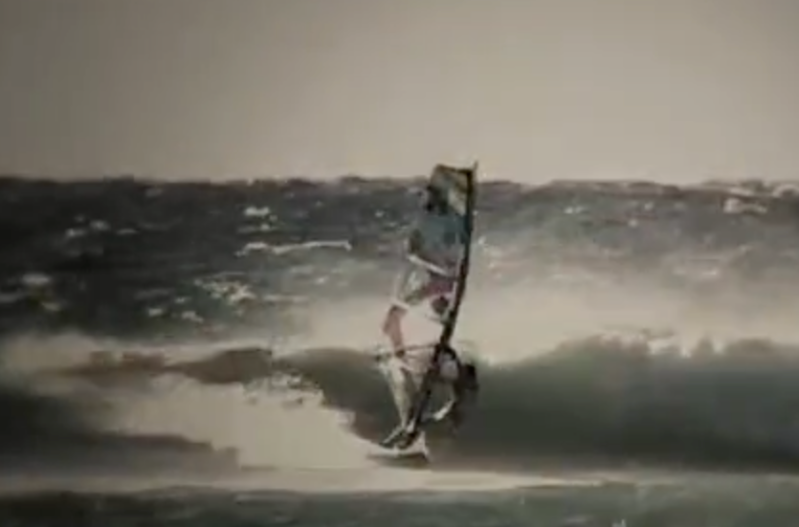 | | | |
| --- | --- | --- |
| Christmas Eve with magic waves | | |
25th December, 2010
Merry Christmas everyone !!!
We spent Christmas Eve sailing in one of the finest spots on the West Coast of Peloponnese. The place is called Saint Ilias and works best with South East wind. A lot of friends were there, as the forecast was really good; a lot of sailors from Patra, Athens and even the island of Mykonos made the effort to drive down to Pelopponese. With this kind of wind direction the wind is side-offshore from the left, which provides really good conditions for waveriding.
I had 3 sessions and came in when I could not hold onto my boom anymore... The best session was the late evening one, when everybody had packed and gone home; the waves were glassy and a bit bigger than throughout the day, at least logo high in the good sets, peeling perfectly... Plus the wind was dying slowly, which made the turns even sweeter... Down the line perfection and only 3 sailors in the water... THE perfect Christmas present...
Still don't have the high analysis pictures to post, but here are some to satisfy your eyes until we get organized...
Many thanks to Fotis, Antonia and Tonia for the pictures :)
| | | |
| --- | --- | --- |
| South west Peloponnese | | |
13th December, 2010
Hello!
I am back in Athens after 2 days sailing at the south west coast of Peloponnese. It's been a long time since I last traveled there; 11 months have passed since we sailed in Methoni, beginning of 2010. I really love Peloponnese, especially the west coast, it's a blessed place.
We left Athens on Thursday evening and drove down to Methoni, which is situated on the southwest corner of Peloponnese. On Friday morning we drove to the beach to find some really long, glassy waves breaking; the wind hadn't filled in properly though, so we made a short trip around all the surf and windsurf spots of the area. The Ionian sea was building up nice waves. By 14.00 pm we decided to return to Methoni and sail there, since the wind was not that perfect anywhere, and the waves looked the best in Methoni. Had two nice sessions, one with my Ego 5.0 and one with my 4.5, on my 71lt Rave twinfin. The wind was side-offshore, very gusty; nevertheless, we caught some good waves and rode them all the way to the beach. Side offshore conditions in a driving distance from Athens are extremely rare, and Friday was a good warm-up for Saturday morning. Everybody had lots of fun, plus we were only 6 sailors in the water, with the entire place to ourselves! Which is even rarer these days...
On Saturday morning we woke up, ate a good breakfast and drove straight to "Romanos" beach, as the forecast was for North-Northwest wind, which is when this spot works at its' best. When we arrived there, the wind was almost completely offshore and it was looking a bit strange, but the waves were so nice that we immediately rigged up and went out. I was on my Ego 4.0 and 71lt Rave. It was a special session this one… First time to go out at this spot, which has a reef on the upwind corner on the beach, and sometimes with big waves it's quite hard to tell where the rocks are; the swell was so big that as I was coming in, the wave in front of me hid the rocks, so I really had to be careful, which was kind of a stress. Second challenge was that Alex Moraitis fixed his GoPro camera on my boom, so we could film the conditions a little bit; it was a bit of a distraction having to check the camera all the time and fix the angle. I had a few wipeouts and the camera was filming all over the place. Third, it was so cold on Saturday that we could not feel our hands after a while on the water. The temperature dived from 20 Celsius on Friday to 6 or 7 on Saturday, which was quite a shock… I managed to sail for an hour and a half or so, not fully concentrated though; I was a bit distracted and disorganized having to handle the waves which were breaking all over the place, the camera and the cold. The conditions were amazing!!! If only we had scored that day a bit later in the year, so as to be accustomed to the cold weather… Can't complain though, as on that day most of our friends were in Athens, with snow outside, and did not even make the effort to drive to the beach, let alone go in the water with side offshore conditions to ride waves…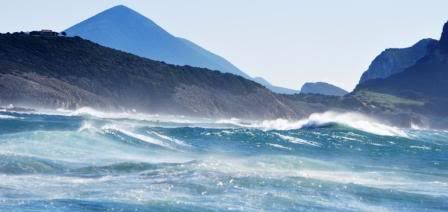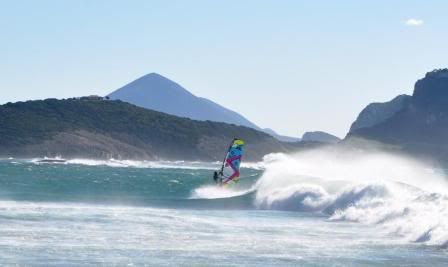 Right now we are back in Athens, unfortunately : ) I always feel like that when I travel to the countryside and see the relaxed lifestyle of the people there… This city makes us worry and run around too much…
Many thanks to Dimitri Moraiti for the pictures and for lending us his camera and also to Filippo Andrianopoulo, Alexandro Moraiti and Gianni Xefteri who also took some pictures and a bit of video. Hope Alex sorts out the GoPro footage soon, so you can check out how it was!
Hope you've checked this out as well, it's been out since a while now…
| | | |
| --- | --- | --- |
| Winter is coming? | | |
7th December, 2010
Hello!
Just as we were all about how warm it is here, how nice to go around in our t-shirts, etc, etc… We jinxed it! Looks like winter is coming with all its force at the end of this week, they're even talking about snow in Athens. The forecast at our local beach says 30 knots and 3 Celsius, not so nice :) . We're most probably going to travel to Peloponnese at the end of the week though, as there is a good forecast for Northwest wind on the South Coast. Should that forecast materialize, we'll have starboard tack wind, waves, plus a bit warmer temperatures (as we're going more south). Fingers crossed…
For the moment, in our free time we're going through all the nice pictures taken by Fotis Papadopoulos and Giannis Xefteris last Saturday 4th December in Schinias, where we enjoyed quite a big day with good waves and strong south wind… Magic day in the water… I hope South wind is coming back soon…
I have been very busy and didn't have time to upload pictures from the last two sessions of south wind in the gallery section, promise to do it early next week!!!