31st October, 2011
Hello!
It's Monday morning, full power at work after a long weekend. Such a nice feeling sitting in front of my mac after being in the water for 4 days in a row... We had such good sessions in the last few days; motivation to work is renewed after quality time on the water. I really needed my windsurfing-fix to keep me going... We had some good conditions in our homespot, Loutsa, Athens... In fact, my friends have been sailing a lot for the past month or so, only I did not have time to join them; I was just being jealous and dreaming about the day I would rig up my gear and go in the water with them on a good day. A lot of commitments kept me out of the water for quite a long time, almost 2 months; way too much work, then I was away for the PWA in Sylt, then to Naxos island with my VDWS windsurfing instructor license training. So it was a long long time already since I sailed with friends in good conditions. In the fullness of time, everything is put into place though. If this would be sooner, rather than later (as most of the time this year), it would be even better.
So, this was a special "weekend"; scoring 4 days of awesome conditions in "Nissakia" (our local windsurf club), with familiar faces in the water (home sweet home), cheering and being cheered at in the water. I am way out of shape after so much time without any training, but I am really motivated and will catch up really fast, especially if we get more days with good conditions.
Weendy is gaining momentum in our local spot; a big hit for making sure that you have the right timing to go to the beach. I think the first push notification reached my phone at 9.00am (latest) every day, so I could instantly check the video to see if the spot looked flat or not (which is what interests me most). People were sharing video reports, commenting about sailsizes they were rigging up, how crowded it was, whether it was gusty or not, whether the waves were good or bad. So, if I would receive a report saying that the waves were good at 8am, then I would rush to the beach. If it was two reports already by 8.15, then I might even jump in the car in my pyjamas :) If they said that it was pretty flat, I took my time before the first session. I even knew how full the car parking was and if I should hurry up to get the last place near the rigging area. All these without giving a dime to my mobile carrier ;) I think the days that we used to go to the beach to find something totally different than we expected are over...
Many many many thanks to all the people sharing the last few days' sessions with me and especially to George Karakostas, John Xefteris and Aristotelis Sdrolias for taking time to shoot pictures... For sure I owe them time behind the lens. This will happen after I satisfy my hunger for windsurfing though :)
Here are some first pics from Telis. Will sort out the whole lot and post my favorites so you can see some of the action! It was incredible!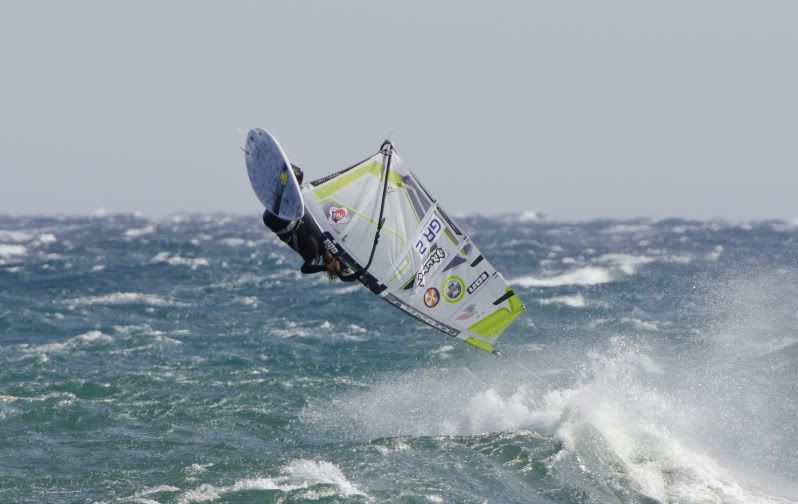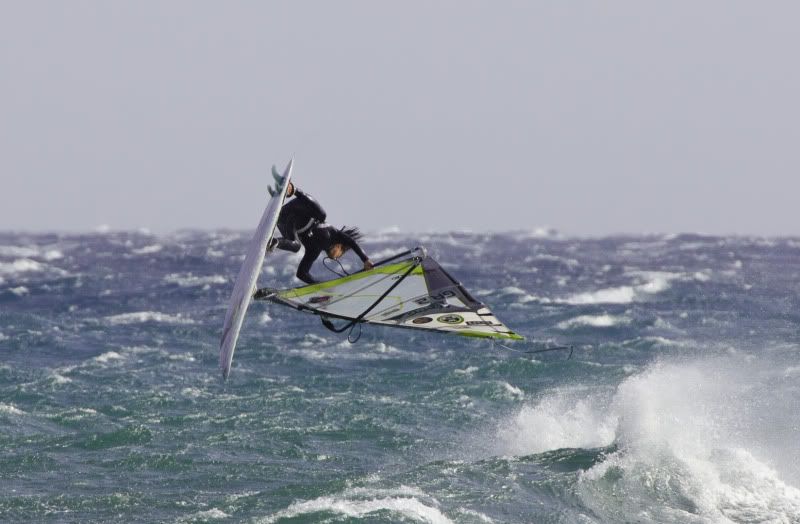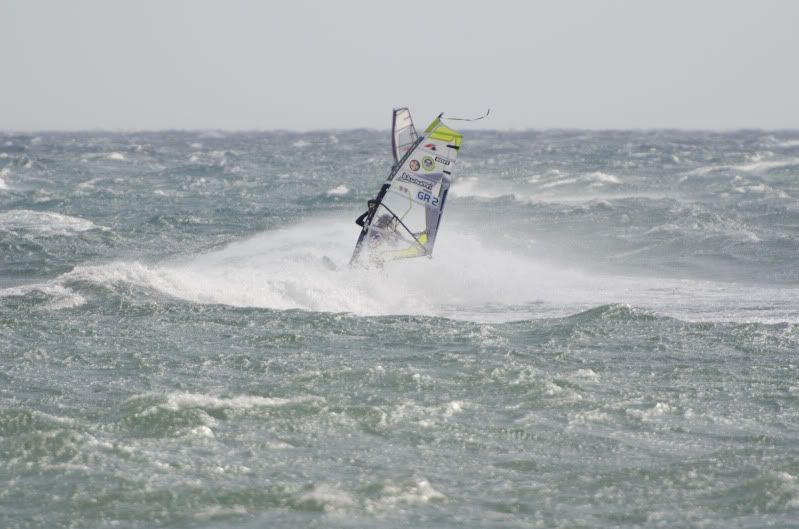 Check back soon!
Evi