| | | |
| --- | --- | --- |
| Strong wind session | | |
10th March, 2014
Strong wind here in Athens after a long time!
Sailing with my 3.0 Guru felt really good, got some nice jumps too!
First time I wore a hoodie as well! I don't know what I was thinking all these years, sailing in wintertime with my ears exposed...
Many thanks to George Katsoulas for pictures and video of yesterdays' session!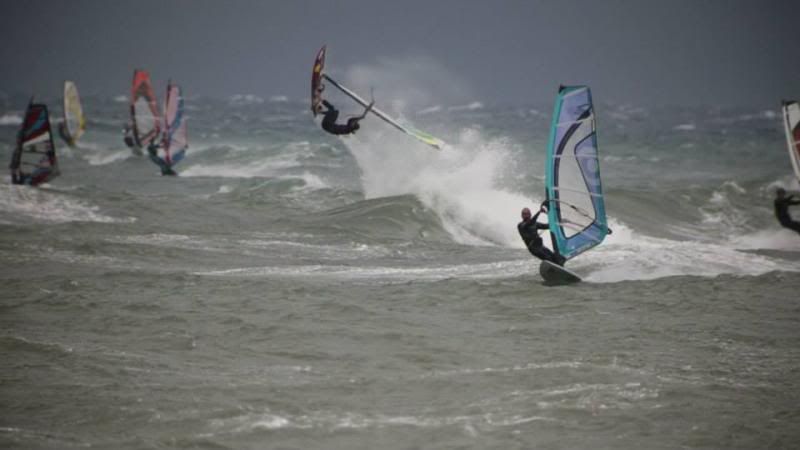 Looking forward to the next session...
Evi
| | | |
| --- | --- | --- |
| Injured | | |
24th March, 2015
Yes, you heard right... Injured :(
It's been a long time since I last updated my website. Haven't been on the water at all since a year now. -- This is what happens if you cross the street when you're not concentrated.
To cut the long story of the accident short: 16th April 2014, I was returning home at night and decided to make a quick stop to withdraw money from an ATM machine. It was lateish, 22.00 I think, and the street wasn't all that busy so instead of making a U turn and stopping right outside the bank, I parked my car on the opposite side of the street and crossed the road to get it over with (mistake nr. 1 - if you can avoid crossing the street on foot, do it by all means). As soon as I reached the pavement in-between the two lanes, the traffic light switched to red for pedestrians, but (mistake nr. 2 - never give priority to pedestrians when you shouldn't) the driver in front of me urged me to cross the street. When I said I wouldn't, he pulled the handbrake, clearly stating that he wasn't intending to move before I crossed the street in front of his car. So I did (mistake nr. 3 - don't trust anybody on the street, ever). In the meantime, another car whose driver had grown impatient with the whole situation, hit me as I was crossing the last bit of the asphalt.
Damage: tibial plateau fracture (Type V - VI, pretty bad one) plus anterior cruciate ligament injury.
After surgery and 3.5 months with an external fixation device on my tibia (this was the most painful thing I have ever gone through), I started rehabilitation which continues to date. My knee still feels stiff, but my leg is getting stronger and I'll be back in the water soon. In fact, I am grateful to even have a leg.
In the meantime, I'm enjoying the first spring running sessions out in the open, after a rather long, painful, tiring and depressive winter in the gym.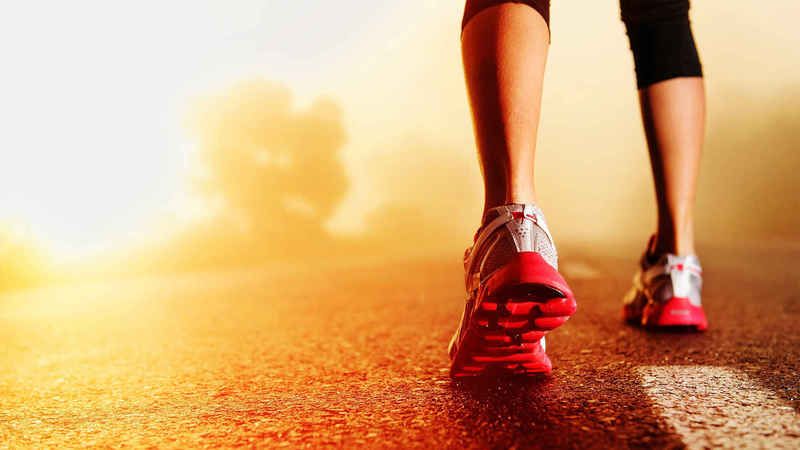 Thanks for all your nice messages and compassion throughout the past year :) See you all soon.
Evi
| | | |
| --- | --- | --- |
| Goya Sails 2014 just arrived! | | |
21st August, 2013
Hello friends!
My new Goya sails have arrived! They look and feel great, too!
It was not really windy on the first two days I took them out on the water, and now the wind has died for a few days. Hope it comes back soon so I can try them out properly!
Many thanks to Fotis Papadopoulos for the pictures!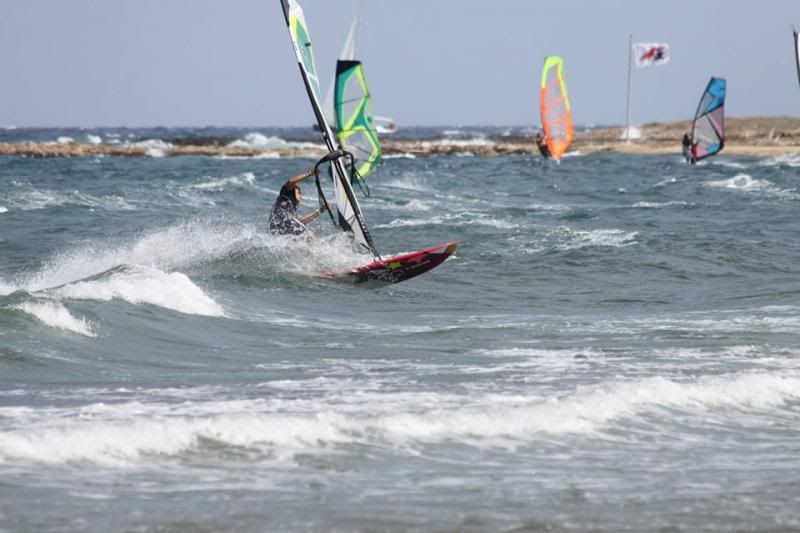 See you on the water!
Evi
| | | |
| --- | --- | --- |
| Summer is here | | |
23rd July, 2013
Hey everyone!
We are in the middle of the summer here in Athens, and the meltemi winds are blowing since the beginning of June. We've had some days with good wind in Athens, but we haven't had waves.
On the contrary, all the islands of the Aegean sea have been enjoying awesome wind and waves since about 2 months now.
I am now on Goya Sails and Quatro boards and they feel really great on the water. Can't wait for my first good session with waves...
Many thanks to George Katsoulas for the picture!
See you in the wind
Evi
| | | |
| --- | --- | --- |
| Sailing on a Sunday with friends | | |
1st March, 2013
Hey friends!
We made the good old trip to Saint Ilias, Peloponnese last weekend, chasing an amazing forecast for SouthEast wind and waves. As it turned out, the waves were not that awesome on the day it was windy... It was too choppy and gusty to make much out of the small waves that were forming in front of the break, but we still managed to squeeze in a few nice turns and some jumps. What's better than a Sunday at the beach with wind, waves, and friends?...
Guess who? :) Again, it was Fotis Papadopoulos who not only rigged and fine-tuned his Challenger Sails ThreeG for me to try out, but also took some nice shots (I sometimes wonder with Fotis' patience when it's windy) and then de-rigged his sail as well (instead of asking me to derig all the sails :P ) Thanks for everything!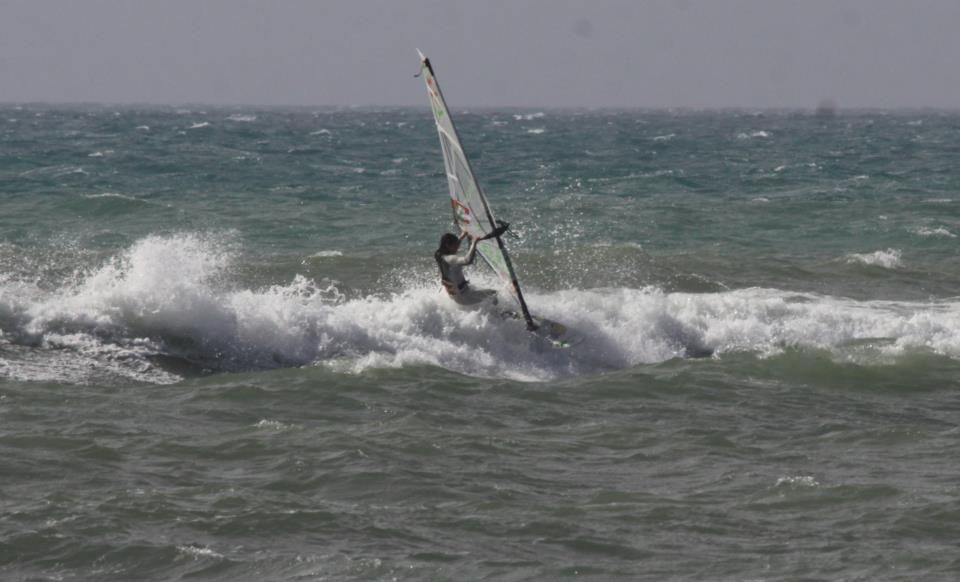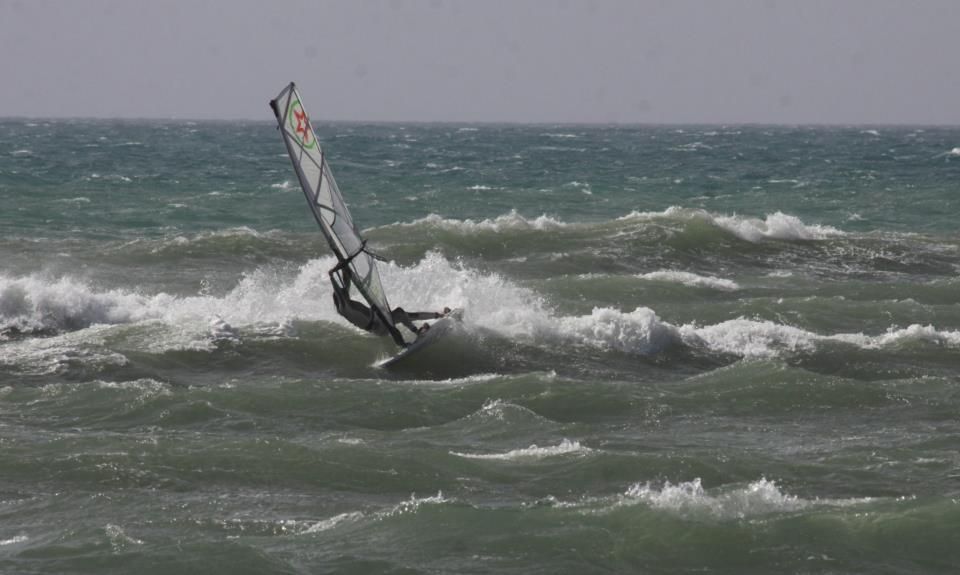 I am still in-between organizing my equipment for this year, I'll be having some announcements soon! (I hope :)
Evi
| | | |
| --- | --- | --- |
| South wind days... | | |
4th February, 2013
Hey all!
We have had some nice days with south wind here in Athens, perfect to practice windsurfing in the middle of winter. It's always around 13-15 degrees when it's blowing from the south, so we can always spend a good 2-3 hours in the water without feeling cold... Another plus is that wind from the south always brings waves... So we are happy.
Our good friend and fellow windsurfer Fotis Papadopoulos got the prize of "most time spent in the water" yesterday, and also -like always- took some time to shoot some nice pics, so we can keep this day in our memories... Thanks also to everyone who took the time to take some pics.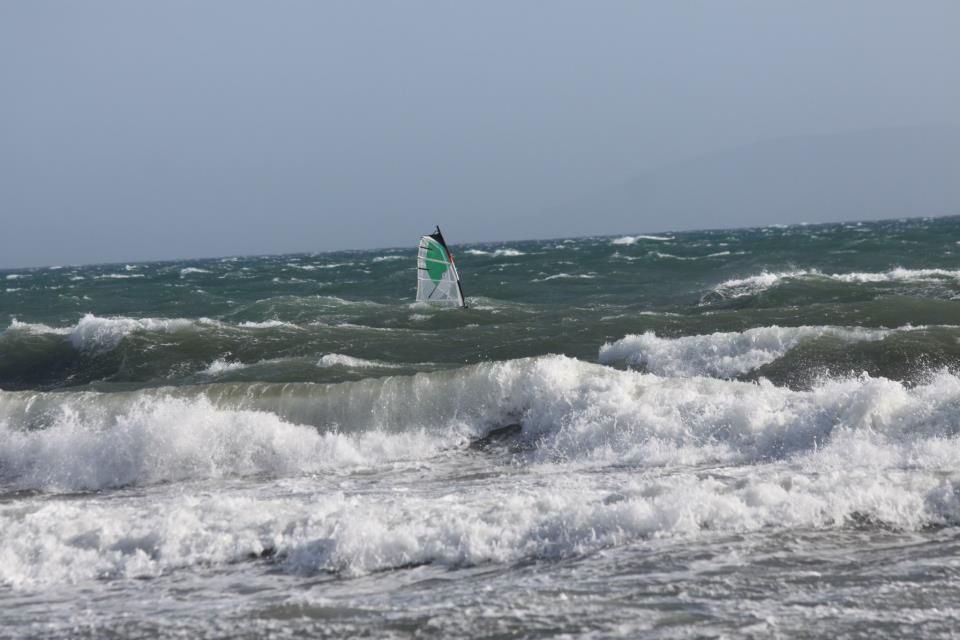 And... the walk of shame... I also did it once yesterday; it was long, and tiring... But that last wave I caught before the wind died, was definitely worth it :)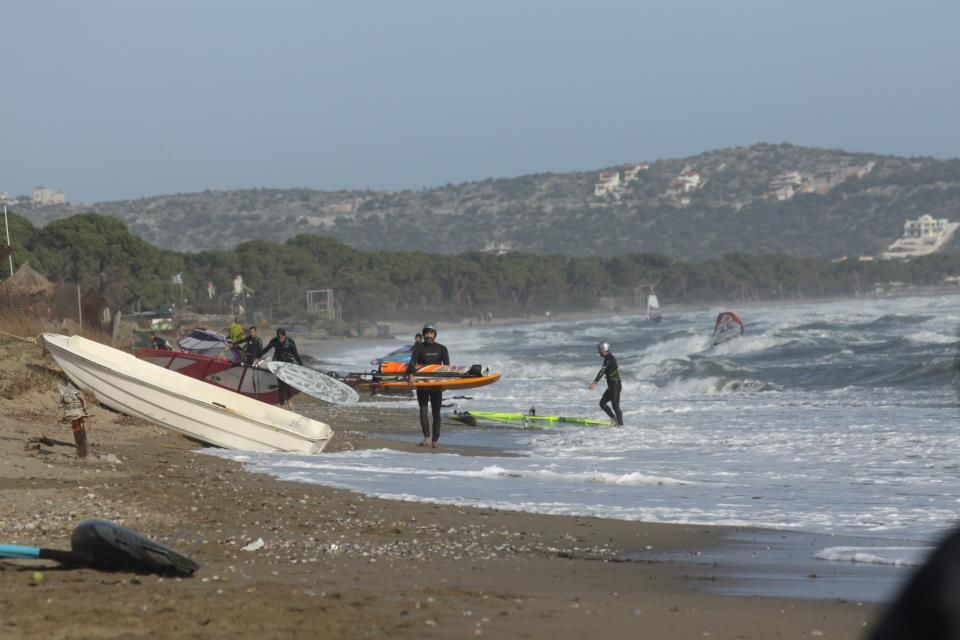 After 10 years practicing this sport, I never cease to be amazed with how windsurfing washes away everything that does not matter... And leaves you clean to just get on with doing what's important in your life...
See you all on the water on the next one :)
Evi
| | | |
| --- | --- | --- |
| Merry Christmas & Happy New Year 2013 | | |
29th December, 2012
Hello friends!
We are in the middle of winter here in Greece, with not that much wind :(
As there has been almost no wind, I've been mostly working, so not much to say here :)
BUT also had a special -Christmas time- request from a lot of friends, to finally update my youtube channel. Et voila ! :) Main change is that I put up some TV interviews; I would like to apologize to my international friends, as they are in greek.
I also need to update my gallery , which means I need to spend more time in the water :)
Here's to a healthy, happy, windy 2013 and see you all on the water :)
Evi
| | | |
| --- | --- | --- |
| Winter time... | | |
1st December, 2012
Hello!

Winter is here and we've had a few sessions here and there with waves. Feeling *rusty*, especially in jumping; not fit at all either, after so much time out of the water and the gym during the last 3 years. Time for a change, isn't it? ...

I am really looking forward to receiving my new F2 boards and sails in 2 weeks, hope they arrive on time!

Here are two recent pics, thanks to Costis and Fotis!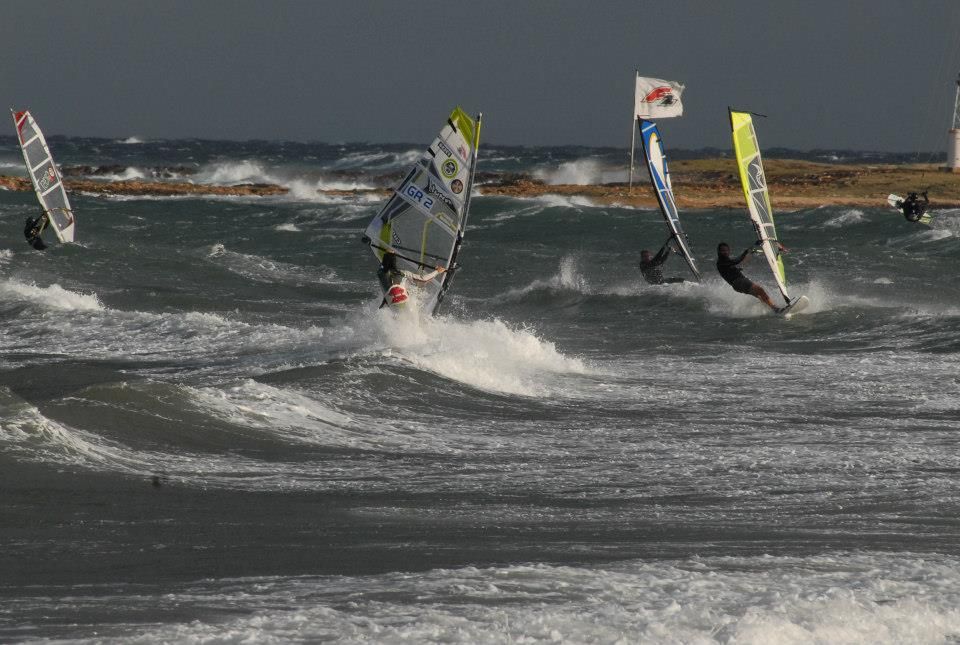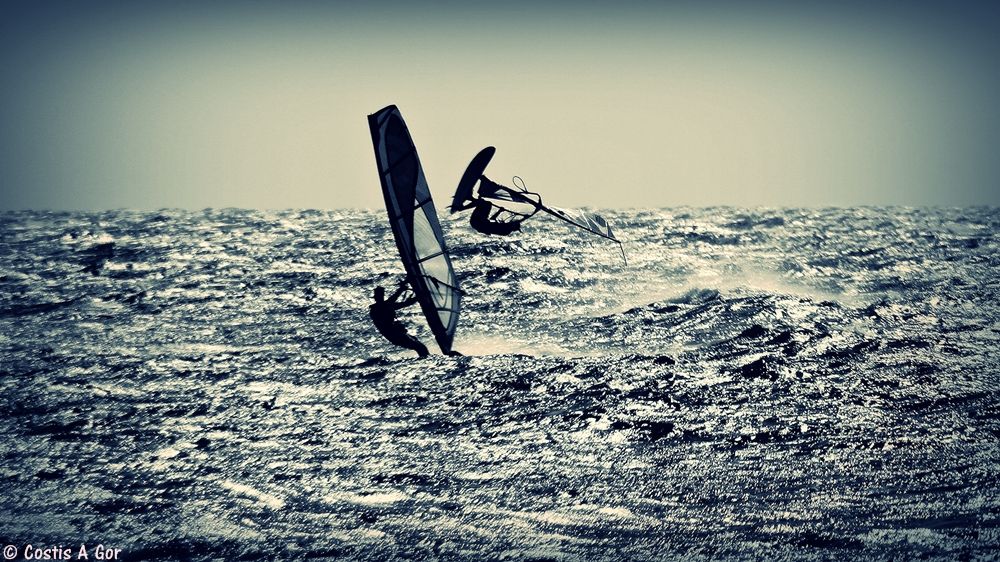 A storm is coming beginning next week; the forecast is changing every hour, but on Monday and Tuesday it looks like Peloponnese will be firing!
See you on the waves ;)
Evi
| | | |
| --- | --- | --- |
| Summertime in Athens | | |
29th June, 2012
Hello friends!
It's been a long time since my last update; this is mainly due to the fact that I was not in the water at all during the whole winter and spring.
Summertime is here though and so is the meltemi wind here in Athens. We had two nice days sailing last weekend, with strong wind after a long time.
Being back in the water feels like being back home... Such a nice feeling. Here are some pics, taken from my friend George Karakostas!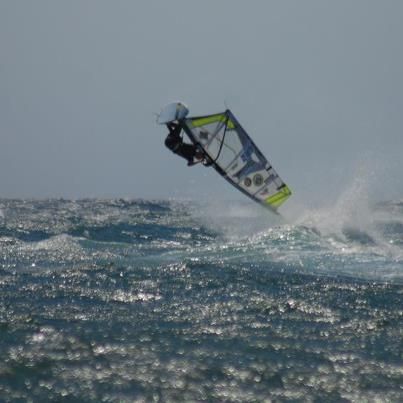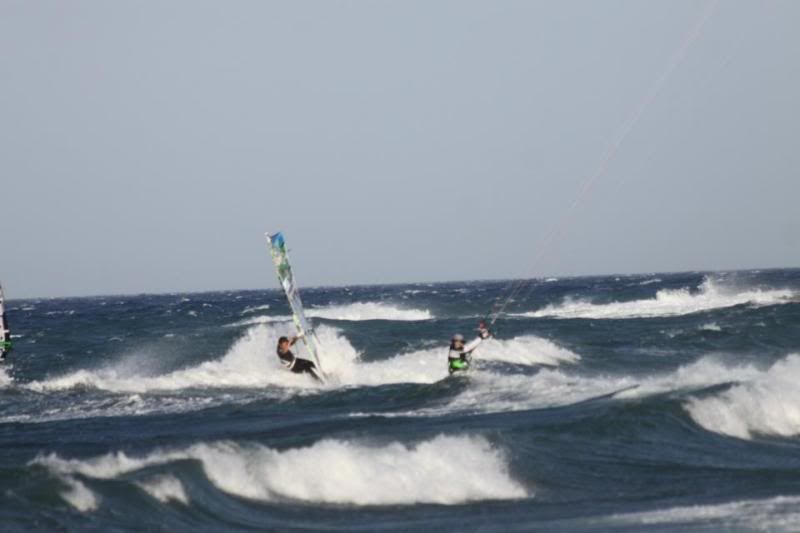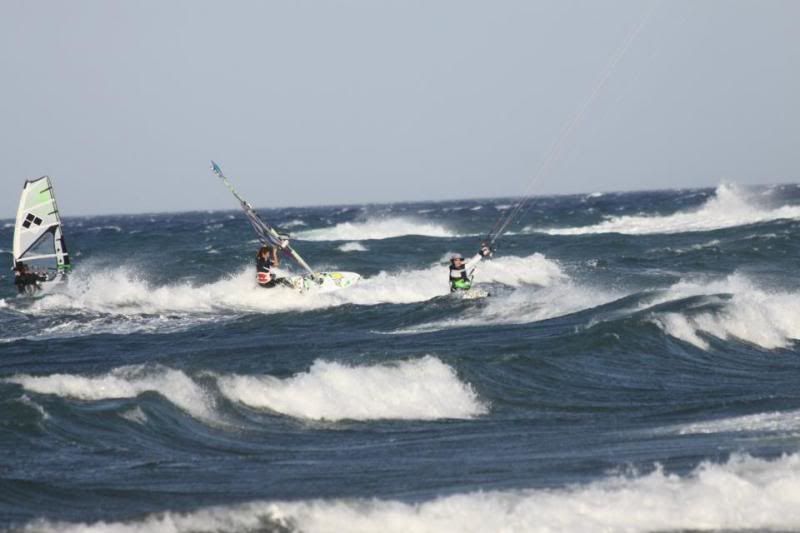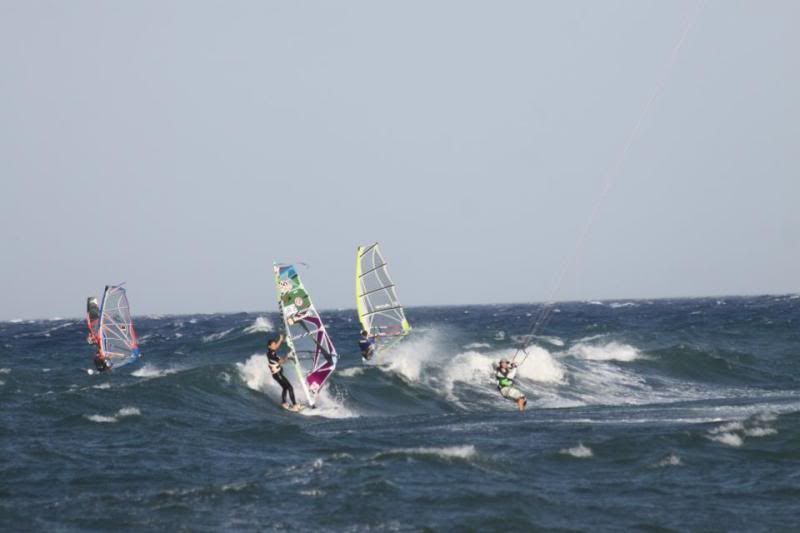 Another great weekend is starting tomorrow :) let's see what the conditions will look like! Can't wait to meet everybody at the beach and have fun on the water!
Evi
| | | |
| --- | --- | --- |
| Happy New Year! | | |
6th January, 2012
I'm a little late, I know; I was waiting until I found some time for a session on the water. Today was a holiday in Greece and Aeolus, the god of wind, greeted us with a South wind mini winter typhoon... We were blown out of the water by this one, literally!
It has been quite long since we used our smallest sails, and time on the water has been few and far between; along with my updates - as you've probably noticed... The wind was really gusty, at times it was blowing 60 knots (I could barely hold onto my 3.0m2 sail) and then it was dropping to 30 knots. The waves built up a lot, so there were cases where you would come up against walls of water with no power to go over. It was a survival out there today.
Pics from our friend Mixalis Papadopoulos, who never misses the action on a day of south wind. Thanks!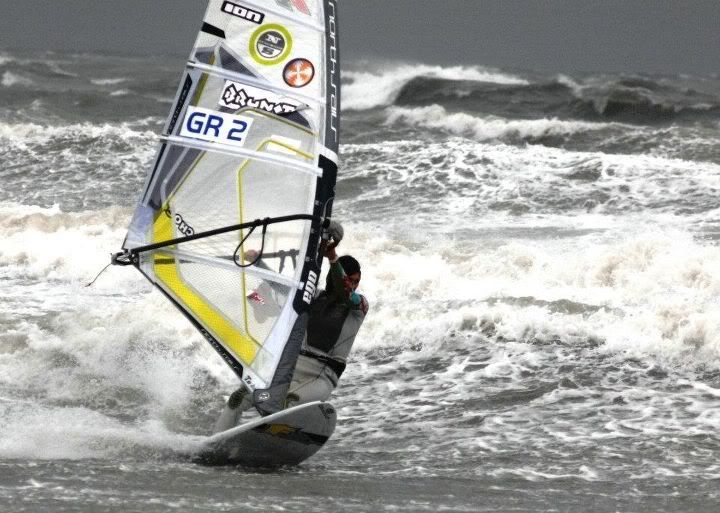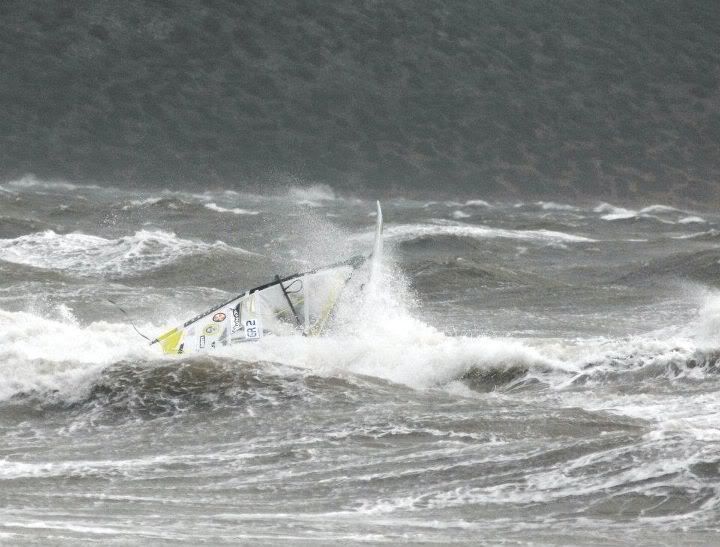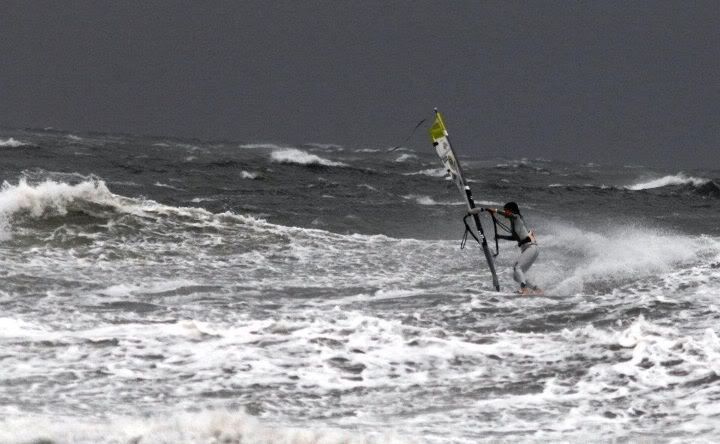 The weather's getting colder here and I'm in front of my mac, working. Late in the evening, when everything's been taken care of, I escape to the local swimming pool for an hour in my favorite element, water; can't help staying out of it.
Looking forward to seeing the sun shining again :)
Evi